Ashlawn's success as one of Ofsted's outstanding schools had seen it become the heart of the multi-academy Transforming Lives Educational Trust but it had not been inspected since 2013 – a considerable gap but not uncommon for those schools with a top rating.
An inspection took place in November last year, triggering much speculation among parents who contacted the Advertiser worried that the outstanding rating was at risk – rumours not helped by the departure of principal Siobhan Evans with 'immediate effect' at Christmas.
But when the report was finally shared with staff, parents and students this week, it confirmed that it had gone from outstanding – to the lowest of the four Ofsted ratings, inadequate.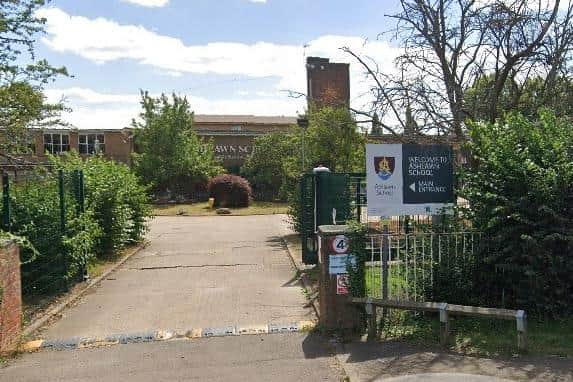 Bad behaviour, regular use of discriminatory language by pupils, a lack of support for pupils with special educational needs and the lack of a strategic approach to reading are some of the key reasons Ashlawn has been given that rating.
It's not all doom and gloom as the inspection report says the sixth form is good and three other categories get a requires improvement rating – the quality of education, personal development, and leadership and management.
But it's still a long way from being an outstanding school and the inadequate rating for behaviours and attitudes - and the reasons behind that, make for unhappy reading.
The report says: "The school community does not create a culture where all pupils can thrive academically and socially.
"For a significant minority of pupils, a lack of courtesy and mutual respect is too often the norm. Pupils accept that hearing discriminatory language is a normal part of school life.
"Mutual respect and care are missing from many facets of school life. For instance, pupils are often boisterous as they move around the school, jostling and pushing in corridors.
"This spills into some classrooms and affects the learning of the many pupils who behave well, work hard, and do their best.
"A number of staff raised concerns about their workload.
"This fragmented culture means that staff and pupils are pulling in different directions, which ultimately prevents the school from improving."
While many of the ideas for improvement are targeted at the school leadership, the inspectors say the leaders, 'have the capacity to bring about change'.
Having been a top-rated school for so long, Ashlawn now finds itself at the bottom of the pile.
Looking at secondary school choices in the Advertiser area, Lawrence Sheriff and Southam College are rated outstanding; Avon Valley, Bilton School, Harris, Rugby Free and Rugby High are good – leaving Ashlawn adrift as inadequate (there is a rating between good and inadequate, 'requires improvement').
CEO of the trust, James Higham, acknowledged that while the report highlighted a range of positives, including the good verdict for the sixth form, the negatives had triggered a rethink: "Bearing in mind the length of time since our last inspection, we always knew that this inspection would be challenging.
"Ofsted's new Education Inspection Framework is much broader than it previously was and, rightly, puts a greater focus on culture and student experience.
"To say that we are saddened that the inspectors found that we have a behaviour system that 'disenfranchises students' and creates a culture that isn't built on the values that we hold so highly is an understatement.
"Clearly what we are doing is not consistently having the desired impact for all students, so we will be working with pace and purpose to realign, re-evaluate and move forward all that we do to help all of our students learn in a culture that they can thrive in and deserve."
He outlined the response: "Since the inspection, leaders have not wasted any time in taking action.
"Ashlawn's leadership team's responsibilities, for example, have evolved to ensure there is an equal focus on the climate and culture of the school as well as student outcomes.
"A significant programme of engagement with staff and students has started to ensure that they are able to feed their views of our school into the School Improvement Plan.
"In addition, we have commissioned an external review of Ashlawn's SEND provision and we eagerly await the report's recommendations.
"As have previously been shared, we have secured the services of a very experienced individual, Mr Brockwell, to work in partnership with Ashlawn's senior leadership team to drive the changes and improvements needed."
After nine years without an inspection, Mr Higham acknowledged there will be a different relationship with Ofsted following the latest report.
He added: "The outcome will also mean that the school will receive more scrutiny from Ofsted and the Department for Education.
"This process is something that we welcome and do not shy away from, and we look forward to working closely with our community as we move through this process.
"No stone will be left unturned as we look to respond fully to the report.
"We will build on all our strengths and work tirelessly to enhance and strengthen any areas that need focus so that we can ensure our community has a consistent culture where every child can thrive academically and socially."
The report has been shared with the school community this week and is due to be published on the Ofsted website next week.