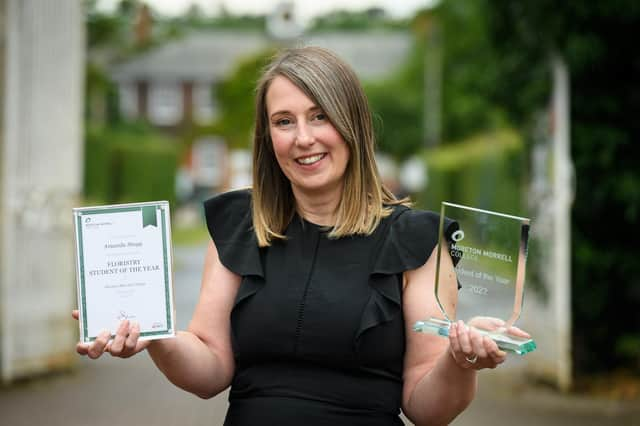 Amanda Stagg swapped a career in marketing for floristry - and has now been named Student of the Year at Moreton Morrell College.
A Warwick student who swapped a career in marketing for floristry has been named Student of the Year at Moreton Morrell College.
Amanda Stagg, 48, enjoyed a successful career as a marketing director for more than 20 years but decided to switch careers and pursue her passion of floristry.
She has now completed a Level 3 Floristry course at Moreton Morrell College, which is part of college group WCG, and been named the college's top student in the process.
A total of 33 awards were presented on the awards evening at Moreton Morrell College, with students from a wide range of courses recognised for their achievements.
Staff, students, parents and guardians attended the seventh annual student awards – which were being held in-person for the first time in three years.
Amanda, who works at Green and Wild Flowers in Warwick and had already completed a Level 2 course at the college, is also a student volunteer at the college and has helped to create a cutting garden which has become a valuable teaching resource.
She said she was shocked to receive the Student of the Year prize. "I'm absolutely overwhelmed. I don't think I've ever won anything before, so I was gobsmacked when I found out I had won."
Amanda said. "This was a big career change for me. I had been a marketing director for 20-odd years but wanted a change of direction and a chance to be more creative.
"I decided to take my hobby of flowers and the garden, and turn it into something I could do as a career. Jane Benefield, my tutor at the college, has been amazing, supportive and inspiring throughout."
Jane Benefield said: "Amanda has shown a huge commitment to her learning and goes above and beyond what is expected.
"She is a cheerful and positive student, who is always keen to share her practical floristry knowledge and help her peers develop.
"Amanda is a deserving winner of Student of the Year and we wish her all the best as she progresses through her floristry career."