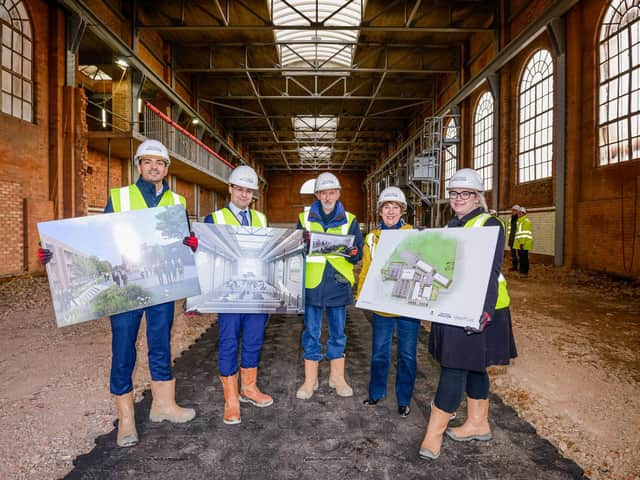 Mike van den Berg (Urband&Civic), Councillor Ian Picker, local historian Malcolm Hancock, Councillor Kathryn Lawrence and Johanne Thomas (Urban&Civic).
Work has officially commenced on the transformation of Rugby Radio Station's Grade II-listed building into the town's newest secondary school, Houlton School.
The beginning of the significant construction programme will see the conversion of the former global radio transmission building into a new secondary school in the heart of the new community of Houlton.
The works, which are being delivered by main contractor Morgan Sindall Construction, will include inserting a new five-storey structure into the shell of the radio station transmission hall, where the pioneering tuning coil used to be located.
The former Power Hall will retain original features and be converted into an assembly hall and canteen.
Two additional teaching blocks will be built, as well as a Sport England compliant sports hall.
The school is a joint venture between Houlton's master developer Urban&Civic, Aviva Investors, Warwickshire County Council (WCC) and the Department for Education (DfE).
It will be run by the Transforming Lives Educational Trust (TLET) - which also runs Ashlawn School.
Welcoming its first intake of Year 7 pupils in September 2021, the facility will eventually provide over 1,000 school places with six classes per year, plus a sixth form.
Richard Coppell, development director for Urban&Civic, said: "It is great to see work beginning on this significant project.
"The opportunity to take a building like this, with its rich heritage and iconic stature, and turn it into a state-of-the-art place to learn is fantastic.
"The community at Houlton are rightly excited, as they will benefit from this unique and inspiring school setting for their children."
James Higham, CEO of Transforming Lives Educational Trust, said: "There has been an enormous amount of careful planning by so many in the lead up to this eagerly anticipated milestone moment.
"We are so privileged to be the latest custodians of such a nationally important building and we are excited to be able to start to see the school building take shape.
"We are now looking forward to drawing together the excellent practice from all our schools across the trust into creating a truly exceptional learning environment for the local community at Houlton."
Darren Eaton, Morgan Sindall Construction's area commercial director, said: "As a business with our national headquarters in Rugby, we're well aware of the historical significance of the site and of the expectation that the new school will be an inspiring learning environment befitting its groundbreaking heritage.
"Transforming a listed building into a modern secondary school with the capacity to teach 1,000 pupils is a challenging brief, but one we are ideally placed to fulfil, and we're incredibly pleased to get work underway."
Following the opening of St Gabriel's CofE Academy at Houlton in September 2018, Houlton School is the second of four schools which will be delivered on the development.
Residents and prospective pupils can view a 3D model and CGIs of Houlton School on display at The Visitor Centre in Dollman Farm, Houlton.
As well as a new secondary school, Houlton will feature 6,200 new homes, a further two primary schools, a GP health centre, children's nursery, convenience store and further amenities, and extensive walkways, cycleways and green spaces once complete.
The development is a joint venture between master developers Urban&Civic and Aviva Investors.