Campaigners have hit out after health chiefs refused to give Lutterworth's only hospital any guarantees.
Activists have been fighting for years to save and drastically update Feilding Palmer Hospital on Gilmorton Road, Lutterworth – or have it rebuilt altogether.
But the 121-year-old hospital was temporarily closed last month during the Covid-19 pandemic for logistical reasons.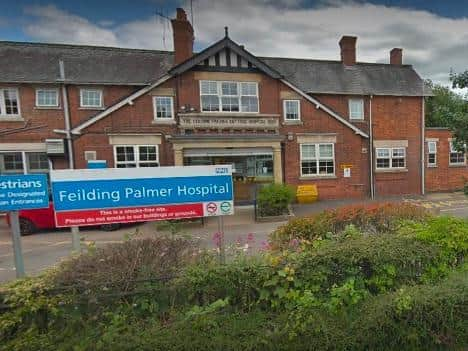 The sudden decision shocked local people.
Now campaigners the ageing Victorian building could be axed "by stealth" – and never open again.
Fuming Mary Guppy, 77, of South Kilworth, told the Harborough Mail: "We are very frightened that our beloved hospital could be shut 'behind closed doors' as it were.
"They have given us no promises what so ever that they will refurbish and modernise Feilding Palmer or knock it down and build a brand new cottage hospital.
"That's simply not acceptable.
"But they should know that we won't take this lying down.
"We will keep battling to make sure that the people of Lutterworth and surrounding villages will have their own dedicated hospital for many years to come."
The Feilding Palmer Hospital campaign leader spoke out after East Leicestershire and Rutland Clinical Commissioning Group (CCG) failed to even mention it by name in a new statement.
Asked by the Harborough Mail to outline their future health plans for Lutterworth, a CCG spokeswoman said: "We are currently working with our local health care service providers and partners to find the most appropriate and sustainable solution for the provision of additional GP services to the new housing development in Lutterworth (the proposed giant Lutterworth East estate).
"As part of this process we have put in a bid to fund the expansion of primary care services in the town.
"We are also exploring every other viable solution to ensure that we can continue to provide the best possible care to our patients."
She added: "No formal decisions have yet been made about how or where services will be provided from.
"However, we will continue to work towards securing a solution that best meets the needs of patients and the public in Lutterworth for the foreseeable future."
But furious Mary, whose husband John used to work as a GP at Feilding Palmer Hospital, retorted: "They are just trying to cover their backs.
"We all suspect they are planning to extend the health centre and get rid of the hospital.
"But we are determined to stop that happening.
"The CCG has got a hospital on a prime land site in Lutterworth.
"It couldn't be better and could save them millions of pounds down the line.
"They can either completely overhaul and bring the current hospital bang up to date or build another one.
"The garden at the back could be made smaller and used to extend the new hospital – they have got plenty of space and potential."
Mary said they will now be writing to Prime Minister Boris Johnson as well as local MPs for heavyweight support as they ramp up their fight.
"We have only got 10 beds at our hospital but we need to protect those beds and then add to them.
"That's especially critical at a terrible time like this," she insisted.
"Local people, the elderly particularly, don't want to be forced to go to hospitals in Coventry and Leicester miles away for treatment during this coronavirus crisis.
"Feilding Palmer Hospital has given thousands of people all over the Lutterworth area an excellent standard of treatment over more than 120 years.
"At a time when we have so many new developments opening up all over our patch and new people pouring in we need our very own cottage hospital back up and running.
"And then we all need to sit down and talk about how we are going to provide even better hospital care well ahead into the 21st century."