Scroll down and read our coronavirus live blog as it happens.
Before you do that here are some articles offering practical advice: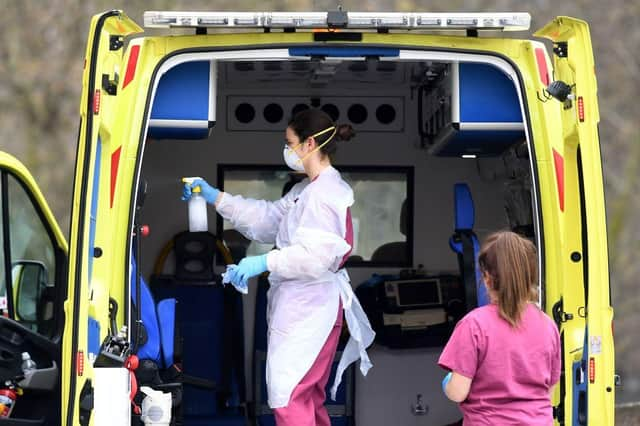 We will be providing live updates until 6pm this evening.
Coronavirus live blog, April 2
Show new updates
Hancock says that the government is looking at immunity passports for people who have had the disease and developed immunity. He adds it is too early to provide any more clarity on that at this stage.
That is the end of today's press conference and today's live blog.
Join us for more live updates of the coronavirus pandemic tomorrow at 8am
Professor Powis said: "I know tonight at 8pm I'm sure hundreds of thousands will be coming out to their doors and applauding.
"And when I meet NHS staff, actually one of the questions they ask me is the questions that you've been asking, is are these lockdown measures, is the social distancing, stay at home, working?
"Is it having the effect? Because we want the pressure to be taken off, we don't want to have to put this extra capacity in, actually, of course we'll put it in but we don't (want to).
"So on behalf of the NHS I think it's really important that all of the NHS says thank you to the British public because there's nobody working in the NHS that doesn't underestimate the pain that we're putting people through in terms of ensuring that social distancing is maintained.
"It's hard, I know it's hard, it's hard particularly for the elderly, it's hard for the vulnerable, it's hard for my mother, I know exactly how hard it is.
"But we're all saving lives, we're taking pressure off the NHS. You've applauded and clapped the NHS; well I think the NHS would like to salute the British public for everything it's doing too."
Mr Hancock said the Government has listened to criticisms of its approach to tackling the virus.
He said: "I've been quite candid in the past about the point that we take ideas from everywhere and my approach to tackling this as Health Secretary is to listen to all complaints and to work out what we can do better and whether people have got a point.
"One example is the Labour Party said that we needed to do more in terms of some of the financial measures and then we took those steps.
"So this has been an effort in which we have listened and made sure that we are always looking at complaints and criticisms to find out how we can do better because all that matters is defeating this virus and getting to the country through it as well as possible.
"That is the thing that everybody is crying out for and, as I say, we are in a war in which the whole of humanity is on one side which means that we should come together as much as possible in order to fix it."
Matt Hancock says that "there is evidence that the rate of infection is not exponential - although it is going up, it is going up in a linear fashion .
"But we have got to get the increase in the rate of infection down before we can lift the lockdown."
Health Secretary Matt Hancock has called on Premier League footballers to "take a pay cut" to play their part in the national effort to tackle the Covid-19 outbreak.
He was asked if footballers should take a pay cut where staff at clubs have been furloughed - asked to take a leave of absence - because no matches are being played.
He said: "I think that everybody needs to play their part in this national effort and that means Premier League footballers too.
"Given the sacrifices that many people are making, including some of my colleagues in the NHS who have made the ultimate sacrifice of going into work and have caught the disease and have sadly died, I think the first thing that Premier League footballers can do is make a contribution, take a pay cut and play their part."
Prof Newton said it was still not known how long the lockdown would go on but that antibody tests for the public were "vital" for understanding who had immunity when social distancing measures are eventually relaxed.
"The lockdown is an extraordinary measure to take and there is no doubt, scientifically, that it is required at the moment," he said.
"And it should continue really as long as the scientific evidence suggests that is the right thing to control the spread the infection.
"The difficult thing is we don't quite know yet how long that is going to be.
"But testing contributes in two ways. Firstly, the testing will be vital, when the lockdown does start to lift, to allow people to differentiate people who may have immunity and those who haven't been infected and wouldn't have immunity.
"Before we get there, the testing will provide the information about the spread of the virus and how infection has passed through different groups.
"That information is what we use to inform models and inform decisions about the lockdown itself."
Asked during the coronavirus media briefing about whether early "green shoots" of recovery had finished, Professor Stephen Powis, the medical director of NHS England, said: "No, I still think there are reasons to be hopeful, as I said a couple of days ago.
"One of the very first reasons for that is because we do see, as I have shown you, that the public is complying with the measures that the Government have laid out to reduce social contact and to stop the spread of the transmission.
"If we didn't see that happening, then I think the answer would be no but we do see that happening and it's important we continue to see that happening.
"Secondly, as Sir Patrick Vallance (the UK's chief scientific adviser) said earlier in the week, we do see early academic evidence that the transmission rate in the community may have fallen below one and that's important because if it's the case that we are no longer passing the virus on to multiple people, so to less than one person for everybody that's infected, then that is additional evidence that infections are going to reduce."
Matt Hancock is now saying that NHS capacity is "significantly above demand".
He adds that more intensive care beds are being added.
Hancock says the government are confident they have enough medicines for those who are self-isolating.
He says: "We have a very detailed plan for making sure that we have the full supply of medicines, including the ones that you mention, sedatives and all the medicines needed for those who have Covid-19 and people being ventilated.
"We probably have one of the strongest understandings of the supply chain of anywhere in the world because of the preparations we did for a no-deal Brexit, and we keep them constantly under review.
"In fact, I took a meeting on this question today. So whilst we, of course with the lockdowns around the world, we are highly vigilant, we are currently confident that we have the supplies of medicines that are needed."