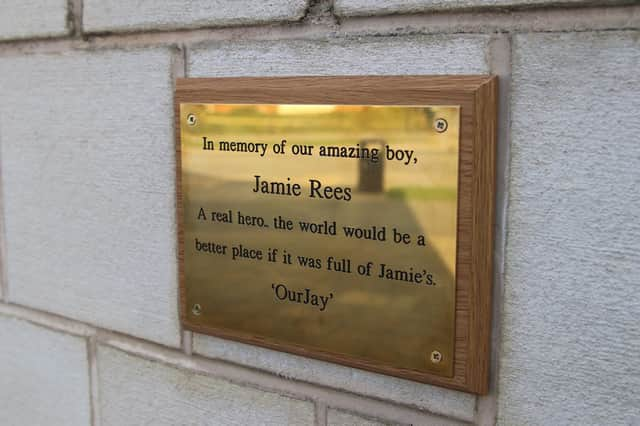 A plaque in Jamie's memory.
A life-saving defibrillator has been installed outside Rugby College following a hugely successful fundraising appeal in memory of a former student who died earlier this year.
Jamie Rees suffered an unexplained cardiac arrest on New Year's Day and, despite the heroic efforts of friends performing CPR, he died in hospital on January 5.
There was no publicly-accessible defibrillator nearby and, although the CPR brought him back to life, his brain had been starved of oxygen and he never woke up.
The site of the defibrillator.
His family have since raised £12,000 to fund the purchase and installation of Publicly Accessible Defibrillators (PADs) across Rugby.
And the first of these defibrillators has been installed at Rugby College – where Jamie had been in the second year of a plumbing course.
Students at the college put together a tribute to Jamie in the college, also hosting a raffle on the day the equipment was installed to raise further funds for defibrillators in Rugby.
The installation is the first of 12 planned in Rugby, together the family and Rugby councillor Wayne Rabin are hoping to install the life-saving equipment at every secondary school in the town.
Naomi Rees-Issitt, Jamie's mum, said: "We had a number of friends and family come along on Friday, the first defibrillator being installed at Jays college is very close to our hearts, it just means everything to us. Jay is the inspiration for everything we have done.
"We are so grateful to Lewis of Top Marks Electrical, as without him, we would not be able to get these defibrillators installed so quickly.
"We will continue to raise awareness for more outdoor accessible defibrillators in Rugby and will continue to fundraise in memory of our precious boy. Had one been available and accessible on that awful night, he may still be here with us today. He is missed terribly by everyone"
The family has been supported by Cllr Wayne Rabin to fundraise and identify locations for the defibrillators. Cllr Rabin has also been working with other organisations across the town to increase the amount of externally accessibly defibrillators in the area.
The installation of the defibrillator at Rugby College was completed free-of-charge by electrical contractor Top Marks Electrical – who supporting the effort to install other externally accessible machines in other areas of Rugby.
Cllr Rabin said: "This defibrillator installation is in a vital location at a large college and within a growing community. While continuing to support Jamie's family with their fundraising I'll keep persuading more pubs, community groups, schools and shops to re-site existing machines externally or install new ones. Basic CPR knowledge is important.
"I'm also working with Rugby First Responders to organise CPR awareness events around each new installation, which includes Rugby College."
Simon Philpott, Assistant Principal at Rugby College, said: "We were shocked and deeply saddened when we heard the news about Jamie in January. He was much-loved and valued member of our college community.
"The tribute to Jamie here at the college shows just how highly thought of he was amongst his peers.
"The college fully supports the campaign to install more defibrillators in Rugby and are committed to helping to raise awareness in the town on how, and when, they should be used.
"We're very pleased to have this piece of life-saving equipment installed at the college."
Further defibrillator installations are being planned at Ashlawn School in Hillmorton and the Steam Turbine pub on Barnaby Road.