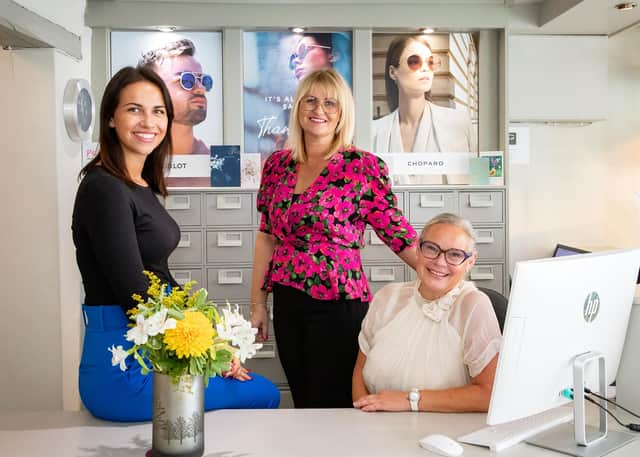 Friendly and knowledgeable staff
You only have one pair of eyes, and they deserve the best.
And that's why Claire Gough, owner of CG Optical in Stratford-Upon-Avon has invested heavily to ensure her customers have the very best of everything, in all that they do. That includes the staff, the technology, the range of eye-wear and even the décor, making a visit the best possible experience for all.
Exceptional service is offered at this local independent opticians
In both the consulting and dispensing side of the business, Claire has equipped the Practice with the most up-to-date technology with OCT and Optomap, which permits the optometrist to see 'behind the scenes', allowing for earlier treatments to reduce risk to sight. This technology could help spot early signs of other medical conditions and can cut down on the need for patients having to be referred on to the eye hospital for more investigations,
People with watery, itchy, sticky or burning eyes may have a dry eye condition, which although mainly affects older people can strike at any age. This clinic offers many treatments and other services in-house which saves repeated trips to various specialists. While a chronic dry eye condition cannot be cured, CG Optical is the only optician in the region offering the latest treatments which can deliver symptom-free comfort for up to three years at a time.
Style and superb service all under one roof
CG optical, offers a hearing service, which includes diagnosis and prescriptions for hearing aids, but also a wax removal service, tinnitus consultations and hearing protection.
This independent optician offers a tailor-made service to suit their customers, and that's why people adore this unique opticians … but the styling clinic is also hugely popular at CG Optical. Claire and her team help you choose the frames to match your personality and lifestyle, and have many region-exclusive brands on offer, including Chanel, Hublot, Chopard, Lamarca, J Frey and Catherine de Medici, as well as their own brand CG Eyes.
Claire said: "People really appreciate the attention and service they receive, especially from a family-run business, and that is what we are all about. I look after dispensing and styling, my daughter Becky is our dry eye clinician, my husband designed all our décor and my son was our electrician when we set up the Practice!"
"It's all about the service we offer, people come to CG Optical because our focus is always on the individual customer needs and quality."