In a twist on its Advent campaigns, it has come up with an Adlent calendar to ask people to give specific items on each day of Lent, starting tomorrow, Wednesday, February 22.
A spokesperson for Rugby Foodbank said: "Lent is the period of six weeks (40 days not including Sundays) leading up to Easter, the most important festival in the Christian calendar.
"Often people give up something in this season – chocolate, carbs, social media, but this year we are asking you to give something instead.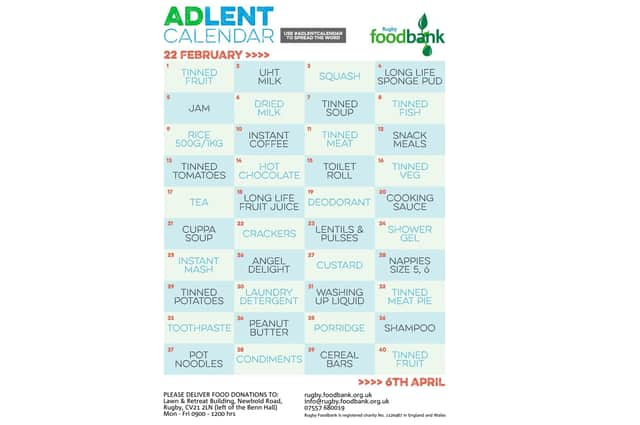 "We're encouraging our community to donate food and toiletries to their foodbank.
"We are seeing the highest demand ever – please help us through this Easter period to keep our stocks up so we can help as many people as possible."
Figures show the demand for food parcels was higher in every month of 2022 compared with the previous year – and last month's demand was sharply up again.
It has also launched an initiative to encourage people to organise a food drive to supplement the existing network of donation points.
The spokesperson added: "One way you can help is by organising a food collection in your place of work, along your street or even hosting a coffee morning for family and friends.
"Not only will you be helping to collect much-needed food items, but you'll also be raising awareness about the challenges faced by those in our community who are struggling to put food on the table.
"Hosting a coffee morning is a fun and easy way to get together with friends and family and make a difference. Encourage attendees to bring a non-perishable food item or make a financial donation."
The Rugby foodbank website and social media gives regular updates of what are the most-needed items so anyone organising an event is urged to look at those lists to encourage people to donate the most relevant items at the time.