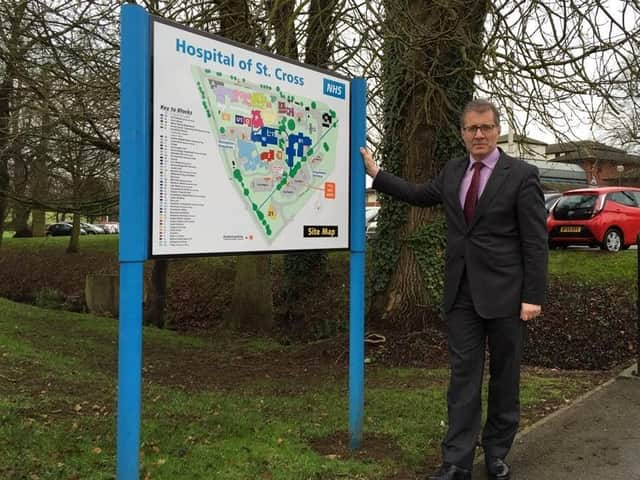 Rugby MP Mark Pawsey outside Rugby's Hospital of St Cross.
Rugby MP Mark Pawsey is calling for the restoration of the A&E department at Rugby's Hospital of St Cross
Coventry and Warwickshire Clinical Commissioning Group is asking for feedback from the public on local urgent and emergency care services.
And as part of this, Mr Pawsey has written to Dr Sarah Raistrick, chair of the Clinical Commissioning Group to set out his views on how urgent and emergency care in Rugby can be improved.
In his letter, he has highlighted that when the decision was taken in the late 1990s to downgrade the accident and emergency service at St Cross, it was argued by the NHS that Rugby was not large enough to provide sufficient opportunities for clinicians to maintain their services.
However, the MP has pointed out that the town has grown and will continue to grow in the coming years - and that other similar sized towns have A&E services.
Only yesterday (Thursday), we reported that a masterplan for 5,000 new homes has been recommended for approval, as part of the Government's instructions for Rugby to build 12,500 new homes by 2031. (Click here to read the story).
Speaking after writing to Dr Raistrick, Mr Pawsey said: "Since becoming Rugby's Member of Parliament, the town has grown considerably.
"This has brought more investment and more jobs into our community, as well as providing the homes for future generations to be able to live in.
"However, I have always said that as the town grows, it must be accompanied by investment in infrastructure and public services, and that must include at our local Hospital of St Cross."
"The review of Urgent and Emergency care across Coventry and Warwickshire needs to not only consider the present users of the services, but also the future implications of growth both in Rugby and in Coventry.
"This will have an inevitable impact on the ability of my constituents to access services at University Hospital Coventry and Warwickshire, which is already approaching capacity.
"As such, it seems clear that there is an significant case for the restoration of an Accident and Emergency department at the Hospital of St Cross and I have asked Dr Raistrick and her colleagues to give full consideration to this in their review."
Mr Pawsey added: "I want the voice of Rugby residents to be heard in this consultation, which is why I have written directly to Dr Raistrick.
"However, we need as many people as possible to respond to this consultation to ensure that the Clinical Commissioning Group understand the strength of feeling here and the importance to Rugby residents for good local health services at the Hospital of St Cross."