Rugby Tories launch petition to boost urgent services at St Cross
Rugby's MP and the colleague he hopes will succeed him are looking to get the community behind them in a petition calling for an upgrade to urgent services at the town's hospital.
Watch more of our videos on Shots!
and live on Freeview channel 276
Visit Shots! now
Recent years have seen a range of services returned or added to those on offer at St Cross – but there has been no improvement to the provision of urgent care, despite the rapid growth in housing and population.
It is an issue Mark Pawsey has often raised in parliament and with his long-standing senior parliamentary assistant and office manager Yousef Dahmash having been handed the job of fighting to retain the seat for the Conservatives at the next election, they are making an early bid to put St Cross at the heart of the debate about the town's future.
The wrangle over services at St Cross dates back to the early 1990s when Rugby fought a high-profile campaign to keep as much as possible in the town rather than see things centralised at Walsgrave.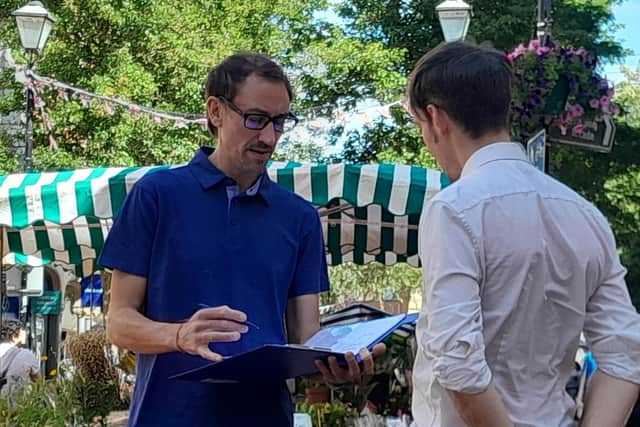 The hospital eventually became part of what we know as UHCW but accident and emergency lasted longer than other services such as maternity and children's.
Whereas Mark's father Jim Pawsey was at the heart of the early 1990's campaign as Rugby's MP at the time, calling a mass meeting in support of the hospital at the Benn Hall – a time which also saw protest marches and a huge outpouring of support – one of Mark's first public events after becoming MP in 2010 was the more subdued event that heard the view of health commissioners that Rugby's accident and emergency was no longer resourced or functioning as its name implied.
Rugby campaigners had long argued that with the growing population and the motorways on three sides of the town there was a compelling case to keep a full service here but just as with other services, the professional response was that only Coventry could offer and sustain the expertise, equipment and back-up necessary.
But whatever the experts have said, the lack of a proper emergency service has continued to frustrate Rugby people who have seen population grow rapidly since 2010 but no return of that crucial provision – a frustration added to with the recent loss of an ambulance service based in the town.
What St Cross has got is an urgent treatment centre for patients aged over five with minor illnesses and injuries.
These are listed by the Trust to include: small wounds, animal bites/stings, sports injuries, minor burns, tetanus immunisations, suspected broken bones, skin conditions (including minor rashes) and ear and throat infections.
It is run by nursing staff and can offer x-rays and a pharmacy – but younger children and anything complex will be sent to Coventry.
And it is this state of play Mr Pawsey and Mr Dahmash hope they can make progress on if they can demonstrate a groundswell of support.
They are looking at taking a step in the right direction by calling for a doctor-led service to be established at St Cross, immediately extending the services offered here.
This was very much in the spotlight when Mr Pawsey recently secured a visit from Health Minister Will Quince – which also saw them meet Andy Hardy, chief executive of UHCW and a member of the Integrated Care Board.
The setting up of these 42 boards in England – splitting up the NHS into separate entities – has been a controversial if little-known measure introduced by the government at a time when, Covid notwithstanding, its overall policy towards the NHS has attracted widespread criticism for undermining the service and encouraging a greater role for the private sector.
But in the system as it now is, the Integrated Care Board is the body responsible for commissioning services.
Mr Dahmash said: "As a lifelong resident of Rugby, I know just how important our hospital is to everyone.
"I've had to take my own daughter to UHCW because she couldn't be seen at St Cross and many other families throughout Rugby will have faced similar challenges."
And though the system was introduced by the Conservative government, he stressed: "We all know there is a need for an upgrade of urgent care services at St Cross, but politicians do not have the final say on this."
They point out this will enable high quality treatment to be provided in Rugby and take pressure off Walsgrave, which currently covers nearly 600,000 patients – which they say is significantly above the national average.
When challenged by the Advertiser that the petition risked giving readers false hope of accident and emergency returning to Rugby, Mr Dahmash said: "I do not believe that it is giving people false hope - not at all.
"That's why we have said we want to see doctor-led provision return as an upgrade to what we have presently as a first, positive, step to something even better, and more necessary in the future.
"In the longer term, I want to see a strategy for the site and clarity on the population trigger point for a full accident and emergency service.
"A doctor-led service would have significant benefits - I would hope that children under five with non-life threatening issues could be seen in Rugby, for example.
"I think that first-step is very achievable and the case for it has only grown in recent years as our town has grown."
He and Mr Pawsey are hoping to arrange a meeting soon with Professor Hardy and the chief executive of the Integrated Care Board to make the case for a doctor-led service, and for a longer-term vision for the St Cross site.