Ancient ceremony marks new High Sheriff for Warwickshire
Sophie Hilleary will be the county's 689th High Sheriff, serving the community until 2024.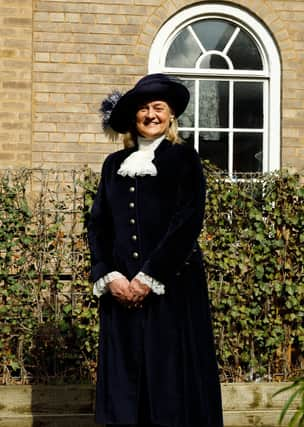 The fifth day of Holy week, Maundy Thursday, marked the beginning of Sophie Hilleary's tenure as Warwickshire's new High Sheriff.
Sophie will be the county's 689th High Sheriff, serving the community until 2024.
On Maundy Thursday (April 6) the ancient ceremony was held to transfer the title of High Sheriff from David Kelham Esquire to Sophie Hilleary, in the former courthouse at The Old Shire Hall in Warwick.
The office of High Sheriff is one of only two royal appointments in the county and has existed since Saxon times. Historically, the Sheriff was responsible for raising troops, collecting taxes and catching criminals, all of which powers have over time been taken on by others.
Sophie qualified as a nurse at The Middlesex Hospital and spent 15 years working in the NHS initially in Open Heart and Lung surgery, before moving out into the community as a District Nursing Sister.
Sophie is married to entrepreneur, Duncan Hilleary and in the early 2000s they moved back to her family home and farm in Warwickshire to bring up their young family. She has worked with Duncan and then later with two of her daughters on three Warwickshire-based businesses in food production, online retail and renewable energy.
Sophie said: "I was beyond surprised and massively honoured to have been asked to serve our community in this ancient but important role. I look forward to carrying out my legal and ceremonial duties. I also very much look forward to supporting the High Sheriff's charity, Crimebeat, which does so much with young people to help them reduce crime in our community.
"With my experience in community health, I am also keen to bring added focus onto our local health services and the extensive voluntary activity that we all benefit from so much in our county."
Warwickshire County Council's chief executive Monica Fogarty described the county's succession of High Sheriffs 'outstanding'.
She said: "We are so fortunate that we live in Warwickshire, a county with a wide array of natural beauty and equally outstanding organisations, independent businesses and communities who all work tirelessly together to make this county the best it can be.
"We are also very fortunate to have had a succession of outstanding High Sheriffs in Warwickshire who have such a deep understanding of the county and the drive to make a positive impact during their time in the role.
"On behalf of Warwickshire County Council and the whole of Warwickshire, I would like to extend a very warm welcome to Sophie Hilleary to the Office of High Sheriff and hope that she has a great year."
Today, the High Sheriff is an unfunded ceremonial position, supporting the judiciary and the uniformed public services as well as charities and voluntary groups working for the benefit of society.
Visit the Charities Aid Foundation to donate to the Warwickshire High Sheriff fund, which provides one-off grants to small grassroots charities and organisations making a difference in Warwickshire.