High above this small town on the French Riviera lies the grave of a former schoolboy who - in a single, historic act of impetuosity – laid the foundations of an entirely new sport.
Over two centuries, this same sport would go on to conquer the world, its name eventually known in every corner of the planet.
That game would be called Rugby Football, named after the public school that witnessed its birth.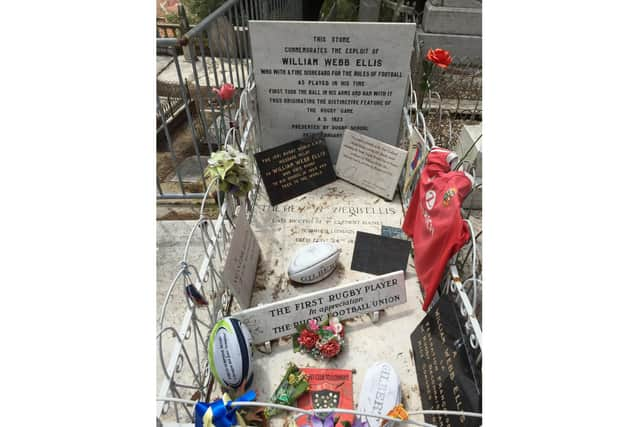 Its creator was, of course, a certain William Webb-Ellis, who according to legend 'picked up the ball and ran.'
This year marks the 200th anniversary of his feat, and although some rugby historians discount the story as a myth, the presence of his statue outside Rugby School in our Warwickshire town would appear to suggest that most people – and particularly players and the fans themselves – are quite happy to accept the universally-known account as being the truth.
William Webb-Ellis was born in Salford, Lancashire, in 1806, the younger of three sons of James Ellis, a cornet in the 7th Dragoon Guards.
The eldest son, James, died aged three, and the second son, Thomas, of Dunchurch, near Rugby, became a surgeon.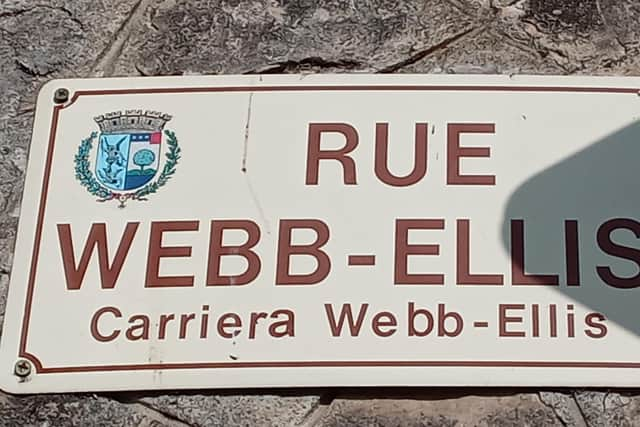 Britain was at that time engaged in a desperate struggle in Spain and Portugal against revolutionary France, which caused the death of many British soldiers. William's father had been killed in one of the numerous actions that took place at that time.
After Webb-Ellis's father was killed during a cavalry action against the French near Albuera, Spain, in 1812, his widow received an army pension and moved to Rugby, so that William and his brother Thomas could receive an education at Rugby School with no cost, as they were pupils living within a radius of 10 miles from Rugby Clock Tower.
William attended the school in Town House from 1816 to 1825. The incident in which he is said to have caught the ball in his arms during a football match – which was allowed – but then ran with it, this being very much against the rules, occurred during the latter half of 1823.
After leaving Rugby in 1826, aged 20, he went to Brasenose College, Oxford.
Upon finishing university, he entered the Church, and became chaplain of St George's Chapel, Albemarle Street, London, and then rector of St Clement Danes in the Strand.
In 1855, he became rector of Magdalen Laver, in Essex.
At some stage, it appears that his health started to fail, due to what may have been a respiratory illness.
As was common among wealthy people who became sick in those days, he relocated to the south of France, where the climate was said to be more conducive to good health than the cold and damp of England.
Webb-Ellis never married and died in Menton in 1872.
His grave, in le cimetiere du vieux chateau, was rediscovered by Ross McWhirter in 1958 and is now maintained by the French Rugby Federation.
Lawrence Sheriff, the town's grammar school, was named after Rugby School's founder.
Sheriff was a prosperous 16th century grocer in the time of Elizabeth 1 and left a large sum of money to provide an education for 'the poor boys of Brownsover' – then a small village near Rugby.
Webb-Ellis is commemorated in Menton with a street named after him, Rue de Webb-Ellis, which today is sadly overshadowed by rows of multi-storey flats lining the seafront.
Solid queues of parked cars on both sides of the street testify to the fact that the road leads up to the town's railway station.
There will probably be many travellers who will pass along this unremarkable thoroughfare, not knowing its true significance.
Nevertheless, Webb Ellis's grave, high above the Mediterranean, is certainly a fitting monument to the man who, in a single, perhaps foolhardy act, created a global sport that would make its founder's name famous for all time.
Author and journalist John Phillpott was born in Rugby. He left Lawrence Sheriff School at the age of 16 in 1965 and became a trainee reporter on the Rugby Advertiser. During that time, he regularly covered schools' rugby on The Close, Rugby School, for his own paper, and for The Times and Daily Telegraph.
In recent years he had a popular column in the Advertiser and has written several books, including Go and Make the Tea, Boy! (Brewin Books).
This tells of his early years on the Advertiser and how he attended everything from budgerigar shows to flower shows, covered courts, councils and fatal road crashes.
At the time of release an article in the paper described it as 'a warts-and-all narrative of a lost era' and 'an odyssey through an era when many youngsters thought they could change the world through creative endeavour, a through-the-looking-glass peek at a time far less complicated than the present'.
One of the reviews on Amazon describes it thus: 'You don't have to be deeply interested in the world of newspapers to enjoy this any more than you would have to have a passion for that of a vet to enjoy James Herriot. A highly recommended and enjoyable read'.
Another adds: 'The author's experiences are recounted with charm and style as he emerges from being a teenage innocent abroad in a world of hard-drinking old hacks to the toast of the young people in town with his championing of the arts, particularly rock and pop music'.