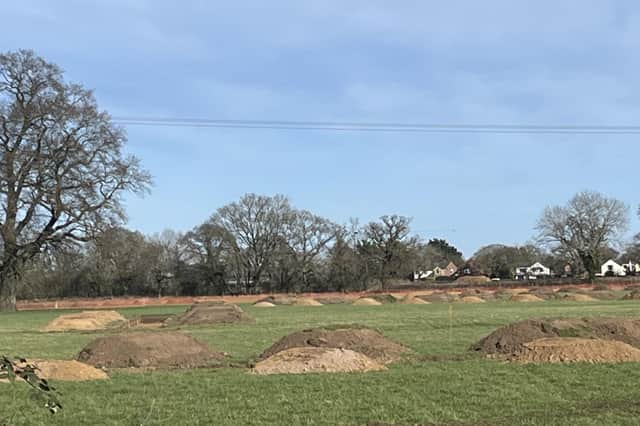 But while it is part of the planning application process for that road – linking from the Dunchurch side of Cock Robin island to the Coventry Road leading out of the village – permission has not yet been granted.
The digging work seen from the likes of the latter road and from Alwyn Road that caused alarm when people saw contractors at work, is a programme of archaeological investigation of the route.
The planning application can be found under the reference number R22/0928 on Rugby Borough Council's website and has a wealth of information for the Homestead Link Road, which has been pushed forward by government agency Homes England.
It stepped in to move the plan forward, after the road and a large chunk of the homes planned for South-West Rugby seemed to be going nowhere fast.
The application was submitted in September last year but new documents are regularly being added, including a large number last Tuesday, Valentine's Day.
One of these, under the archaeology report sub-heading, sets out the aims of the current digging and molehill creation.
There is a fascinating insight to the land: "The solid geology of the site is mapped as Charmouth Mudstone Formation comprising mudstone formed approximately 183 to 197 million years ago in the Jurassic Period. The superficial geology of the site is mapped primarily Dunsmore Gravel – sand and gravel. This deposit formed up to two million years ago in the Quaternary period and indicates a local environment dominated by ice age conditions."
But while it's tempting to see it as a Jurassic park, previous assessments have found no evidence of significant prehistoric on the site of the road, though it adds: "evidence of an early prehistoric human presence in the wider area has been recorded, including a Mesolithic flint scatter indicative of a flint knapping site, and further flint scatters of various dates, recorded at Cawston and Bilton."
It then goes on to describe other finds from the Iron Age onwards, typically discovered by metal detecting and other fascinating facts as the years go by: "During the 17th and 18th centuries the site was divided between the Lordship of Dunchurch and Cawston, as evidenced by historic mapping. Northampton Lane formed the historic east-west
boundary between these areas."
After rounding off the history lesson – well worth a read – the report outlines the aims and the extent of the trenching work now taking place.
It expects this to be finished within four weeks of last Monday's start date of February 13 (the day before the document appeared on the council's website).
After completion of the work it then expects a draft report on the findings to be made within another four weeks.
Other documents filed on Valentine's Day include a raft of material about ponds and ditches – and there are now 256 in total.