Remember loved ones and raise money for good causes with Rugby Rotary's Tree of Light
"We ask for a minimum donation of £5 for each dedication"
Watch more of our videos on Shots! 
and live on Freeview channel 276
Visit Shots! now
People in Rugby are invited to light up the Christmas tree at St Andrew's Church by remembering a lost loved one or chosen cause.
Rugby Mayor Maggie O'Rourke handed over the Tree of Light to Rob Close, president of The Rotary Club of Rugby last Wednesday.
Rotarians John Vickers and Bill Lee were also in attendance.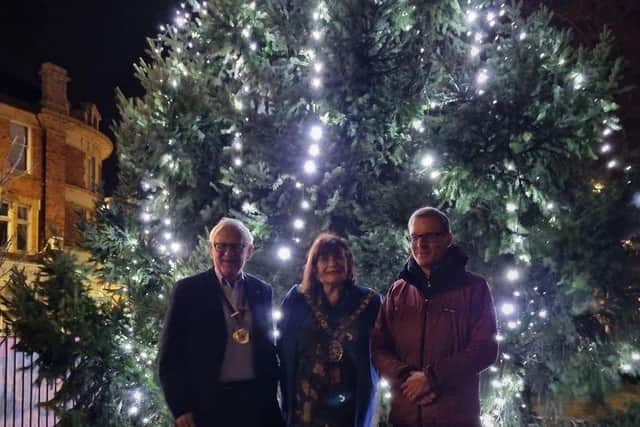 To get involved, give a minimum donation of £5 for each dedication. Proceeds will go to The Myton Hospices.
The names and causes of those remembered will be featured in the Rugby Advertiser and the Tree of Light Book of Remembrance placed in St Andrew's Church in time for the candlelit Commemoration Service.
The service takes place on Tuesday, December 12, at 7pm.
Sponsor forms are also featured in the Rugby Advertiser, St Andrew's Church or Blackhams Opticians of 21 Albert Street, Rugby, CV21 2SD.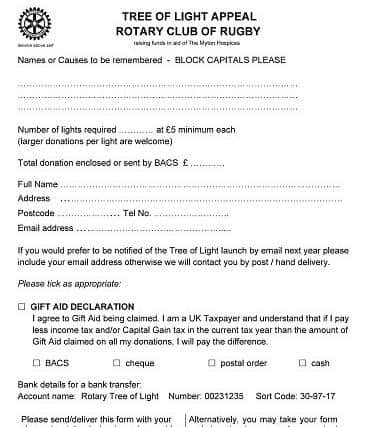 Forms should be returned to Blackhams or Rotary Tree of Light, c/o 125 Kingsley Avenue, Rugby, CV21 4JZ. Cheques or postal orders made payable to 'Rotary Tree of Light'.
Here are the names received up to November 18.
Pamela Ann Smith; Leonard, Lilian and John Smith; John Gilbert; Ruby-May Wormall; Edna Carrington; Jack Carrington; Bill Appleby; Nicola Wallington - Miss you so much, but you are always in our thoughts, Love always, Mum & Dad xxx; Janet Avery - Very much missed by so many; Frank & Eileen Avery; Francis & Lilian West; Edward Mickleburgh; Dorothy Mickleburgh; Maureen and Ray Wagg; Reginald, Jane and Dorothy Goddard; Maurice and Dorothy Cresswell; John Tysall; Kay Tysall; Hilda and Bill Rice; Rene and Tim Prowse; Gwen Tysall; Winifred Prowse; Tony Potter - A much missed and loved Husband; Jonathan Potter - a son who was loved and now missed; Ian Mattock - loved and missed so much - Sue and Family; Mrs Betty White - Loved and Remembered Always; Grandma Pritchard - Always missed; Anthony Ogden - Three years (still missed); Lillian and Leslie Ogden - Our Mum & Dad - With love; Remembering Always - George, Phyllis, Joan and David Shaw; Rose Brown; Robin Brown; Laura Brown; Duncan Finlayson; Brian Forbes; Colin Pittman; Richard Mays; Tom Freeman; Darren Hall - remembered with love; Joan Bethell; Charles Bethell; Sheila Bethell; Mam & Dad Farmer also Win, Derek, Pat, Peter, Joan, Mark, Freda, Sam and Ben - Love and miss you all so much xxxxx Love from Janet & Gordon; In loving memory of Lucy and David White; In memory of our beloved daughter - Tina Louise Rogers - Loved and missed every day by Mum and Dad; Barbara Croxford - Never Forgotten; John Croxford - Never Forgotten; Tony Hobson; George and Cis Green; Richard Pogson; Wilma & Bill Pithie; In loving memory of our son - Paul Hobley - from Mum, Dad and Chris; Peter Smith; Philip Smith; Stewart Mountford; Gregory Mountford; Tony Sutton; Albert & Nellie Smith and Frank & Eliza Edwards; Douglas Dernie; Eddie Jackson - Loving husband and grandad - Sadly missed; Bill Nichols - Well loved brother and uncle - sadly missed; Michael James Barton; Emma Oldham; Angus Ritchie; In memory of my beloved husband - Bob Southam - Love and miss you every day until we meet again - Your loving wife Carol xxx; David Ogden; Kathleen Shepherd; Mr and Mrs F Dring; Mrs Lorraine Barrow; Colin Port; Elsie & Sidney Green - Loving Memories; Stuart McIntosh - Always in my thoughts; Belle & Freddie Friend; In Loving Memory of Ken Hughes; Joan and Frank Woodley; Nora and Frank Drakeford; Arthur O'Neill; Doris Cottrel; Gloria Wilson; Peter Wilson; Alexander Wyllie - Remembering a Loving Husband, Dad and Pap - Love and Miss you xxx; Michael John O'Regan; The Beattie Family; Matthew Smith; Mum, Helen Boyes, missed and loved so much; Dad, Jim Boyes, missed and loved so much - Daughter Janet xx; Millie Batey; Fred Bowman; W G Price - former MP of Rugby; Leonard & Marion Buggins; Herbert Langham; Vanda Evans; Maureen Nice - sadly missed every day; John and Florance Clare Blick; Joe Sadler - always in our thoughts - loved dearly; Mary & Gordon Adcock - much love - never forgotten; Eunice & Herbie Lewis; Dora & Doug Waller; Dick & Eileen Eales; For my lovely Mum & Dad, Agnes & Joe Munday - loved always xxx; Alfred & Rose Barnett; Richard John Barnett; David Tailby; In memory of a dear Brother, Raymond Smith and his Wife Mary Smith, my Sister-in-law - who died 2 years ago - RIP; In loving memory of Hilda and William (Bill) Baker - Greatly missed by Pam, Frank and families; Doris Butler, May Eales and Jim Hunt - Remembered with Love; Glynne Jones - Always in our thoughts; Malcolm Pearce - Husband, Dad & Pap - loved & missed more each day xxx; Bill, Hilda & Terry Higham - loved & missed more each day xxx; Jill & John Mills - loved & missed more each day xxx; Christine Close; Barry Applegate - Friend, Colleague and great tennis partner; Mary Jane Vokes - Mother of Wilma; Val Morris - Lovely Friend; Mary Kiernan - Mother of Kevin; Peter Pugh; Dorothy Pugh; Edward Smith; Helen Smith; David Wood - missed and remembered every day - from Wife Wendy & Family; Marion Hardwick; Patricia Jacks; Martin Jacks; Diana Kinch; John Kinch; Matthew Jacoby; Paul Kimber; Pat Haywood; Brenda Smith; Charles Thorburn; Marion Thorburn; Tess & Fred Smith (Mum & Dad) lovingly remembered - RIP; Catherine & Michael Costello (Mum and Dad) - Rest in Peace; The Healey Family; The Barnwell Family; Carol Jean Healey; The Root Family; Cervical Cancer Foundation; In loving memory of Kerry Peters; In loving memory of Ron Clegg; In loving memory of Shereen Parry-Hall;