With a style echoing the original Thomas the Tank Engine television series, Tugs ran for just 13 episodes with its tales of waterborne adventures in Bigg City harbour – but a legion of fans across the world have kept their love for the show alive.
And this month a remarkable documentary about it has been released by Warwickshire-based I.T.H Productions on YouTube, featuring interviews with many of those involved in creating the show, together with fans who grew up watching it on tv or on video.
Among the fans is Elliot K-W, a film-maker and producer, who took the latter role and was also a researcher on what is a compelling, free-to-watch programme.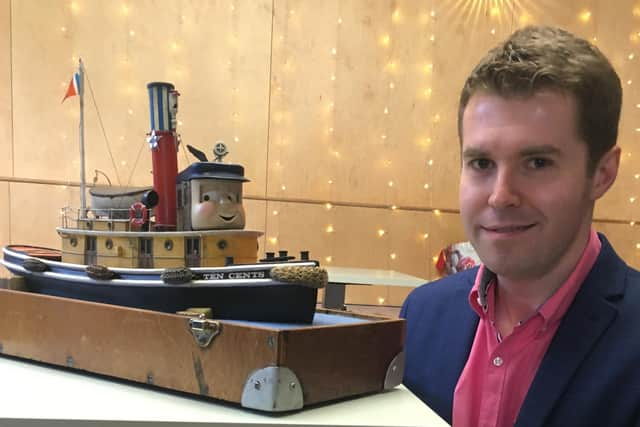 He told the Advertiser: "The idea of a documentary for the series just naturally came into my mind as I have loved Tugs ever since my early childhood when my parents got me the VHS tape containing the episodes, Sunshine and Pirate.
"Over the years, whilst learning more about its history and legacy, I knew this was a gem in Britain's TV history and knew it should never be forgotten."
Elliot was a founding member of I.T.H, set up with four other students in 2018 during their second year on a Digital Film Production course at Warwickshire College in Leamington, growing to a team of seven working on the Tugs documentary.
The idea came to life when Elliot met another fan: "It really began during the summer of 2019, when I met up with Lewis D Gilbert during one of the Tugs events hosted at the Midland Railway Centre and he mentioned to me that he had had the idea of a documentary in his mind for some years.
"I revealed that I too had the same idea during my time at Warwickshire College but the module for doing a documentary would require it to be ten minutes long, which would not work well for something like Tugs, so I had to do something else."
But from that conversation, the idea was backed by the rest of I.T.H, Lewis joined the team and the hard work began on developing a documentary running at nearly two-and-a-half hours – Tugs: A Bigg Retrospective.
It highlights the great affection for the show, how the idea came about and how the characters and sets were brought to life.
Various documentaries exist about the creation of the Gerry Anderson classics of the 1960s and the feedback since the I.T.H documentary was released, shows Tugs fans also want to know more about a favourite from their era.
Speaking shortly after the release, Elliot said: "It feels so surreal that this idea has actually got off the ground after three years of hard work.
"From a series that I grew up with to actually making a documentary film about that series is really emotional and personal to me – it's projects like this that really keep the Tugs legacy alive.
"Given all the positive comments and feedback we've received on social media, there's no doubt in our minds that this film is going to be a success."