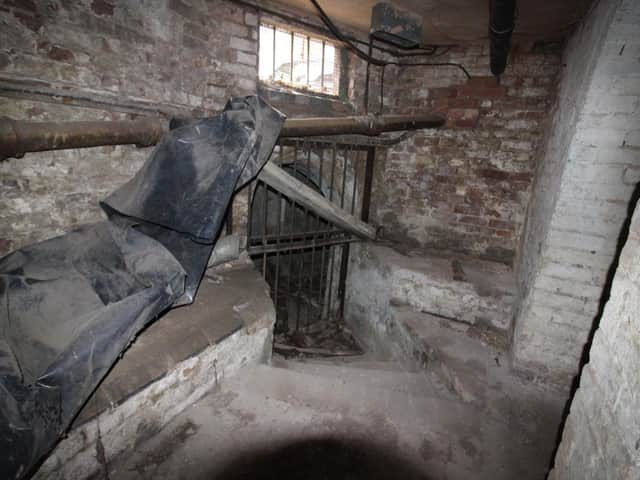 As part of Peter Bowen's regular column, he explores the story of Leamington's and Warwick's underground tunnels. This week he talks about the mysterious life of David Brough - and is hoping for your help with other tunnel appeals.
A Russian spy and former naval officer, who served eight years in prison before changing his name and moving to Stratford, is known to have explored a tunnel and other sites of interest in south Warwickshire as a head of a metal detecting club.
In this Le Carre-type twist to our tunnelling investigation, David Brough, who bizarrely got a job on his release from prison with the Stratford Probation After Care Service, formed a club for a small group of metal detecting enthusiasts. It is known that at his instigation the group explored a tunnel in the garden of the lodge at Gallows Hill, Warwick but were forced back by flooding. On reflection, it was thought Gallows Hill was an old well or drainage.
Metal detecting was emerging as a hobby in the 1970s but it was difficult to get permission from landowners to explore sites because farmers feared digging holes would damage their land. David Brough, on the other hand, had the contacts and managed to get access to sites of interest where others had failed.
"There was only eight of us. We managed to get to into several places in the local area," says someone close to the group.
"I remember Gallows Hill but also a place along the Fosse Way. Brough was a secretive character. No-one knew much about him. We never found anything of value but it was fun at the time."
As David Bingham, naval officer and specialist in submarines and frigates, Brough was sentenced to 21 years at Winchester Crown Court in 1972 for giving documents to Moscow relating to naval tactics and nuclear armaments described by the prosecution as defence secrets "almost beyond price". Bingham spied to get money to pay off his wife Maureen's £5,000 debts for shopping and gambling.
He was never caught but confessed to his commanding officer that he had spied for the Russians for 18 months from January 1970 but his superior did not believe the story. Bingham later confessed a second time to the local police and was arrested. He claimed later that he only gave himself up to protect his extravagant wife, who only got seven months.
After running a small hotel in Bournemouth with his second wife, Mary, now using the name Brough, our spy fled to Stratford after being recognised by a former colleague. Together the couple ran a small florist's shop and lived a modest, middle class life.
"David's earlier life as a spy appeared strange to us but did not end there. He died in an accident at Snitterfield in his Silver Volvo which burst into flames after hitting a tree on a dead straight road. It was thought a bit odd at the time by those who knew him but despite the police and coroner being informed nothing came of it," he added.
Brough was 56 when he died and was only identified through dental records. His dog also died in the car. An inquest was opened and adjourned on February 27,1997 but there is no later report on any continuance of the inquest.
There has been a good deal of interest in tunnels on Facebook in the last week. It is worth mentioning that I was told of a couple of tales about tunnels and an underground service tunnel in Leamington from a man who wishes to remain anonymous for good reasons of his own.
He writes: "I grew up near Leamington and attended Binswood Hall in the early '90s. It was common knowledge amongst students that a locked door at the back of the common room was to a staircase that descended two floors below ground level with the bottom floor flooded. I have no idea what was down there or where it went.
"In around 2000, while waiting to use the cash machine on The Parade, I overheard workmen saying they had an awful day. The crux of the problem was that they could only excavate a precise area for fear of disturbing a shop basement and the 'old service tunnel' as one of them put it.
"I did not get to ask any more but it stuck in my mind. If you take a line from where they were excavating to Burgis and Collbourne it would be parallel with Bedford Street. From this I surmise there were tunnels supplying shops and moving goods to the rear of The Parade's main buildings."
There have been earlier reports of a service tunnel running alongside Bedford Street and of a tunnel in the basement of House of Fraser in The Parade. There is speculation there may be several tunnels in existence by the same builder around 1820 but there are no plans. Some people take the view that certain estate agents and solicitors of the old school did not record the tunnel's existence in case they lost a sale.
There is also news of another tunnel from Court Farm House, Lower Fulbrook, Sherbourne to Warwick Castle and another from Guy's Cliffe to the castle. Can anyone shed any more light on these claims?