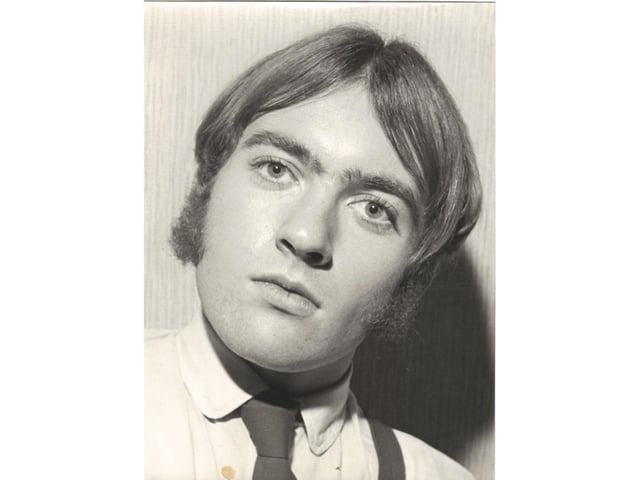 John Phillpott as an Advertiser reporter in the 1960s
Back in the 1960s, like many other British provincial towns, Rugby became caught up in the runaway rock and roll revolution then sweeping across the land.
But it wasn't just about local talent hitting the headlines for the town was also home to one of the biggest pop stars of the decade. John Phillpott once again turns the pages of yesteryear...
There was a time when his star burned brighter than that of the Beatles.
One after the other, he had a string of hits, was never all that far away from our tiny black and white television screens… and just the mention of his name was calculated to set the hearts of teenage girls racing.
And although this pop colossus had been born in Bootle, Lancashire, he would end up living in… Rugby.
Who are we talking about? Why, Billy J Kramer, that's who.
Billy – or William Howard Ashton to give his real name – hit the heights of fame in that brief period between the demise of the greasy ballad crooner and before the Fab Four had really got into their stride.
For quite some time, he could do no wrong. Under the managerial guidance of Beatles svengali Brian Epstein, every disc he released was blessed with the golden Midas touch.
Do You Want to Know a Secret shot to the top of the charts, as did Bad To Me, followed by I Call Your Name… and all in that incredible year of 1963. One of his greatest successes was arguably Little Children, a departure from the harder Merseybeat sound.
In those days, it was common for solo singers to have a backing band, and Billy was ably supported by the Dakotas, all gig-hardened musicians who had paid their dues playing the tough northern clubs.
At the pinnacle of his fame, he appeared on such iconic TV shows as Shindig, Hullabaloo and the Ed Sullivan Show.
So how did Billy J Kramer come to live in Rugby? Well – and this where the fairytale kicks in – he met and fell in love with local girl Ann Ginn, who on her own admission was his greatest fan.
Now, you can't get much more romantic than that, especially when the Prince of Pop asked her to marry him. Naturally, she said yes.
And on a beautiful early summer's day back in 1968, Ann and Billy tied the knot at St Mark's Church, Bilton.
I was a reporter on the Rugby Advertiser at the time and was assigned by editor David Briffett to cover the story. Before setting off to the church, he gave me a briefing.
Perhaps slightly lacking in knowledge regarding the ever-shifting sands of 1960s rock music, he instructed me that at the first sign of a riot by fans, I was to get on the phone and request back-up.
Unsurprisingly, this did not happen.
To be fair, there had been plenty of examples of rioting during that decade, but by 1968, the stark fact was that Merseybeat and its associated mania had pretty much run its course.
In the end, there were undoubtedly quite a few followers lining the churchyard wall but – as I subsequently reported in the Advertiser – there was probably an even greater police presence.
I attended the service and must say what a stunning couple they made. Ann looked radiant, a picture of English rose loveliness. Billy was as handsome as ever and now with his bride on his arm.
That week's edition of the Rugby Advertiser carried a full page spread on the wedding, featuring my words and John Albyn's pictures.
Billy's star began to fade as the years passed, although he sporadically released records in the 1980s and right up until the early 2000s.
Nevertheless, he had considerable success with Bacharach and David's Trains, Boats and Planes, and for many years was in great demand on the cabaret circuit.
But two singles released in the 1980s – You Can't Live on Memories and Shootin' the Breeze – failed to make much impression on the charts.
However, perhaps none of this mattered. For he had not only enjoyed his time in the sun but on lovely summer's day back in 1968 also basked in the radiance of his 1960s bride, Rugby's Ann Ginn, who had most certainly won the hand of her Prince Charming.
Footnote: John Phillpott was a reporter on the Rugby Advertiser from 1965 to 1969. This year he expects to publish a memoir about his time on the newspaper.