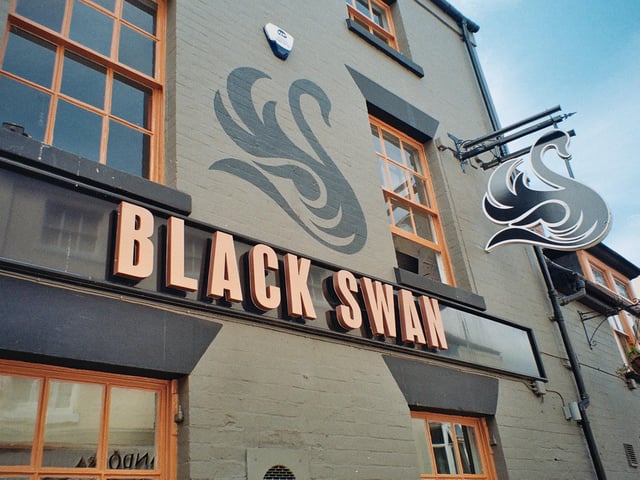 Rugby's Black Swan pub - known to many as The Dirty Duck.
Reading through the various posts on Rugby's very own social media site recently, one comment in particular caught my eye.
Bearing in mind that most photographs taken in the early 1960s were in monochrome, this colour shot of passengers alighting at Rugby Central station in Past and Present Memories of Rugby and District could have been snapped yesterday.
Except, of course, it wasn't. Even allowing for the contributor's accompanying explanation that this crowd scene on the platform was
taken nearly 60 years ago, there was one single feature of the photograph that froze it in time.
And that was the fact that all the people in the picture, depending on their gender, were clad either in jackets, shirts and ties, or dresses and skirts.
There was not a single item of sportswear to be seen. This point was picked up by a commenter, who made an observation to that effect, obviously a reference to the apparent current sartorial convention that clothing should have a sporting theme.
I might have added that there was also no sign of any tattoos, either for men or women, although admittedly there might have been the odd anchor or two concealed underneath one of those neat shirt cuffs.
Yet this was not always the case. For Rugby's youth back in the 1960s not only knew how to party, but also dressed for the part, too.
Having said that, I must confess that I still shudder when I think of some of the 'gear' I used to wear when out on the town during the 1960s.
In particular, there was one night that remains crystal clear in my memory. I had spent the afternoon clothes shopping at Get Set in Little Church Street, and later in the afternoon changed into my new purchases.
Many of you will remember Get Set. It was a men's boutique and a must-visit place after listening to some new releases at Disci Records or enjoying an espresso coffee at the Il Cadore café.
It stocked all the latest fashions, which in those days, either filtered through from London's Carnaby Street or were demonstrated by Rugby's ace mod, one Bob McCance.
Bob was the kind of guy that you kept on the right side of, for he was well-known as a hard case. But he was no threat to small fry such as myself, and generally very popular among the town's young people.
However, I digress. That Saturday night I was wearing – wait for it – an orange cycling shirt, three-quarter-length green leather coat, butcher's stripe trousers, red socks, and French two-tone brogue shoes.
And this being 1966, my hair was fairly long and parted in the centre. It may also have been back-combed on the crown. Aaargh! – just what I am confessing to here?
Sadly though, this absurd Christmas tree of a fashion statement was probably even too much for those days. Just as I was majestically sashaying up Sheep Street, I had my bottom pinched.
Yes, I know, it's something that women have had to put up with ever since men were invented, but it still came as a bit of a shock. So from that day onwards, I resolved to tone it down a bit.
I can't remember whether or not I was heading in the direction of the Black Swan before going down the Benn Memorial Hall, but that would have been the likely destination.
In those days, the more ridiculous one looked was probably the best insurance against having a fight down at the Benn. For some strange reason, most of the punch-ups in those days were started by blokes in suits challenging other blokes in suits.
I never understood any of this. Where was the sense in putting on your best Hepworth's or Burton three-piece, only to get it torn and muddied rolling about on the grass verge outside the Benn?
Surely, if one had pugilistic intent, it would have been more logical to go to the Saturday night hop dressed in overalls. Ah yes, but the bouncers then wouldn't let you in. I suppose it was logical. Sort of.
But returning to the subject of Get Set, I must say that this shop used to have everything for the young dedicated follower of fashion. In fact, I still have several ties I'd bought all those years ago at Get Set.
One is a particular favourite which I've worn on a couple of occasions at 1960s theme nights. It's an explosion of primary colours, so loud that it's a wonder I haven't been prosecuted by the Noise Abatement Society.
Ah well. It's all a long time ago now, and seems all the more so, bearing in mind what youngsters wear these days. But we do now live in very different times, an era which seems vastly different to the days when we were young and didn't mind looking daft.
And if the phantom bottom-pincher of Sheep Street is reading this, I can assure him or her that I forgive them. Just don't do it again if you don't mind…
John Phillpott's memories of working as a junior reporter feature in his book Go and Make the Tea, Boy! available from booksellers and via the internet.