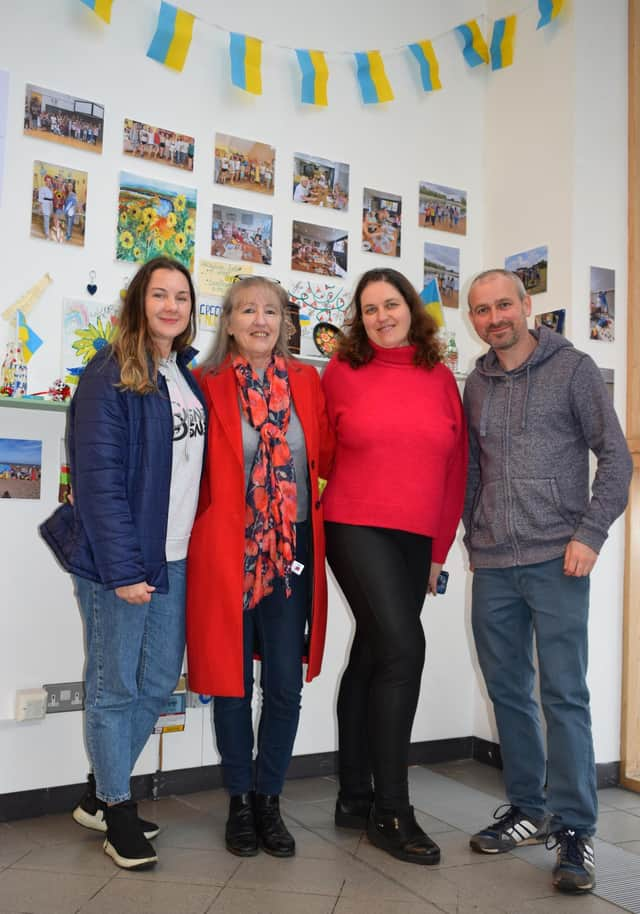 Poignant artwork created by Ukrainian refugees in Rugby is on display in the town.
The display at Rugby Art Gallery and Museum includes handprints of all the children who are now living in the town.
Around 200 refugees have made Rugby home since Russia's illegal invasion of Ukraine in February.The refugees, living with sponsors under the Government's Homes for Ukraine scheme, have slowly started to build a community since arriving in Rugby.
They have been helped by a band of volunteers and Anna Nepip-Frankis - Rugby born and bred but fluent in Ukrainian, who helped the refugees overcome the language barrier.Various social media apps allowed the refugees to support each other and share experiences of living in the UK, and soon weekly meetings were set up - first at Bilton's Sacred Heart Roman Catholic Church every Wednesday and then later at Rugby Methodist Church Centre on Saturdays.Traditional Ukrainian arts and crafts created at the weekly meetings have now gone on display in the foyer at Rugby Art Gallery and Museum, together with a giant Ukrainian flag created by the refugees which includes painted handprints of all the refugee children who live in the town.The display also features personal stories and photographs from the refugees' time in Rugby, including an August trip to the seaside in Mablethorpe, organised by volunteers and supported by donations, and taking part in a music festival held at Hillmorton's Rogers Hall.Iryna Vasylyshyn said: "Since arriving here, we have had the support of our newfound British friends every step of the way."We are very grateful and thankful to have the opportunity to express ourselves by exhibiting our works of art at Rugby Art Gallery and Museum for everyone to see."Although our community is still very young, we hope and plan to show the residents of Rugby a lot more of our Ukrainian culture and customs in the future months."Cllr Simon Ward, who represents the Wolston and The Lawfords ward, has supported the Ukrainian refugees as both a borough councillor and as chairman of Lawford United FC, which has offered free training sessions for Ukrainian youngsters - proving football remains a universal language."I first got to meet the Rugby Ukrainian group through my role at Lawford United, and since then have got to know everyone and, where possible, help in my role as a local councillor," Cllr Ward said."We can't begin to imagine what our Ukrainian friends have witnessed, what they're going through and what their future holds, but it's great we can welcome them into our community and show our support."I'd encourage everyone to go and see the display at Rugby Art Gallery and Museum to see the group's creativity and get a sense of their experiences since arriving in the town."The display remains on show at Rugby Art Gallery and Museum until Saturday, December 24.Ukrainian refugees in Rugby who wish to be put in touch with the group should email Cllr Ward at [email protected] more information about exhibitions and events at Rugby Art Gallery and Museum, visit www.ragm.co.uk