A Rugby drug dealer has been jailed for two years man after plain-clothes officers spotted him acting suspiciously in the town.
On the morning of April 27, 2021, plain-clothes officers were patrolling near to the town centre when they spotted 39-year-old Michael Tinkler briefly get in and out of a car that made them suspicious.
Tinkler (pictured) was subsequently stopped and found with a mobile phone and £40 in cash – suspected of being the proceeds of a drugs deal.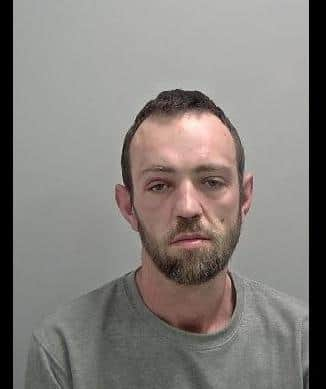 And when Tinkler's Charolais Close home was searched, officers found heroin and £524 in cash.
The mobile phone was found to contain messages pertaining to drug dealing.
Tinkler declined to explain his actions during his police interview.
He was subsequently charged with being concerned in the supply of heroin on May 12 of this year he was sentenced to 24 months in prison at Warwick Crown Court.
Detective Constable Gary Hammond said: "Here was yet another person who was willing to sell toxic, potentially fatal drugs to people because he thought he could make some cash.
"Not only do these drugs harm the user – they also tear apart families, cause further crimes in the community - and channel money to violent gangs which exploit children and the vulnerable.
"We continue to conduct undercover patrols in Rugby and we continue to get drug dealers locked up."