Seven great indoor activities to keep your children busy
Parents across the UK are wondering how to keep the kids entertained at home during lockdown and as remote learning eases for half term.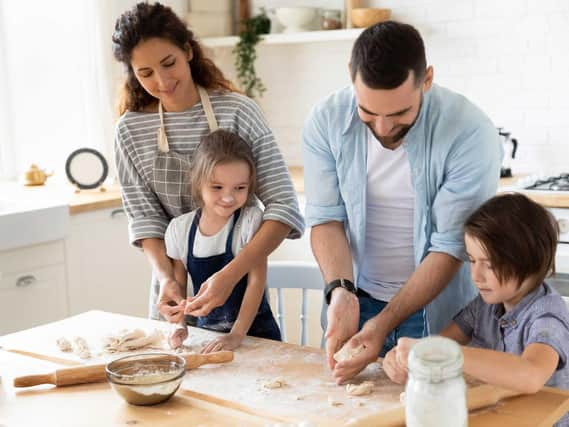 Here, the team from new homes housebuilder Miller Homes share seven of their favourite indoor activities to enjoy at home at half term or any time.
Either download and print a 'scavenger hunt' sheet from online – a quick Google search will bring up many – or make your own list of items to find. This could be as simple as 'find a fork' or could require more thinking, such as 'find something that makes a loud sound'.
Get your players at the ready and set a timer as they race to be the first to find all of the items on the list.
You will need: scavenger hunt sheet; a timer (a phone works well).
Inspired by the popular TV series. Set a small challenge for each day of the week – or as many days as you'd like to play. Use past episodes from the TV show to inspire you or cook along to, choosing from themes such as biscuit week, the Battenberg challenge or one of the many other showstoppers to choose from.
Depending on the number of people in your household, you could turn it into a competition, or use the opportunity to brush up on your baking skills together.
You will need: ingredients for your chosen recipes – most recipes from past shows are online; basic baking equipment – bowl, whisk, spatula, scales and aprons.
Start by making some 'holes' for the golf balls out of cardboard boxes and use rolled up fabric – blankets, rugs, jumpers – to mark out a safe golfing zone.
Use soft toys as cones to zig-zag the ball around, or build your course around a theme such as the beach.
You will need: cardboard boxes, indoor-friendly golf balls – ping pong balls are perfect; toy golf clubs - or if you're struggling, a tennis racket or ping-pong bat would work.
Using colourful craft, masking or frog tape, mark out a hopscotch shape on the floor. This needs to be on a hard floor - large kitchen tiles or laminate are great. Then go back in each square to add in the numbers.
Once done, choose a small, soft object to throw on to the hopscotch and play.
You will need: tape, hard floor, small, throwable object
Collect 10 used and washed plastic bottles. Next, set them up in the traditional triangular shape, just like the bowling pins at an alley. Once done, use a small ball such as a mini football to try and get that perfect strike.
You will need: 15 plastic bottles and small ball.
Big boxes can be turned into the perfect drive-in vehicle. Choose a film, get snacks ready and let the kids snuggle down in their cars in front of the TV for a fun twist on the cinema experience.
Why not add some authenticity by creating cinema tickets and handing them out.
You will need: large cardboard boxes; favourite film; popcorn, nachos and cinema snacks
You can still capture the magic at home even if they can't invite their friends over right now.
Turn your living room into your children's dream destination – whether that's a space-themed scene or jungle-inspired paradise. Set up sleeping bags and duvets to form an exciting den. Teepee cans be hired.
With your theme decided, it's time to plan out an evening of snacks, games or films to match. You will need: sleeping bags, den supplies, snacks, films and games.