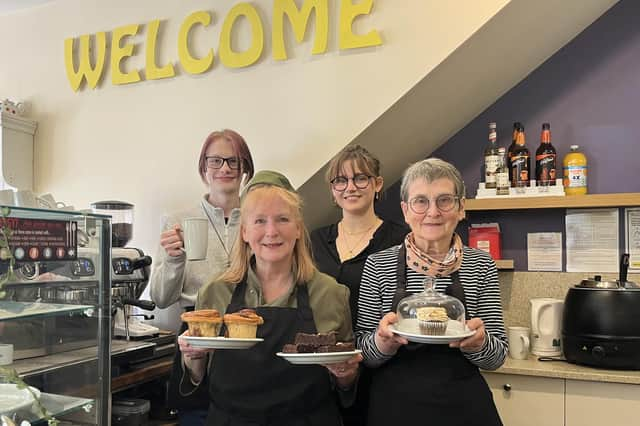 Pioneer Sadie Farrell has brought new life to the once-popular space occupied by Mosaic, the cafe run by Bilton Evangelical Church.
There was great sadness when the church announced in June last year it would not reopen Mosaic but while it is keeping the name of the premises, it has agreed to lease the cafe to Sadie's new venture.
No Meating Place has now been open a month and is already breaking down some of the barriers about vegan food in much the same way as Rugby's much-missed Summersault did for vegetarian food.
Sadie told the Advertiser: "We've had many people come in who didn't realise the café is now all plant based, and I have to say most of them have been prepared to try our hot drinks with non-dairy milks – oat, soya, almond or coconut - and most of the plates come back empty to the kitchen which is a good sign. Phew!
"We've only had one couple walk out saying they couldn't eat here as they weren't vegan and one gentleman who left because we don't sell cow milk. Other than that, the response is very positive and the café is getting busier every week."
The cafe opened on December 16 but the story goes back further than that.
Sadie added: "I have been trying to open a vegan café for about five years now. I originally opened at Moriarty's in Regent Street, in Rugby, ten days before the first lockdown and unfortunately the café closed for good.
"Finding a suitable premises after Moriarty's shut proved to be very difficult, I applied unsuccessfully for several places in town."
Her own switch to a vegan diet came while she was working in hospitality: "I was vegetarian for 30 years before going vegan. I worked in a vegetarian café in Birmingham about 12 years ago as assistant cook.
"The head chef was vegan and she inspired me to give up dairy all together when I realised that the meat and dairy industry is actually the same thing."
The cafe is open from 10am to 4pm on Wednesdays to Saturdays and the menu offers breakfast and lunch options, as well as drinks and cakes. There is also a special deal on soup, set at a price to reflect the cost-of-living crisis, with the chance for customers to pay to 'pass it on' to those who cannot afford it.
The Advertiser has paid a couple of visits as research as a combination of customers with a vegan and non-vegan diet. The lunchtime options of macaroni cheese and the wraps were excellent and fresh, while the Full Works option from the breakfast choices offered a plateful that could change the mind of the committed cynic.
There were different options on both visits and Sadie admits that's part of the plan: "The menu will be added to, not changed necessarily. I am keen to please visiting vegans and local non-vegans with my menu.
"I would like to prove to sceptics that plant-based food isn't something separate from 'normal' food, it's just food."
(The Advertiser paid for all the food and drinks ordered. To be honest, the Advertiser reporter's wife paid for it all...).