Tech Talk: A superb home theatre experience with the Dangbei Mars Laser Projector
Recently I reviewed the N1 projector by Emotn, an amazing device which evoked memories of the day I borrowed a device from work to screen a back garden evening film for my son's birthday celebrations, a bedsheet acting as a makeshift screen as his seven-year-old party pals, can of Coke and pizza slice in hand, looked on in wide-eyed amazement.
Watch more of our videos on Shots! 
and live on Freeview channel 276
Visit Shots! now
Projectors have moved on so much since those days 13 years ago, and I waxed lyrical about the N1 - the only observation being that the projector, like most, really needs a darkened room or a moonlit garden, in order to be seen as clearly as a backlit TV screen, and so not something you could probably use all of the time.
Enter the Mars, from Emotn parent company Dangbei, a premium provider of smart large-screen services and a specialist in designing and developing software matrix, operating systems, smart projectors and more.
And now (and I also have to say Wow!) all boxes are fully ticked. A full HD (1080p) laser home projector, the Dangbei Mars features advanced ALPD® (Advanced Laser Phosphor Display) technology, delivering an impressive HD resolution and a brightness I was immediately flabbergasted with on first switch-on.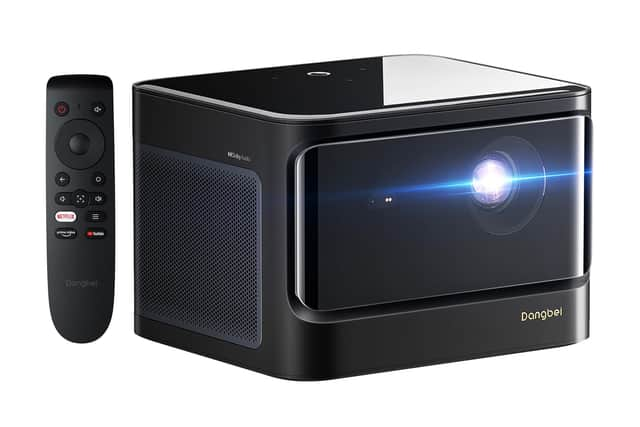 Even with a projection size of a whopping 180 inches (or 15 feet!) the Mars holds its brightness. Believe me, daytime viewing is not a problem, not with an eye-watering 2,100 ISO lumens of brightness, powered by an ultra-bright laser light source that can last up to 30,000 hours.
With various super-intelligent automatic setup features that instantly transform the image to a perfect square shape (Keystone correction technology), the Mars is a versatile home theatre. Unlike RGB lasers that may produce a speckle effect, the Mars prioritises the comfort of viewers and delivers a speckle-free experience. HDR10 technology also gives lighter whites, darker blacks and a whole gamut of vibrant colours in between.
With AI Brightness Adjustment, the viewing experience adapts to any lighting environment, autofocus makes things simple, and the Mars even incorporates Obstacle Avoidance technology - so the projection will avoid the picture of Auntie Jean on the wall!
The Mars features two built-in 10W speakers that support Dolby Audio and DTS-HD, providing an immersive sound experience, but you can also Bluetooth to your own speakers if needed.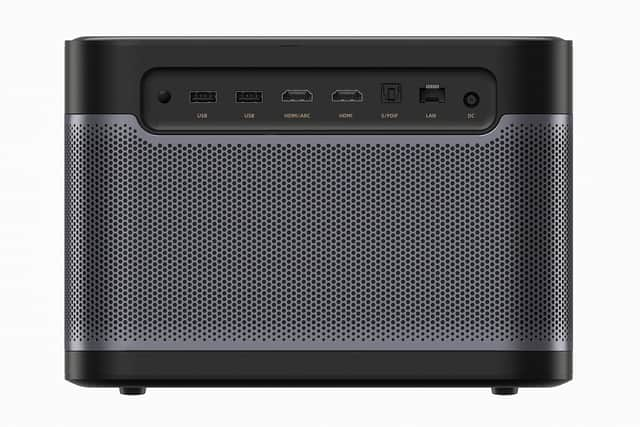 The Mars setup is almost identical to that of the N1, so you may have feelings of deja vu as I crib from before - no sense in reinventing the wheel!
Inside the box is the gleaming and glossy black Mars projector, a power cord, transformer, remote control and a small start-up manual.Connecting to the wifi is straightforward, with a keyboard appearing on screen with which to navigate through via the remote. Once connected, subscription details to Netflix and Amazon (if you have them) can be input in the same way. YouTube can be set up too so have your required Google password and username details handy.
The remote control features hotkeys for these three main video services allowing you to access their go-to apps with a single press.
As mentioned the Mars' speakers are more than adequate for sound purposes, but I was able to connect to my powerful Bluetooth speaker via the home page for an even more enhanced audio experience. Your headphones or earbuds can be connected the same way for solo viewing and there's also an output jack for wired audio connection. With a noise level of less than 24dB, the viewing environment remains undisturbed to be enjoyed the way it should be.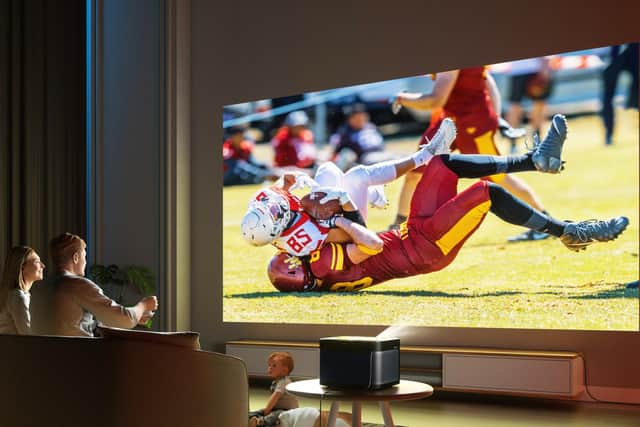 From the top of the home page you can access the various connection options - using the home page, which means your gateway to the three streaming services mentioned, but also HDMI, USB, LAN and optical, the ports of which are at the rear of the Mars. For you buffs, the connection specs are HDMI*2, USB*2, Lan*1, S/PDIF*1, 5G WiFi, Bluetooth 5.0
This means that all manner of devices can be connected, like USB dongles such as NOW TV and Roku, laptops, settop boxes like Sky and Virgin, and memory sticks or hard drives with your own movies can be connected. Gamers can enjoy the HD experience too via the HDMI.
Like the N1, you can also wirelessly mirror your mobile using your phone's Cast tool settings. Seconds later a mirror image of your phone appears on the projector screen, and I was then able to watch a home video stored on my phone and then cast a BBC Sport app game of football to the Mars.
However apps like Virgin Go and Sky Sports will not allow wireless streaming from your phone to the projector - for this a wired connection from your settop box or laptop would be required.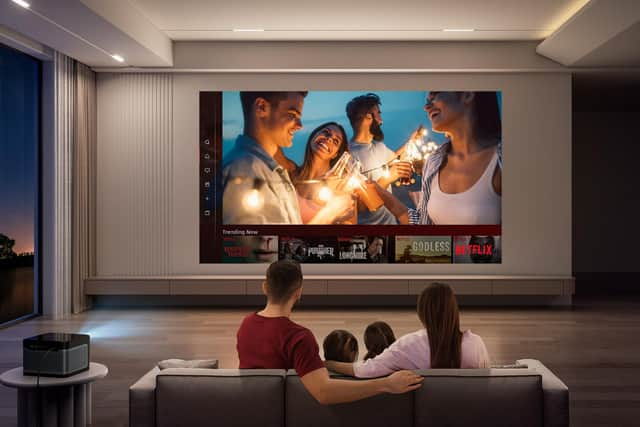 The built-in stand on the bottom enables viewers to adjust the angle of projection in a breeze by up to 12 degrees, and there's a standard 1/4" screw for tripod use.
In summary, a fantastic home theatre experience, for movie night, or indeed movie day!
The Mars Pro is available from Amazon for £999.
Power lead and transformer