Brook Meadow offers award-winning accommodation in a tranquil setting
Alan Wooding experienced a peaceful weekend getaway at this beautiful campsite in the heart of the East Midlands, complete with a cinema in a cowshed, chic furnishings, a 42-inch television, fun for historians and thrillseekers and plenty else besides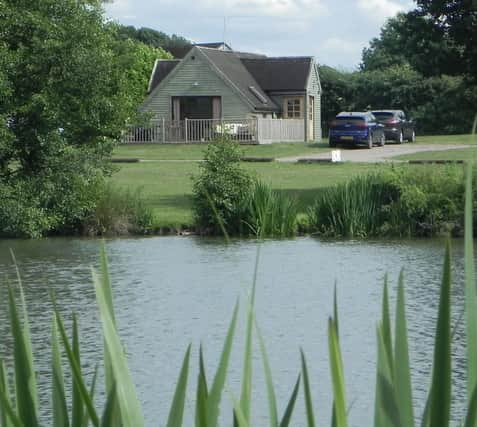 "It's certainly one of the most tranquil and best equipped campsites that we've ever stayed at," suggested my daughter and son-in-law, who joined me for a weekend stay at the Brook Meadow camping, glamping and caravanning site on the Northants/Leicestershire border.
While they usually stay in their motorhome, this time they enjoyed the comforts of a spacious lakeside lodge at the privately-owned campsite on a 400-acre working farm located a stone's throw from the village of Sibbertoft and a short drive from Market Harborough.
As proud winners of the 2022 Leicestershire Tourism and Hospitality Award, the farm's dedicated 20-acre camping, glamping and caravanning area won the prestigious nationwide 2023 Silver Medal at the Visit England Awards for Excellence held at a glittering ceremony at Warner Bros Studios in Hertfordshire.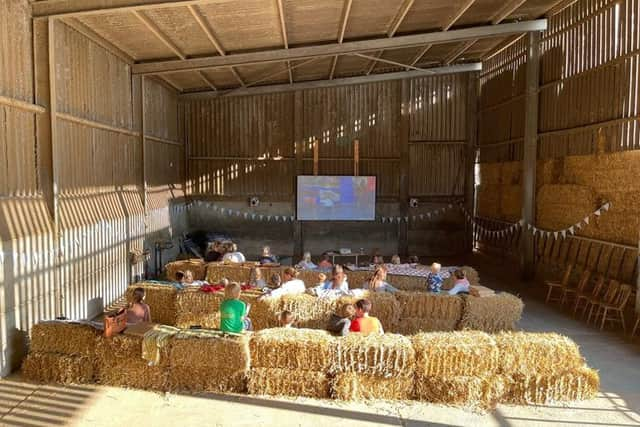 The site has actually been in operation since the early 1990s although it was transformed into a prize-winning venture five years ago when architect and interior designer Claire Hart returned home to rejoin her parents. Her ideas – which included major landscaping, adding hedges, natural play areas, a cowshed cinema and pizza nights – were just the start of the renovations.
Her father Jasper Hart created the site's five acre fishing lake back in 1991 but when Claire became co-owner in 2018, she began to use her skills to give each of the four wooden lodges an individual identity.
Claire also erected a magnificent one-off Marabou Glamping Lodge alongside a Sunbird Safari Tent, all with touches of an 'Out of Africa' theme. Added to that is a vintage silver US-style Airstream caravan with its outside kitchen under a rainbow canopy. It all gives holidaymakers a great choice of accommodation.
We stayed in Skylark, one of the site's nature-inspired lodges with its superbly-painted wall murals, while a huge veranda looks out across the lake. Skylark also features a magnificent well-equipped kitchen with an extra large central island which houses the oven with an induction hob, microwave, fridge and a separate freezer. In addition there's also a washer/dryer and six-place setting dishwasher.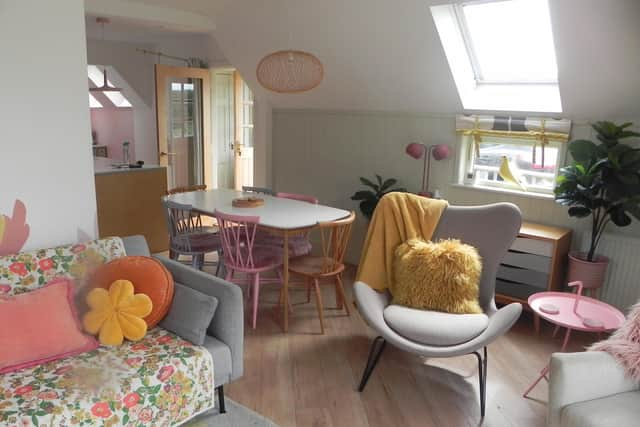 The boutique chic furnishings are all top quality and the two bedrooms – a spacious twin and large en-suite double together with a family bathroom – all make for a very comfortable stay indeed. There's plenty of seating for up to six guests who have a choice of two large dining tables (one in, one out), plenty of easy chairs plus a settee which makes into another double bed.
There'a also a 42-inch television, around 20 DVDs, games and books, plus good WiFi connection. As we also had my daughter's dog Bella with us, the large completely enclose veranda was perfect for her to mooch around without the worry of her escaping.
Another nice touch by way of enhancing our Brook Meadow stay was the choice of a breakfast hamper delivered courtesy of Nicola from La Fête Fleurie (www.brookmeadow.co.uk/extras) and it was all rather delicious!
For very special occasions, you can enjoy a Fine Dining experience courtesy of a personal chef who comes to your lodge to cook for you – just be aware he needs to be booked well in advance.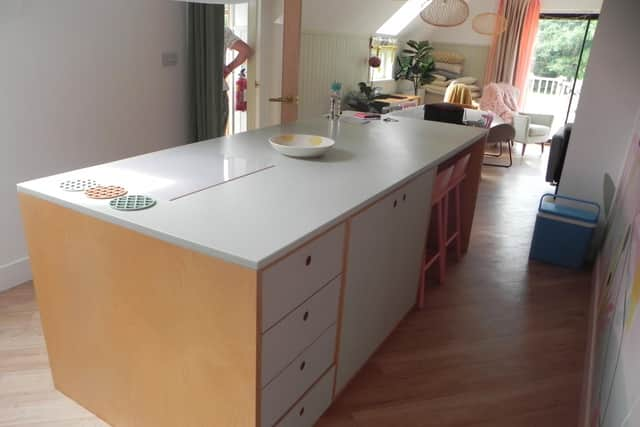 On most Saturdays from May to October there's the chance to enjoy an on-site wood-fired pizza although on our particular weekend visit, there was a Mexican-style takeaway instead.
Staying at any of the lakeside lodges – Skylark, Kingfisher or Woodpecker – gives you automatic permission to fish on the eastern bank of the lake as long as you adhere to the rules (a licence, unhooking mat, barbless hooks, minimum 8lb line, etc) while certain sections are fished by syndicate members.
While the campsite can accommodate large numbers of tents, caravans and motorhomes there seemed to be plenty of space. There's a 10pm noise curfew ensuring that there's no rowdy behaviour into the wee small hours. There's also the usual facilities while the Fishing Lodge is fitted with a full working kitchen for anyone to use.
As part of a working farm, guests can go egg collecting with Claire's mother Mary or can settle on a straw bale for a Saturday night 'moovie' in the cowshed cinema. You can also take a bumpy tractor ride with Jasper to see the farm animals or simply go fishing in the well-stocked lake which holds numerous large carp to around 20lb along with large tench, perch and roach.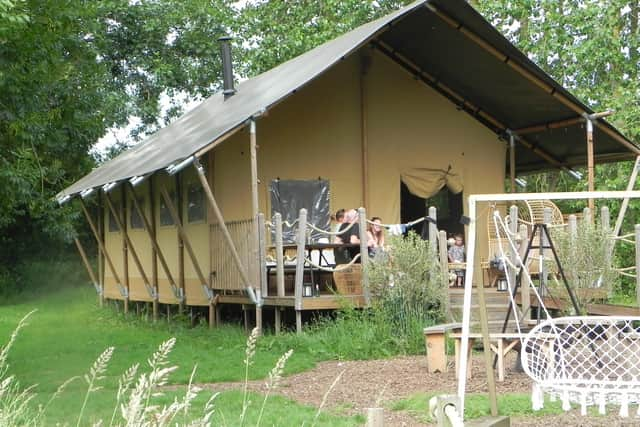 For history buffs, the First English Civil War's Battle of Naseby in June 1645 actually took place on what is now Brook Meadow's Wrongs Farm land while right next door to the campsite is Avalanche Adventure which is a must for all thrill seekers. But if that doesn't satisfy your adrenalin rush, in the very next field is the Coventry Gliding Club where you can arrange 20 minute flights from around £69.
Brook Meadow can be found at The Wrongs Farm, Welford Road, Sibbertoft, Market Harborough, Leicestershire LW16 9UJ. Telephone 01858 880886 or check out the website at www.brookmeadow.co.uk to book or for more information.
*Many thanks to Claire Hart and her family for our weekend visit, to Nicola at La Fête Fleurie for the hamper and to Anthea Yabsley at IDeal Public Relations for arranging our visit.