Feature: Combine a seaside break in upmarket Lytham with an adrenaline-fuelled day in Blackpool
It's twin-centre heaven on the Lancashire coast with activities galore for the family, writes Ruth Brindle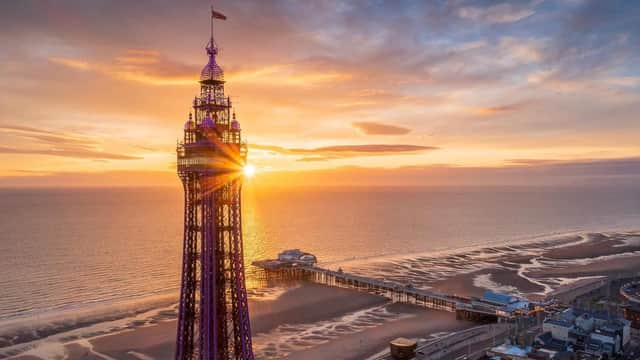 The tone was set very quickly as we first wandered into charming Lytham town centre on the Lancashire coast. A beautiful Bentley convertible drove slowly by as ladies who lunch enjoyed a daytime glass of fizz in the spring sunshine at a pavement cafe on the charming Clifton Square.
This upmarket enclave, just a few miles from Blackpool, was a pleasant discovery for our multi-generational party unfamiliar with this part of the world.
One local informed us that Lytham's transformation to a highly desirable place to live was prompted after Blackpool Football Club entered the Premier League. Stunning period homes here were increasingly snapped up. But it's not surprising as it's a beautiful place.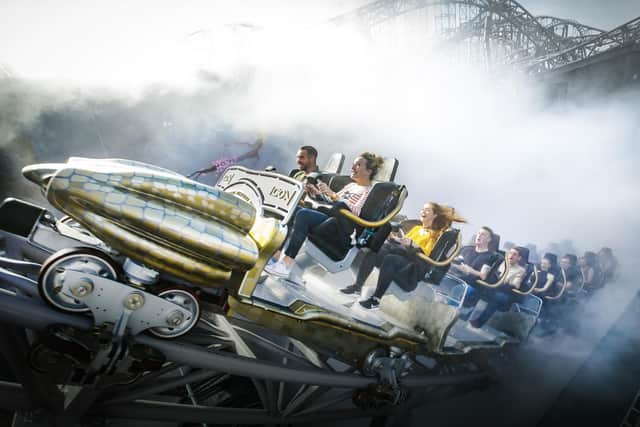 Our group had chosen to stay in a rented home in the town for a weekend away that was also to include some high-adrenaline activities along Blackpool's golden mile.
Now I first have to explain that this was Lytham and not Lytham St Annes which is another town a few miles along the coast, famous for its world-class Royal Lytham & St Annes golf course and its pier, but more of that later.
We were delighted to find that the local South Fylde train route could get us into Blackpool in about 15 minutes and used this easy method of transport regularly as it also had plenty of parking in Lytham. There are stops for Pleasure Beach at the south end and for the Tower at the north end of the Golden Mile. A great way to travel if you plan to visit the pubs and clubs for a drink.
Haven, our cosy three-bedroom home was minutes by car from the sweeping greensward along the coast at Lytham. This is where the Irish Sea meets the Ribble Estuary and is a nature reserve - a great place for bird watching. There's a charming lighthouse which also houses a museum and an old lifeboat station.
Lytham St Annes, also a stop on the train line, has a better beach with soft sand ideal for sand castle building and the pier has great arcade games, including VR. Shooting lasers from a rollercoaster was a big hit on one machine! It's a dog-friendly area with many establishments providing dog bowls. There are also designated dog areas on the beach.
Both here and in Lytham there are lovely parks with lots of organised, family-friendly activities in the summer. There's also a theatre in Lytham's Lowther Gardens with regular shows and events.
A few miles along the coast and the atmosphere could not be more different. Here the preferred mode of transport is a tram or an ornate Princess carriage! Arriving by train, our action-packed day in Blackpool started at Pleasure Beach theme park. It's bigger, better and more adrenaline-fuelled than I expected as a veteran of Florida's theme parks. Favourites for our group were: Icon, with its double loops, for the 15-year old; Skye from Paw Patrol in Nickelodeon World for our 10-year old and wooden coaster Nickelodeon Streak was also a fast and fun family favourite.
Top of my own Blackpool to-do list was the Tower Ballroom, made (more) famous by Strictly Come Dancing, which is truly ornate and beautiful and, yes, the floor does bounce! At the top of the tower The Eye experience gives a panoramic view over the seafront and out to sea and the scary experience of standing on the see-through floor 380ft above ground.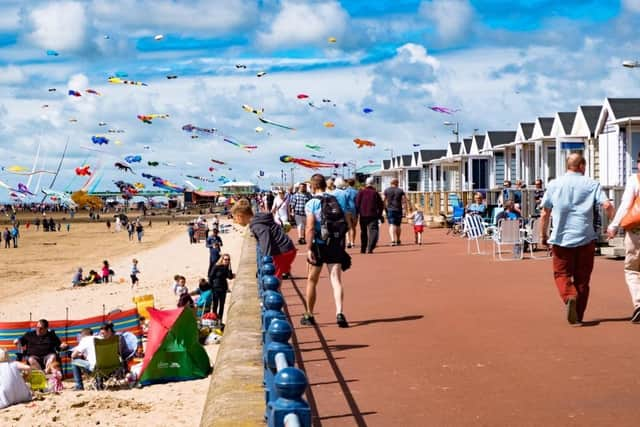 I'd highly recommend this two-centre stay in the north west that is full of fun and with so many activities on offer that you'll be spoiled for choice.
To book a stay, visit www.sykescottages.co.uk or call 01244 617683. Pricing for seven nights at Haven starts at £556.
Lytham Ice Cream Festival
July 22 and 23: Celebrate all things ice cream at the Lowther Pavilion and gardens. This free event will bring together fine ice cream vendors from across Lancashire alongside free family entertainment in the beautiful, historic Lowther Gardens. Free.
August 12 and 13: This has been running for over 100 years. The free event on the seaside town's promenade fills the streets and this year the Red Arrows will be opening the show on both days, with the RAF Typhoon team closing each day too. Free.
August 19 and 20: Relive the wartime era on the coast at the 12th annual Lytham 1940s weekend. The weekend will offer re-enactments of the era, singing, dancing, vehicle parades, a fashion show and more. There will be a whole host of events throughout the weekend, with a full programme expected to be announced soon. During the event expect Spitfire flyovers, vintage fairgrounds, weapon displays and battle re-enactments. Free.
Blackpool Ride the Lights
August 29: Enjoy the iconic Blackpool Illuminations on your bike! This annual event allows you to experience the illuminations ahead of the official switch on, and without a car in sight, for one night only. The whole six-mile stretch of the promenade featuring the lights will be closed to cars, allowing cyclists to take in the full experience together. Cyclists are invited to decorate their bikes for the event too. Free.
Lowther Pavilion Outdoor Theatre, Lytham
July 26 – August 30: An array of theatrical performances for all the family. This year you can catch a series of different shows including Dick Whittingham, The Emperor's New Clothes, Alice in Wonderland, Peter Pan and more throughout the summer holidays. Tickets from £8.