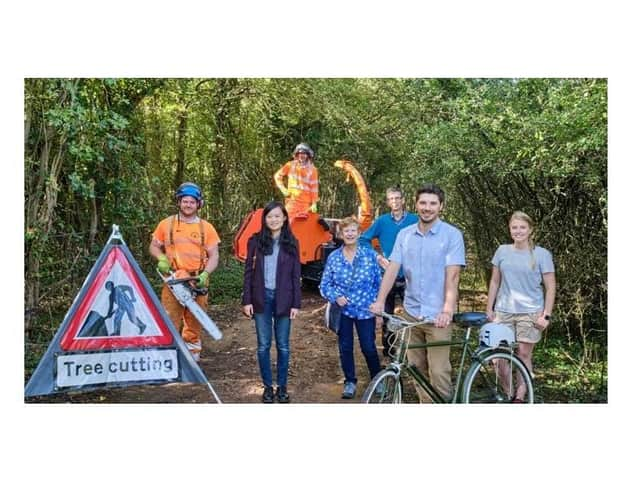 When complete, around 8.3km of on-road provision between Leamington and Rugby will be replaced with 6.18km of off-road track.
Cyclists and walkers could benefit from plans to resurface a disused railway line and create new traffic-free routes between Rugby, Leamington and Long Itchington.
National charity Sustrans are behind the scheme that would reopen the old Lias Line - the name given to the railway track because it ran through an area of lower lias which was quarried extensively for clay and limestone.
The plan would be to open up the 11.5km stretch from Bourton Lane and the Offchurch Greenway allowing the rerouting of cycleway NCN41 which currently involves a section along a busy road with no path for walkers. A separate spur to the route would link Long Itchington and Stockton.
A report from Sustrans explains: "A safe, off-road route is needed and called for by the local communities. The Lias Line has the potential to provide an alternative route and will be a regionally important piece of active travel infrastructure.
"It would provide a green corridor, rich in wildlife and accessible for everyone. As an off-road route, it will encourage a much wider demographic to enjoy walking or cycling through the countryside.
"It will also complete a link between the Offchurch Greenway and the Grand Union Canal Path, forming the longest traffic-free cycle route in Warwickshire, making it perfect for a day out.
"The new route is part of the overall Sustrans Paths for Everyone Project. The scheme is in accordance with the national and local policies, which focus on improving sustainable transport in the area.
"The development is unlikely to cause significant damage to any sites of archaeological interest or permanent disturbance to the sites' ecology."
Sustrans explained that consultation had taken place with those living near to the route and there had been letters of support from Warwickshire County Council, MP Jeremy Wright and Long Itchington Parish Council."
If the plans are approved by Rugby Borough Council then the work will also include creating access ramps, boardwalks, a landscaping scheme, benches and interpretation boards.
A series of wildlife surveys took place between January and September and these identified the presence of badgers, bats and otters while breeding kingfishers and barn owls have been identified close to the proposed route and measures will be taken to avoid significant disturbance of these species.
A decision on the plans is expected in the new year.