Stylish streets still swing to 21st century beat
Soho and Carnaby Street couldn't be more intrinsically English were their celebrated streets still swinging to Sixties soundtrack that defined these distinguished districts.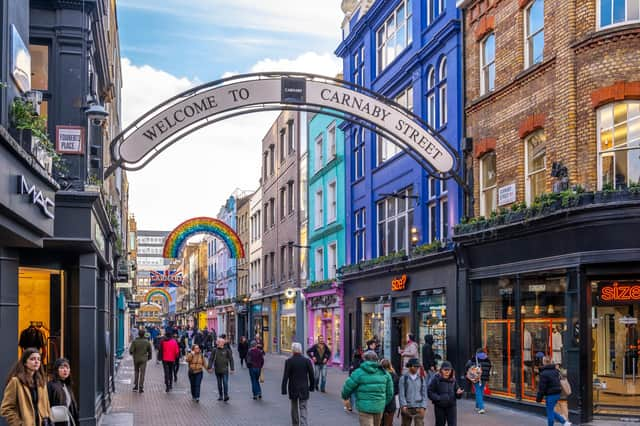 Soho's current entertainment ethos emanates from risqué Raymond Revuebar and Windmill Theatre as well as music meccas Marquee Club and Ronnie Scott's, the area awash with coffee bars including iconic 2i's.
Carnaby has long been streets ahead for Mods, Skinheads, Punks and New Romantics, dedicated followers of fashion foraging for styles sharper than Sta-Prest permanent trouser crease.
Globally renowned areas, they today remain go-to destinations for eclectic retail therapy, including pioneering pop-ups, amid unmissable attractions as well as West End diverse fine wining and dining, surrounded by contemporary street art and renowned landmarks.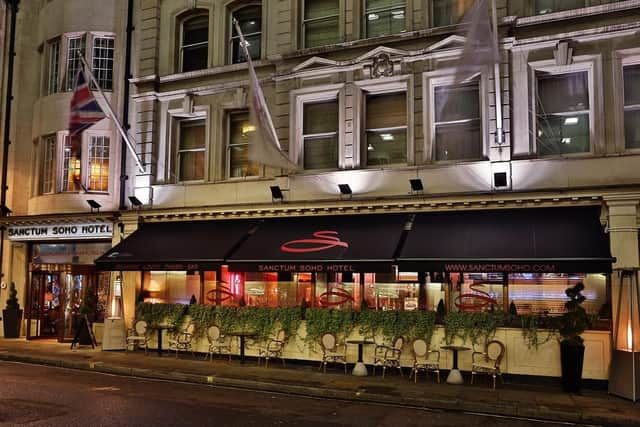 Shaftesbury's Soho portfolio boasts 39 shops as well as 31 restaurants, bars and cafes while Carnaby sees 160 stores straddle 14 streets.
Light fantastic features range from pink festoon lamps to Rainbow Arches, giant 3D Union Flag comprising 30,000 red, white and blue shimmer discs to equally dazzling 50-plus oversized suspended LED light bulbs, supplying spectacular sky show forming overhead rainbow.
Where to stay
Instant Karma, channelling late great John Lennon's anthemic song recorded in this very city in 1970, comes with early bag-drop check-in at wonderful Warwick Street accommodation.
Brainchild of Concept Venues' Mark Fuller, Karma Sanctum Soho seamlessly segues sophisticated subterranean cocktail bar and screening facilities with stunning Wild Heart Bar & Shokudo restaurant.
''Gorgeous bedrooms, funky crash pads and private roof-top terrace, complete with 24-hour bar and alfresco hydro spa, alongside level of service and host of extras worthy of a rock star, the hotel is must-stay destination in the capital,'' proprietors promise.
And the perfectly positioned base duly delivers, seeing we warmly welcomed guests gladly turning Japanese. I really think so!
Where to dine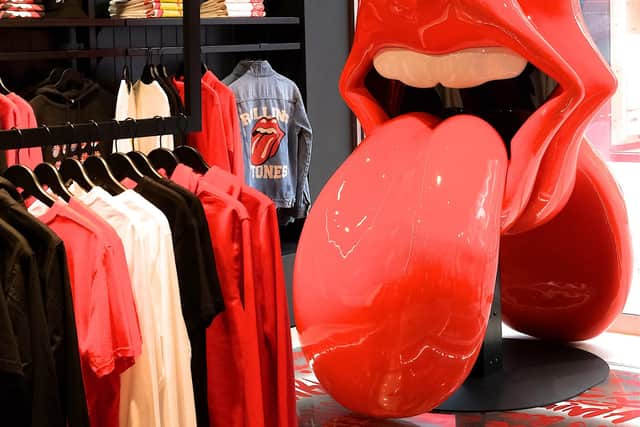 Picture the scene, if you will, as one-time Beak Street resident prominent painter Canaletto regularly did, capturing City of Canals as arguably Venice's most accomplished artist.
A Venetian style bacaro today occupies ground floor and basement of his 18th century home, having successfully served Italian-infused sharing plates since 2009 in the appetising shape of cichéti snacks and more substantial dishes like pasta and pizzettes.
"POLPO uses traditional Italian cooking methods with a modern approach, brought to life by a mixture of British and Italian ingredients. Our chefs create seasonal specials throughout the year, taking advantage of the abundance of wonderful produce available, which sit alongside the classics on the menu," they say.
This is not just dinner, this is Ronnie Scott's dinner! The first class Frith Street club has, since the legendary saxophonist's 1959 venue opening, offered fine food and drink ... and all that jazz!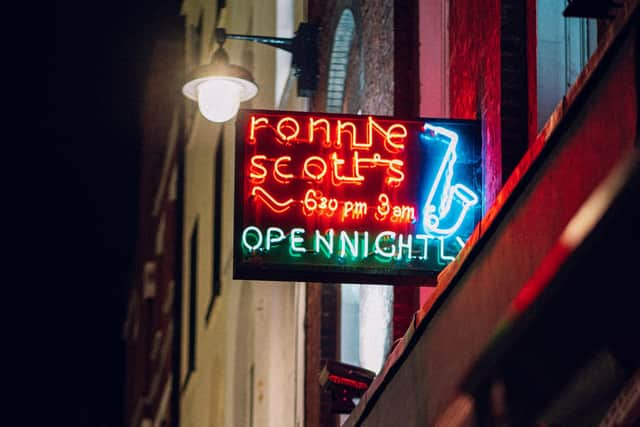 Table service continues throughout shows within one of the world's oldest established clubs of its kind that has welcomed musical luminaries from Count Basie to Chet Baker, Sonny Rollins to Stan Getz. And, last but not least, "First Lady of Song" Ella Fitzgerald.
Pan-fried spiced king scallops, puy lentil & spinach en croûte, cured salmon tartare and coq au vin vie for your attention, alongside signature steaks and burgers, on appetising à la carte menu.
Some of us of a certain vintage recall 1985 American teen coming of age comedy drama The Breakfast Club. The Berwick Street good grub hub of the same name is equally memorable.
Just around the corner from their original D'Arblay Street site, the café - or "caf" as pretension-free proprietors prefer - offers "cozy setting and friendly staff" with belly-busting full Monty fare alongside lighter pancakes.
Pals since 12 year-olds, now brother and sister-in-law relocated their Yorkshire hospitality to the capital. Fans of '80s hit US sitcom Cheers, their mission statement was to replicate a place "where everybody knows your name". Footfall at their egg yolk yellow inviting eatery confirms such true colours still shine through.
In the same way you can lead a horse to water, we real ale lovers are easily led to The White Horse, whose impressive draught rotation selection is complemented by fine fare.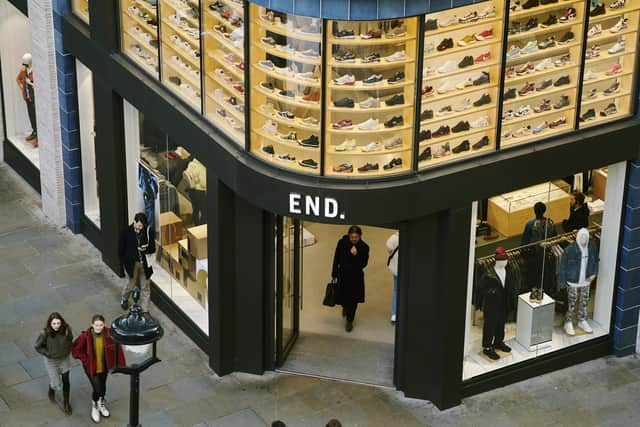 "Food, drink, history and eccentricity since 1873" is available within this cobbled Newburgh Street art deco inn's impressive ironwork exterior.
Mouth-watering menu serves success on a plate pub classics Cumberland sausage and mash as well as fish and chips, grilled sea bass fillets or half roast duck and braised pork confit alongside lighter bites including pressed pork and sage terrine and grilled chicken sandwich.
Where to shop
RS No.9 Carnaby: We know it's only a rock 'n' roll store but we like it, like it, yes we do! Created in partnership with Universal Music Group's merchandise and brand management company Bravado, this iconic outlet features all hallmarks of The (one and only) Rolling Stones, enduring endearing ballsy band spanning six decades, including unique RS No. 9 Carnaby fashion label.
IKKS Paris: Founded in 1987, French fashion and lifestyle brand opened its first UK Flagship store last spring 2022. Known for "sophisticated, urban style and rock 'n' roll attitude," the shop houses latest collections befitting cool kids, men and women.
Ksubi, founded in 1999, quickly gained a reputation as one of Australia's hottest fashion labels, lauded for "DIY, rebel attitude and now distinguished distressed denim and box cross logo. "It wasn't long before their signature look caught the eye of some of the most influential people in music and fashion".
Known for eye-catching range of spectacles and sunglasses, Bloobloom offers craftsmanship and quality "at a fair price" including full breakdown of the cost of frames, priced from £95 with prescription. Partnered with sustainable and equitable trade factories, "not only are their glasses chic, but they are kind too".
Hop along to The Great Frog, iconic jewellers celebrating 37 years catering to "niche clientele of rockers, bikers and those on the edge of the mainstream". Celebrity customers range from Lemmy to Slash, David Beckham to Debbie Harry, Johnny Depp to Iggy Pop.
NICCE has continually strived for "timeless, high quality and multi-functional casualwear" and, with introduction of versatile collection AnyWear "that can be worn by anyone, anytime, anywhere". Think bold variety of colours in casual and sport inspired styles.
Aubin & Wills was established in 2008 as elder sibling to the brands' former stablemate Jack Wills, Aubin now independently owned and run by original founders. The outlet "epitomises brand ethos of Better is Greater Than More" with alluring reclaimed materials and furniture, full collection available in-store.
Dickies' first European stand-alone store landed on Carnaby Street stocked with iconic styles, such as 874 work pant, to latest collaborations. "Connect with the brand through unique programming, including experiences and workshops," they invite.
Carnaby's first permanent charity shop Mind houses carefully curated collection of pre-loved vintage and designer stock for the stylish W1 shopper. Items include likes of luxury designers Givenchy, Burberry, Vivienne Westwood and Louis Vuitton, new stock added daily to well-stocked shelves.
Annie's Ibiza sells stylish mix of eclectic and rare one-of-a-kind pieces, all handpicked by eponymous Annie Dobie herself, reflecting wardrobe of the woman who, aged 25, helmed her own Balearic old town small studio shop, since famed for die-hard designer vintage collections from repurposed dresses fashioned from 1950s table clothes to vintage Dior and Chanel '70s jewellery.
RÆBURN is a British fashion label with unique and innovative approach to creating menswear, womenswear, and accessories. "Collaborative, creative fashion studio where daily design meets responsible production, alongside monthly events, discussions and workshops".
Swinging into Soho, join "Seven Nation Army" that daily marches on Third Man Records store conceptualised and created during lockdowns by label founder Jack White, multi-talented frontman of The White Stripes, The Dead Weather and The Raconteurs. "A physical space to help keep record sales and live performances alive after such a tough period for everyone".
Previously creating and expanding a formalwear brand, Oliver Spencer changed direction to create something new with range of clothing exuding "quality and craft of premium tailoring but with relaxed modern style". Their philosophy is as simple as it is stylish ... quality needn't mean formality, casual needn't mean careless.
Ffern's store launched last year as first physical outpost of the revered brand. Natural fragrance makers, based on simple vision to restore perfumery to artisan roots, the company creates organic and vegan fine fragrances, Launched in 2017 by brother and sister Owen Mears and Emily Cameron, the lines "celebrate skill and craftsmanship involved in natural perfumery".
Wood Wood & Life is a Copenhagen-founded contemporary fashion and lifestyle brand founded in 2002 with sister stores in Aarhus and Berlin before Soho, directed by co-founders Karl-Oskar Olsen and Brian SS Jensen. Ready-to-wear collections are developed by "in-house assembly of designers, working with graphics, recontextualised silhouettes and expert tailoring for tech-meets-formal countenance".
Designed for new wave of fashion-conscious individuals, END. is the store that likes to mix innovative and directional menswear. Watchwords "Inspire, educate, culture, community" underpin brand founded in 2005 by Christiaan Ashworth and John Parker through "shared passion for fashion, design, art, and music".
Mark Powell, among London's most iconic and influential bespoke tailors, opened doors to his first shop over 35 years ago. Men's ready to wear suits, coats, shirts and ties, as well as bespoke tailoring for both men and women, continues to stand test of time.