After pulling over for the police, driver Rheece O'Connor waited until an officer had hold of his passenger door handle – and then sped off, triggering a six-mile high-speed chase.
And a judge told O'Connor 'it beggars belief' that he did not hit anyone during the pursuit which began in Warwick and only ended when he turned into a cul-de-sac in Lillington.
O'Connor (29) of Ryland Close, Leamington, was jailed for 12 months and banned from driving for three years by the judge at Warwick Crown Court.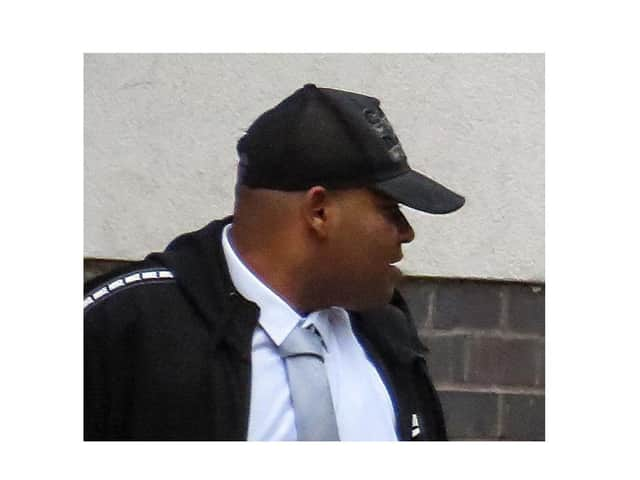 He had pleaded guilty to dangerous driving, driving while disqualified and having no insurance.
Prosecutor Holly Kilbey said that on April 15, police officers were in a marked car in West Street, Warwick, at 2.50 in the afternoon when they saw a Peugeot car which had no insurance.
They turned to follow it as it headed towards the town centre and pulled it over before one of the officers walked up to the silver Peugeot and took hold of the passenger door handle.
But the driver, O'Connor, suddenly sped away, and the officer ran back to the police car before he and his colleague set off in pursuit, capturing the chase on their in-car camera.
Playing the seven-minute recording, Miss Kilbey said that O'Connor sped along Theatre Street and took a right turn at the Saltisford roundabout before overtaking a number of cars as he raced down Priory Road 50mph.
Reaching 70mph as he headed along Coten End and Emscote Road, at the traffic lights at the junction with Pickard Street, O'Connor went onto the off-side of the road to pass a van that was positioned to turn right.
O'Connor then went through the lights at the junction with Charles Street at 50mph while they were on red, and over the canal bridge by the Tesco store without slowing.
He then headed along Rugby Road where he overtook other traffic as he went under the railway bridge on the wrong side of the road at 60mph and went the wrong side of a keep left bollard.
He came up behind a line of three cars behind a bus, and went onto the wrong side of the road to overtake them all in the face of oncoming traffic.
When he crossed Kenilworth Road he overtook another car, missing two cyclists by just a foot before continuing into Lillington Road where he went onto the off-side and the wrong way along the slip road into Cubbington Road.
O'Connor veered into Pound Lane and along residential Valley Road and past the shops in Crown Way, still at high speed.
He then headed back along Cubbington Road before turning into Pound Lane again at 50mph, and continued on a similar circuit before turning into Wellington Road.
With another police car coming in the opposite direction, he turned into Compton Close, which comes to a dead end, and when he stopped after a pursuit which had lasted for seven minutes, the police were able to block him in, added Miss Kilbey.
Judge Anthony Potter commented: "It's an area I know well. It seems utterly remarkable that there was not a collision."
John Brotherton, defending, said: "He says he panicked because he was disqualified. It was an appalling level of driving, I have to concede that.
"The pre-sentence report is not realistic in its recommendation, because we are not in community order territory – but we are, I would submit, in suspended sentence territory."
But Judge Potter disagreed, and told O'Connor: "I have to deal with you for the way in which you drove on the 15th of April.
"You will remember that was barely two weeks into the lockdown that was imposed on us all due to the Covid-19 pandemic, and I have not heard a reason why you were out on that day in Warwick, three miles from where you live.
"I can see no reason for you being out, let alone behind the wheel of a car. You were five months into a ban which disqualified you from driving.
"What makes this so serious is that you pulled over in Warwick, just on the edge of the town centre, but what you then decided to do was to drive off as the officer had hold of the passenger door handle.
"To describe your driving as appalling is to underplay it. Anyone viewing that footage would be astonished that no-one was left with at least life-changing injuries. It beggars belief that you did not crash into other vehicles.
"There was a real prospect that you could have seriously injured another person, be it a pedestrian, a cyclist or another driver."