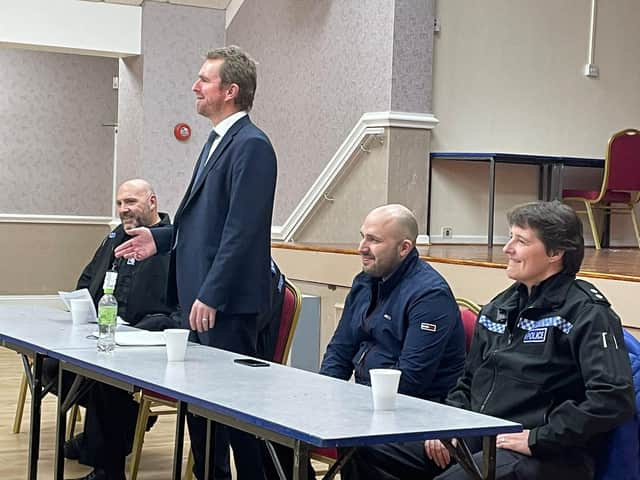 Drug-dealing and anti-social behaviour were among issues discussed at a meeting with police in New Bilton.
Labour councillors held the first of a series of meetings to allow the community to raise concerns with local police.
Cllr John Slinger, who chaired the meeting, raised issues including dangerous driving, anti-social behaviour, drug dealing and consumption, and irresponsible parking outside schools. Individuals were given a chance to voice their opinions and questions and hear answers from the local team.
Business owner Brandon Carter raised his concerns over anti-social behaviour (ASB) in the local skatepark.
He said: "As someone who has used the skatepark facilities over the past 13 years, I have seen many things happen, both good and bad. The main reason I am here now is to help fight against ASB cases happening in the safe spaces for youth and athletes to use. I truly believe this town can be greater for the younger generation and we can work together to make it a reality."
Attendees also heard about the future policing model in Warwickshire, due to be implemented from late April.
Insp Bunyard-Spiers said: "This was a great opportunity to sit with the local community and listen to their concerns. We share their passion for their local area, and this was a chance to build relationships that will help us tackle crime and disorder. I look forward to future meeting with residents and businesses where we can continue to work together to identify issues and put measures in place to address them."
Cllr Slinger said everyone in the community has a shared responsibility to help reduce crime. He added: "The event was a really good opportunity for a constructive conversation about how to do this.
"The police reiterated the importance of the public reporting matters to them and that they value forums like this. We've agreed that there will be further meetings, to which all residents and local organisations will be welcome, every three to six months. I'm confident that working in a spirit of partnership, we can help strengthen our community."