Kenilworth domestic abuse survivor speaks out following abusive ex-partner's conviction
David Sean Thompson, 33, of Goggbridge Lane, Warwick was given an 18-month jail sentence suspended for two years for coercive and controlling behaviour. He was also fined £2000 and ordered to do 200 hours unpaid work.
Watch more of our videos on Shots! 
and live on Freeview channel 276
Visit Shots! now
A Kenilworth woman has spoken out about her experience of being trapped in an abusive relationship with a man who controlled her every move.
Her ex-partner David Sean Thompson from Warwick was last week sentenced for coercive and controlling behaviour.
The woman met Thompson in April 2018 on a dating site, and they started seeing each other. "It was really good to start with," she said, "but looking back there were early signs of concerning behaviour; he started to manage where and when we would see each other. He would fly off the handle for no reason and started to disappear for days at a time; I later found out he was seeing other women.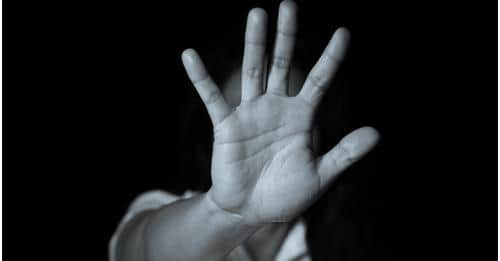 "I was vulnerable at the time knowing I was likely to be made redundant, and he suffered a bereavement shortly after we started dating so I blamed his behaviour on that and kept making excuses for him. All the time he was getting his hooks into me and breaking down my self-esteem."
Thompson demonstrated behaviours typically associated with controlling and coercive people, forbidding her from having contact with male friends and dictating other people she could be friends with.
"I stopped having opinions because the slightest things would set him off. If he'd not had a go at me for a while, I knew it was coming because I knew he could not go too long without making me apologise to him for something, even things that hadn't actually happened.
"My family noticed I had become a shadow of my former self and colleagues started noticing changes in my behaviour. I was always tired, and I lost a lot of weight; I looked dreadful.
"At the time I worked in a role in the criminal justice system, and I used to sit through meetings about domestic abuse, and one day I realised, 'this is happening to me'."
The court heard how the relationship became violent culminating in an incident at Thompson's friend's birthday party in Chesterfield in October 2019 when the police were called, and Thompson was arrested.
"Just prior to this incident I had given myself permission to walk away from the relationship if he did anything else to me. I couldn't cope anymore. He dragged me to the hotel room after getting angry with me for no reason, and I knew something bad was going to happen. I told him I wasn't going to let this happen anymore, and that led to his behaviour that night."
A joint investigation was launched between Warwickshire Police and Derbyshire Police, and the victim was referred to the Family Intervention Counselling Service.
"The counselling didn't just help me get over what happened; it helped me realise how I got there and how crafty some people can be. Thanks to their support I can honestly say it will never happen to me again. I'm always careful when I'm dating now and on the lookout for red flags. If I spot them, I walk away.
"I also notice red flags in the relationships my family and friends have, and I can talk to them about it."
She is now very supportive of Claire's Law that allows people to check whether their partner has any previous history of violence or abuse.
Due to Covid, Thompson's trial took four years to get to court. Despite this, the victim was determined to see the case through so that future partners could be alerted to his past if they use Claire's Law.
"I didn't want him to able to tell a future partner that he didn't do it, his history will be there in writing, found guilty of domestic abuse offences by an impartial jury who studied all the evidence before reaching their verdict.
"I spent three days in the dock being cross examined and it was such a relief that the jury believed me and not him."
The woman is now putting her life back together following her ordeal and has advice to other people worried about the behaviour of their partner.
"Do a background check. If you don't, you'll never find out.
"There might be nothing there but if there is it gives you the opportunity to steer clear.
"And, if you're not ready to report it to police then there are many counselling services out there that can help you understand what's happening, and make a decision that's right for you."
Investigating officer Detective Sergeant Emma Mackay from Warwickshire Police said: "The victim has shown great bravery in supporting this investigating and case despite all the delays.
"Thompson pleaded not guilty and made her relive the ordeal throughout the trial. She showed great courage through several days of cross examination and ultimately the jury believed her and rejected Thompson's lies.
"Thompson showed signs typical of someone who is controlling and coercive.
"I hope that other victims reading this will be given the encouragement to come forward and report it. There are people who will listen, and we will do everything we can to support you and bring offenders to justice."
Thompson, 33, of Goggbridge Lane, Warwick was given an 18-month jail sentence suspended for two years.
He was also fined £2,000 and ordered to do 200 hours unpaid work.
If you would like more information on making an application under Claire's Law - Request information under Clare's Law: Make a Domestic Violence Disclosure Scheme (DVDS) application | Warwickshire Police here https://shorturl.at/jGJP3