A convicted sex offender from Leamington who raped a woman in the backseat of his car while he filmed the assault has been jailed.
Victor Tsamo, 33, of St. Margaret's Road, Leamington, was sentenced today (May 11) at Warwick Crown Court to 13 years in prison with an extended licence period of four years following his release. He was convicted of rape and voyeurism following a trial in April 2023.
He was also sentenced to 18 months imprisonment for voyeurism and 12 months imprisonment for breach of the suspended sentence order, both to be served concurrently and was placed on the sex offenders register for life.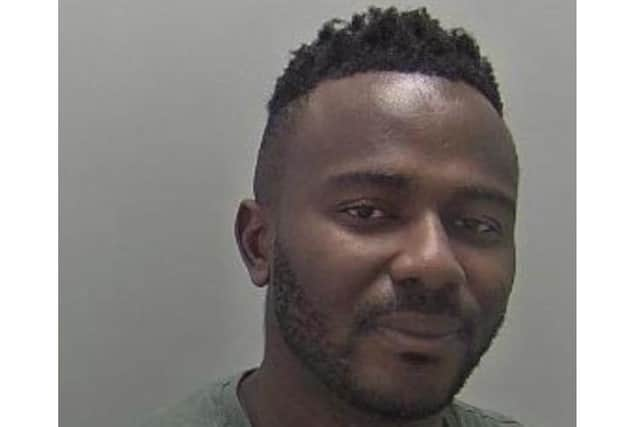 On August 27, 2022, Tsamo befriended the woman who had been separated from her friends following a night out at a bar in Leamington.
CCTV footage from the club showed Tsamo watching the woman while she was drinking alcohol with her friends, and later following her as she left the club.
Tsamo was then seen by witnesses and captured on CCTV carrying her to his car.
He drove her to a remote location where raped her. She had no idea she had been assaulted when she awoke in the backseat of his car outside her house.
Tsamo then asked her on a date and when she refused, he told her he had just had sex with her and showed her a video of the offending.
When Tsamo was arrested, he admitted to having sex with the woman but claimed it had been consensual. He also admitted taking a video which showed him having sex with her but claimed she agreed to it.
However, the strong evidence from the woman, and the corroboration from witness statements from the victim's friends, the staff at the nightclub, and CCTV footage saw Tsamo found guilty by the jury.
Detective Constable Leanne Frost said: "Understandably, this has been very traumatic for the victim who has been amazing since the start of the investigation. She has shown immense bravery throughout – even choosing to give evidence during the trial in front of Tsamo.
"Thankfully the jury saw through his lies, and he has been convicted of this appalling crime. I know the victim is delighted with the outcome and I hope she will now be able to move on with her life.
"I also hope the conviction provides reassurance to other victims of sexual offences and gives them the confidence to report their ordeal in the knowledge that they will be listened to and supported.
"Police will always investigate and do everything in their power to bring offenders to justice.
"Anyone who has been the victim of a rape or sexual offence is encouraged to report the incident to police, where specially trained officers will help victims with care and sensitivity, and will work to get the right result for them with their wishes in mind.
"Alternatively, there are many agencies you can approach for help, guidance or support which offer a variety of services. Visit www.warwickshire.police.uk/advice for more information and for a list of the agencies available in your area."