A man who admitted to living the high life on £350,000 he stole from his employer has been jailed for four-and-a-half years.
Harminder Gill, 27, of Hawkswood Drive, Wednesbury was working in the payroll department for a company in North Warwickshire when he discovered a glitch in the system that meant he could transfer money to himself without anyone realising.
He set up six bank accounts in his name and the name of a family member and started transferring money from the company's payroll into them.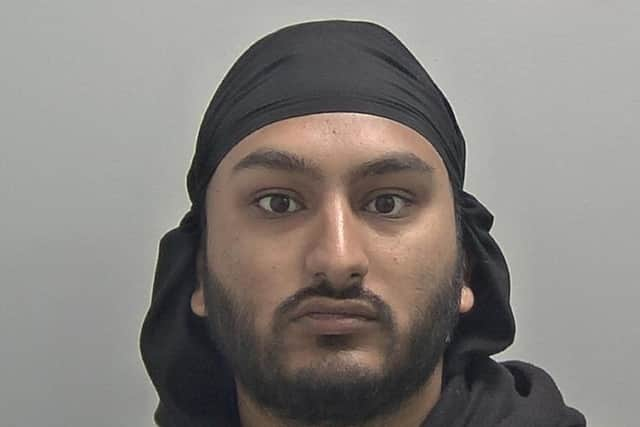 He started off small, only transferring a few thousand pounds at a time. But realising nobody had noticed he became more brazen and started transferring more, the largest amount being £32,000.
Between May 2019 and October 2021 Gill made 181 transactions totalling £350,000.
Gill proceeded to splash the cash on a jet set lifestyle. He spent £36,000 hiring executive cars and £40,000 taking his family on holiday to Ibiza.
He was a regular guest at the Shard in London where he frequently hired out suites to entertain friends.
He was only caught after a member of staff at the company complained of not being paid one month and an audit of the payroll system was carried out. The audit found there were three bank accounts in Gill's name and the fraud was uncovered.
Gill was arrested at his home in May 2022 and in interview admitted taking all the money.
He was jailed at Warwick Crown Court today (Wednesday May 17) after previously pleading guilty to fraud.
Detective Constable Kevin Usher from Warwickshire Police CID said: "Gill was brazenly stealing this money from his employer and used it to portray an image of wealth to everyone who knew him. The reality couldn't have been further from the truth.
"He started off small, but like many offenders like this he became greedy and now he is left with nothing and facing a lengthy prison sentence that he fully deserves."
Tejinder Sandhu of the CPS said: "Mr Gill committed a serious offence when he took advantage of his employer, causing a loss of more than £340,000 to fund his luxurious lifestyle. His offending continued for a period of two years and his actions show that he deliberately diverted transactions to his own accounts and those of his family members without their knowledge or consent.
"As today's sentencing shows, the Crown Prosecution Service will not tolerate those who abuse their positions of trust to make a gain for themselves. Mr Gill has now received a sentence that reflects the seriousness of his offending."