'Sadistic' Warwickshire robber helped imprison and humiliate victim - and threatened another with Rambo-style bowie knife
The first victim was beaten over the head with beer bottles, humiliated and threatened for several hours
Watch more of our videos on Shots!
and live on Freeview channel 276
Visit Shots! now
A Nuneaton man who threatened a victim with a bowie knife and helped to imprison and beat another in a flat for several hours as part of two robberies has been jailed for nine years.
Kyle Gray, aged 23, of Attleborough Road in Nuneaton received the sentence on Tuesday, March 21.
The first robbery occurred in the early hours of January 1, 2021.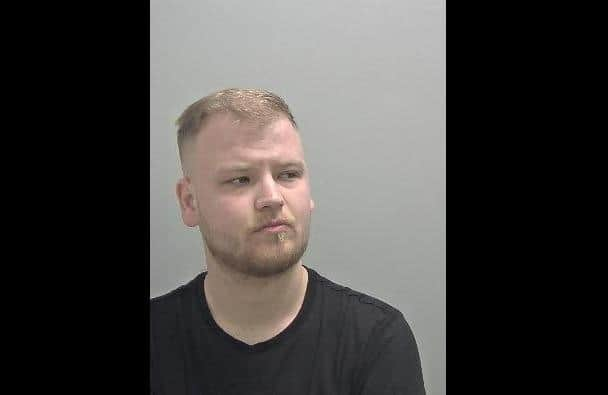 A woman began talking with a man via messaging, subsequently inviting him to her flat.
The victim attended the flat later that day and was ambushed by two unidentified men, together with Gray.
The man was beaten over the head with beer bottles, humiliated and threatened for several hours.
This culminated in his being coerced into calling a relative to transfer money into his bank account.
When the men took the victim's bank card and demanded his pin code, he refused.
They then escorted the victim to a nearby cash machine but, in the process, the victim was able to escape.
The second robbery occurred on Boxing Day, 2021, and saw Gray threaten his victim with a Rambo-style bowie knife.
The court heard how Gray was at a flat in Nuneaton when he pulled out a knife and threatened to stab the victim.
The victim had attempted to intervene to protect a vulnerable person from Gray and, as a consequence, Gray turned his attentions on him.
Gray then asked for money, and the victim handed him £100 in cash.
The victim's bank card was then demanded, together with the pin, and an associate of Gray then walked to a cash machine to withdraw money.
When the associate returned, the victim was informed all but £100 had been withdrawn from his account.
The £100, the victim was told, had been left there 'because it's Christmas'.
The victim was handed his card back and Gray punched him in the face.
Some time later Gray accosted the victim in the street.
Gray apologised for the robbery and offered to pay the stolen money back - but also made veiled threats of violence stating, 'do you know who my brothers are?'
But threats did not prevent the investigation from proceeding and while being sought for the robberies, Gray resorted to hiding from the police.
Following a joint effort between Protective Services and several departments within CID, he was arrested days before Christmas.
In interviews Gray answered 'no comment' to all questions.
Detective Constable Rachael Stain, who led investigation into the Boxing Day robbery, said: "My colleagues and I welcome this sentence, and we know the community will too.
"Gray attempted to scare the victim into silence, but he has learned that he cannot threaten and bully his way out of facing justice.
"I would like to take this chance to commend the victim, not only for being brave enough to stand up for a vulnerable person, but also for helping us to make sure that a violent offender has been held to account.
Detective Sergeant Paul Vines, who led the investigation into the January 1 robbery, said: "This robbery was a calculated and exceptionally cruel incident and it is to the benefit of the general public that Gray has been removed from Nuneaton's streets.
"The level of violence and sadism Gray displayed during this incident is appalling, and well beyond even what most offenders would consider doing.
"The sentence also reflects Gray's unwillingness to co-operate with detectives in identifying the two other males involved."