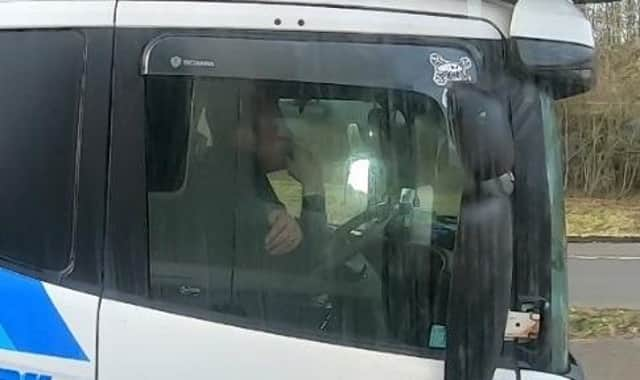 Police officers overtaking this heavily-laden car transporter were shocked to discover the driver was using just one elbow to control the huge vehicle as he travelled along the M40 near Gaydon.
The driver was seemingly oblivious to the police officers as they drove alongside him in one of National Highways' unmarked HGV cabs, as part of the police's Operation Tramline.
But he quickly put both hands firmly on the wheel when they caught his attention – and notified their colleagues travelling behind to pull the vehicle over.
If the video is not showing on your device, click here to view it.
Footage of a number of shocking incidents captured by police officers in the unmarked cabs has been released by National Highways ahead of a week of action along the length of the M1.
Officers from eight different police forces will be patrolling the motorway between London and Leeds from Monday (March 6) to Sunday (March 12) looking out for incidents of illegal driving.