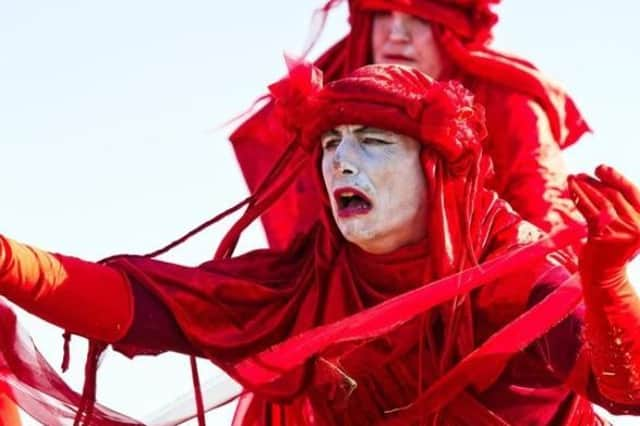 The Red Rebels pay their respects to the ancient oak trees that were knocked down last week. Photo by David Hastings of dh Photo.
A 'corpse' surrounded by mourners all in black, accompanied by a death march, will take place in Leamington this weekend.
This is all part of a Extinction Rebellion (XR) art installation which is to be held outside Leamington Town Hall on Saturday November 13, 11-1 pm, to highlight what they describe as the 'disappointing outcome' of COP26.
A XR spokesperson said: "There will be a 'corpse' surrounded by mourners all in black as if attending humanity's funeral.
"There will be an altar of sorts, with flowers and candles and and a drum beating out a death march.
"There will be pairs of 'empty shoes' also demonstrating the impending loss of life due to climate change and various placards to explain the scene.
There will also be a visit by 'The Red Rebels' who attended another Extinction Rebellion event in Leamington a few years ago - and visited the scene of trees being felled near Leamington for the new HS2 line.