Another day, another ancient tree felled: 300-year-old Hunningham Oak near Leamington is knocked down to make way for HS2
Stop HS2 campaigners will be holding a few days of speeches from October 1-4 in Leamington and Kenilworth as HS2 steps up the felling of trees in our area
The destruction of ancient trees and woodland near Leamington and Kenilworth has continued this week, to make way for the high speed rail line.
Yesterday (Thursday) the iconic Hunningham Oak was felled.
The photo attached shows Kerry O'Grady mourning the loss of the 300-year-old tree.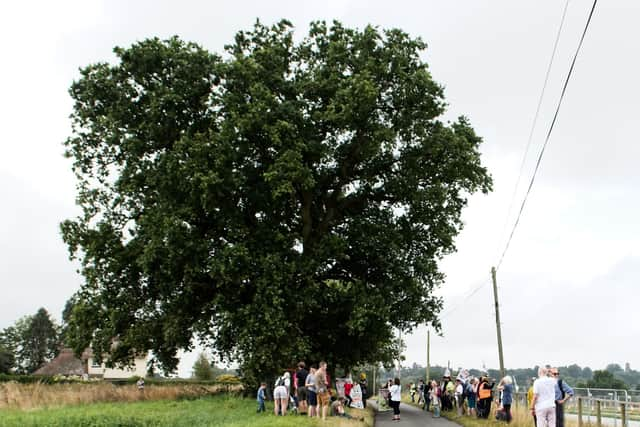 The tree is not even on the proposed HS2 line - it was felled to make way for a service road and the re-alignment of the Hunningham Road.
In August, campaigners staged a walk to say goodbye to the tree and messages of support were read out.
Between October 1 and 4, Stop HS2 campaigners will be holding of speeches, information and socially distanced activities in Leamington and Kenilworth town centres, to raise awareness of what they describe as 'National Tree Killing Day' - the day when HS2 officially restarts the felling of trees in the district to make way for the rail line.
They will be in Leamington on October 1 and 3 and Kenilworth on October 2 and 4.
Click here to see the striking photos of the Red Rebels performing a funeral march as ancient trees were felled near Leamington.
Watch the moment a 300-year-old oak tree is knocked down to make way for HS2 near Leamington - click hereProtesters say goodbye to 300-year-old oak tree near Leamington that will soon to be knocked down to make way for HS2 - click here