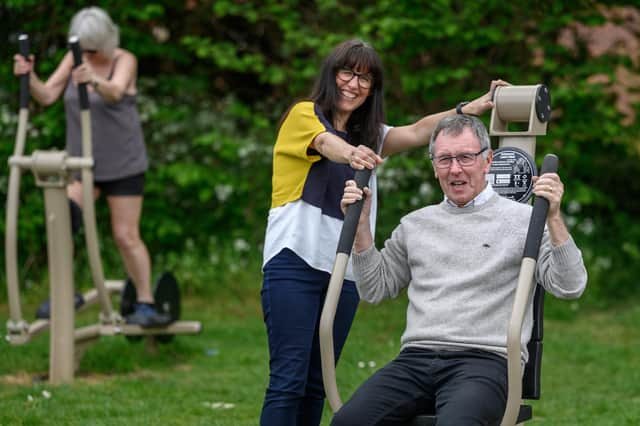 Cathy Elliott, independent Chair of HS2's local area funds, with Councillor Brian Follett, marking the installation of an outdoor gym for Radford Semele following a £30,000 award from HS2's Community and Environment Fund. Credit: HS2 Ltd
Britain's new zero carbon, high-speed railway – High Speed Two (HS2) – is one of the largest and most complex infrastructure projects ever undertaken in the UK.
A 56-mile section, which includes a segment from Birmingham Curzon Street station to Long Itchington in Warwickshire, is being delivered by joint venture Balfour Beatty VINCI (BBV). This company is set to be one of the largest recruiters in the region over the coming years, supporting over 7,000 high-quality roles.
Environmental initiatives
For example, BBV and their environmental partners are planting approximately 12 hectares (equivalent to just over 10 football pitches) of woodland near South Cubbington Wood and around a further 18 hectares (about the area of 15 football pitches) of trees across the wider Cubbington area.
Over the last two years, HS2's enabling works contractor LM JV (Laing O'Rourke and J. Murphy & Sons) has planted 60,000 trees in the Cubbington area, including oak, hazel, birch, holly and hawthorn. Credit: HS2 Ltd
By raising the high-speed rail line by around two metres, HS2 will avoid the need to excavate 150,000 cubic metres of soil – the equivalent of 60 Olympic-sized swimming pools. It also means 60,000 cubic metres less of concrete and steel is needed in construction, cutting the project's carbon footprint. That's the equivalent of around 8,500 lorry movements, and less heavy machinery will be required to construct the railway in and around Cubbington.
A milestone British engineering project
HS2 is part of a long legacy of British engineering excellence. BBV's section will include 120 bridges and 51 viaducts, with a total length of over eight miles. Plus, a one-mile twin bore tunnel under Long Itchington Wood is currently being constructed, ensuring that the ancient woodland above is preserved.
A tunnelling team are working around the clock on the Long Itchington tunnel boring machine. Warwickshire residents were given the chance to name the 2,000-tonne, 125m-long machine, with the winning entry suggested by a student at Warwickshire College Group. The machine is now named 'Dorothy' after Dorothy Hodgkin, the first British woman to win the Nobel Prize in Chemistry.
HS2 will run in a tunnel under Long Itchington Wood in Warwickshire – an ancient woodland – and is an important part of HS2's environmental strategy to protect nature. Credit: HS2 Ltd
Local community groups are being invited behind the hoardings to see the tunnel works for themselves too. BBV has built a Visitor Centre, which includes an interactive model of Dorothy. Plus, an outdoor viewing platform overlooks the tunnel entrance, offering visitors a full overview of the works taking place.
Getting local improvement projects off the ground
Communities and businesses near to HS2 sites can also access funding to support the local area or economy. In Warwickshire, 29 projects have received a total of £1.4 million of funding since applications opened in 2017.
For example, Kenilworth's Talisman Theatre has received £75,000 to create a new fringe stage, bar and reception area. It will also improve accessibility and expand its community arts programme.
Ainscough Crane Hire have been supporting HS2 from their Princethorpe depot, including the installation of tunnel boring machine, Dorothy, underneath Long Itchington Wood. Credit: HS2 Ltd
Meanwhile, Radford Semele Parish Council secured £30,000 to provide an outdoor gym for adults on the village playing field. The facility is aimed at encouraging more families to visit the playing field to improve their health and wellbeing. A £10,000 grant has also enabled Stockton Parish Council to construct new changing facilities for Stockton Football & Cricket Club.
The funding comes from HS2's Community and Environment Fund (CEF) and Business and Local Economy Fund (BLEF). The funds, worth a total of £45 million, are managed by an independent charity, Groundwork UK. Visit hs2funds.org.uk for more information or to apply.
Local jobs and business opportunities
Whether out of work or looking for a career change, there are thousands of opportunities for Warwickshire residents of all ages and backgrounds to develop new skills and build a long-term career in the construction sector with HS2.
BBV's dedicated Skills Academy offers a fast-track training programme, which enables candidates to progress onto a paid work trial in just four to six weeks. Regardless of previous skills or experience, all trainees are given the tuition and support they need to gain recognised accreditation which allows them to progress into employment.
To help more local people benefit and progress into employment on HS2, BBV has now joined forces with five regional education providers, including Warwickshire College Group, to deliver bespoke training programmes.
As well as creating new jobs, HS2 is also supporting local businesses. More than 80 Warwickshire businesses have worked on HS2, including family-run HDR Group in Stratford-upon-Avon and Telent Technology Services in Warwick.
Meanwhile, around 30 workers from Ainscough Crane Hire are currently supporting HS2 from the company's Princethorpe facility across roles such as operators, depot managers, engineers and administrators. Four Ainscough apprentices and three trainee crane operators are working on HS2 across the region.
Peter Gibbs, Ainscough Crane Hire's chief executive officer, said: "Ainscough is proud to be working as part of Europe's largest infrastructure project, having already utilised nearly every crane model in our fleet – from 40 to 800 tonnes – on HS2.
"As well as strengthening our workforce, HS2 has enabled us to modernise and expand our fleet, and we have acquired 88 new cranes in the past two years. Encouraged by HS2's carbon targets, Ainscough is now the first national crane firm in the world to be fully powered by low‐emission HVO fuel and has set an ambitious target to be net zero by 2026."
Stay in touch, stay informed
HS2 realises that its work will affect residents, which is why there are many ways for people to stay informed and have their voices heard. You can receive regular updates about the project – including notifications of upcoming works, how it's being constructed and what is being done to make it less disruptive – by signing up at hs2.org.uk/warwickshire
Anyone with queries about the new railway can contact the HS2 Helpdesk all day, every day. Call 08081 434 434 or email [email protected]