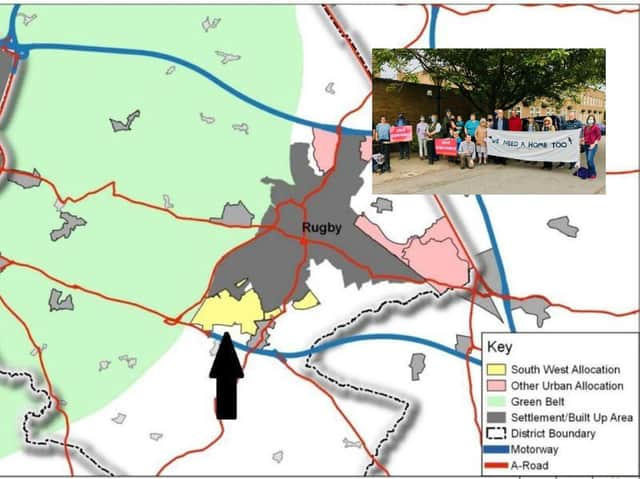 Controversy surrounding a planning document relating to the development of South West Rugby has been dubbed 'cynical' and 'artificial' by the leader of the council.
Councillors voted to approve the measures at Rugby Borough Council's full council meeting last night (June 17) in spite of opposition from the Liberal Democrats and Labour.
Leader Cllr Seb Lowe (Con, Coton and Boughton) told the meeting, which was held at Benn Hall where protestors gathered ahead of proceedings: "The report before us has been the subject of much comment on social media and elsewhere and it must be said that much of the commentary that has taken place outside this chamber has created a sense of controversy.
"The controversy however is entirely artificial and has been, I fear, deliberately and cynically created by those with a vested interest in sowing discord for their own ends."
He said a vote had already been taken to build 5,000 new homes in the area and added: "Having accepted the premise that the houses are going to be built, we must now consider how they are to be built.
"There have been examples mentioned tonight of developments that have gone wrong, developments without the right infrastructure.
"Each and every one of them was constructed without the SPD in place.
"The choice that is before us tonight is a very rare thing in politics - it is an obvious choice.
"Do we want these houses to be built with the appropriate environmental safeguards or not?
"Do we want our enforcement team to have the ability to challenge bad practise and rogue developers or not?
"Do we want developments to take place with the appropriate infrastructure - schools, doctors surgeries, roads, transport links?"
The South West Rugby Supplementary Planning Document (SPD) includes a 15 metre 'buffer zone' to protect the ancient woodland at Cawston Spinney and others will be put between the new homes and Dunchurch with a 'green corridor' connecting Cawston Spinney to Cock Robin Wood.
The Lib Dems had put forward an amendment increasing the buffer size and making changes to the sort of houses that would be built but this was defeated.
Group leader Cllr Jerry Roodhouse (Lib Dem, Paddox) said: "We are proposing that we go back to the 30-metre buffer that was proposed at the original local plan. We believe that we can do better and that we should be doing better as a local borough council.
"Our proposals tonight call for a different approach and we believe that we should be moving to a much higher quality sustainable development. We believe we should increase biodiversity. We should be building homes for life which are adaptable for all abilities and ages. We should be looking at cycleways and walking routes.
"It is quite scary if you go out and look at the moden estates that are being built around this town - it is a chase for units."
Rugby's Labour group was hoping to include an amendment calling for the plans to be frozen while concerns over ONS population projections that the Local Plan was based on were examined.
Council officers did not consider this amendment technically appropriate, so it was not allowed to be included and thus was not voted on.
And during the meeting Labour's Cllr Mike Brader (Lab, New Bilton) questioned the need for so many houses.
He said: "The main issue I have with this is to do with the housing numbers.
"Concerns have been raised about the housing estimates for population growth in Coventry.
"The reason that's relevant is that we take an overspill from Coventry. If it turns out we have overestimated the population figures then we are building housing that is not necessary."