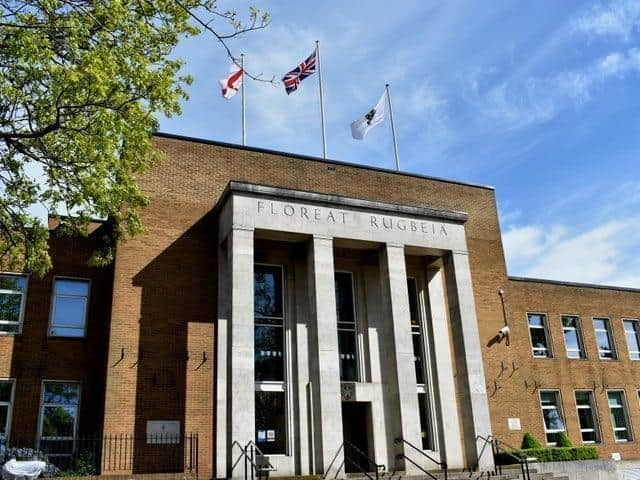 Rugby's town hall, file image.
Rugby's housing estates are beginning to resemble NCP car parks according to a borough councillor concerned by increasing levels of traffic.
And another councillor urged action be taken to tackle the amount of lorries rumbling through villages and workers using country lanes as rat runs.
Their comments came during a discussion at Rugby Borough Council's latest planning meeting when councillors considered an application to increase the height of approved warehousing near Thurlaston to 18 metres in line with current needs of the logistics industry.
Cllr Belinda Garcia (Con, Revel and Binley Woods) said: "It is an important site, we have already passed the plans once and it is a small amount that they are asking for so I do think I will be in favour.
"But I seriously think that there is something wrong with the road modelling in this town. Every which way you go we are jammed up. It is the same with housing estates, they are now looking like NCP car parks - there is no space.
"I think we have to seriously have a look at what's happening with the roads, the parking and everything that goes with it."
Cllr Neil Sandison (Lib Dem, Eastlands) added: "This application depresses me a bit. It's not just the ridge height but its proposed use for the logistics industry. You are talking about Amazon, Ebay, DPD - large amounts of traffic movements and large amounts of emissions."
And the impact on the surrounding roads also prompted concerns from Cllr Tony Gillias (Con, Revel and Binley Woods).
He said: "Rugby has been the fastest growing town in the West Midlands more than a decade now. We have a number of high profile distribution hubs close to the M6 and they are taking traffic all over. Now we have the proposal for this one in SW Rugby.
"I haven't got a problem when the vehicles are going south along the M45 and M1 but it's when they want to go north that we get the problem because they have to go along our Western Relief Road and that is a significant bottleneck from the Avon Mill all the way through past the M6 and up the A5.
"This is what I witness on a daily basis. We have HGVs and workers rat-running through the smaller villages. They go through all the Fosse villages in the middle of the night."
The new warehouse plans were approved by nine votes to three and traffic worries prompted Warwickshire County Council highways officer Joanne Archer to comment: "We are completely on board and understand points made about traffic ratr-unning through the villages on the B roads."