Steam engines and vintage tractors owned by late Lutterworth collector to go for auction
Some 200 lots will go under the hammer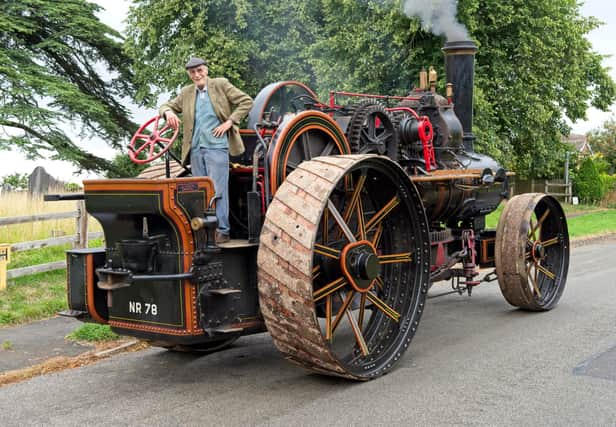 Steam engines and rare vintage tractors owned by a late Lutterworth collector will go under the hammer.
Richard Vernon amassed more than 200 tractors and steam engines from across the UK, Europe and USA before he passed away in 2021.
And now many of the items are set to go under the hammer at his family's Lutterworth farm on Saturday June 3. It is being led by auctioneers, Cheffins.
His son, Richard Vernon, said: "My father learnt to drive a tractor at the age of 12 and his love of tractors and all things vintage continued throughout his life. He was known to have driven one of the tractors all the way from Shropshire to Cotesbach, which is around an 80-mile trip down the A5.
"His lifelong passion for tractors and steam engines went back to his boyhood years, and from a very young age he started collecting model steam engines and building them from kits, with his passion having started when he visited his grandmother in Stafford and used to watch steam engines go along the train track at the bottom of the garden.
"Dad's enthusiasm and ability to collect, preserve, maintain, and get mechanical things working was outstanding and a skill not many possess. His efforts have undoubtedly preserved a unique corner of history and in the steam and tractor field he was very well known and respected all over the world."
Some of the items available in the sale include four steam engines which could reach more than £300,000 in total, including a pair of Fowler BB1 ploughing engines from 1918, which have lived their whole lives within 20 miles of Leicestershire.
There is also rare British and American vintage tractors, including one from the 1920s.
Cheffins chairman Bill King said: "Richard Vernon was one of the early pioneers of tractor and steam preservation. He amassed this incredible collection over a thirty-year period, creating what is easily one of the most important and eclectic selections of tractors from one single owner we have seen to date.
"He was a savvy collector over his 80 years, and sought out some of the rarest and earliest tractors in existence."
The sale will take place at the Vernon family farm and online.