Comment: Leamington is a magnet for investors and commuters - and that's bad news for our youngsters
Every week, Peter Bowen writes for the Courier about local and national issues.This week, he talks about the problem of our noted Regency properties are being bought by speculators from London and elsewhere to be split up into one-bedroom flats to rent to students or short-term visitors using Airbnb.
Watch more of our videos on Shots!
and live on Freeview channel 276
Visit Shots! now
Worrying is the problem that some of our noted Regency properties are being bought by speculators from London and elsewhere to be split up into one-bedroom flats to rent to students or short-term visitors using Airbnb.
The Royal Spa town has always been seen as a popular place to visit because of its outstanding architecture, its water's health-giving properties, and its busy shopping centre.
Leading figures in society came to Leamington years ago just to be seen walking down The Parade or taking the air in Jephson Gardens.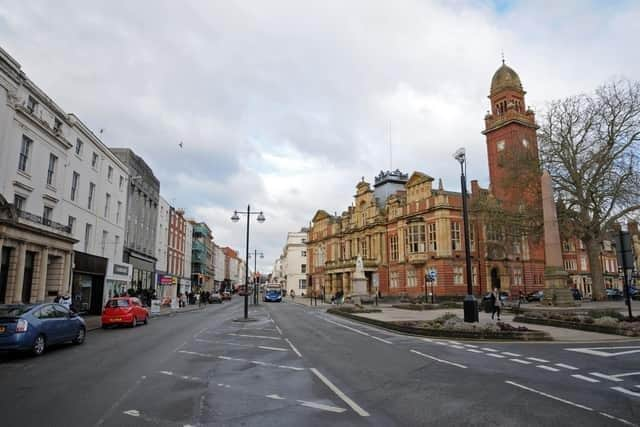 How things have changed. Today's modern architecture is functional at best, water quality is acceptable but not famous, and its shopping centre has lost major stores and is in decline.
But these factors have not deterred developers keen to purchase the older properties in Leamington as they see the town as an area of opportunity because of its central location, where they can make money in the rental market.
Mrs Margaret Begg, of the Leamington Society, says in areas like Milverton and in other areas in central Leamington, clever conversions have been made to older, bigger properties to create apartments with large living/dining/kitchen rooms restoring the
historic features, and retaining the elegant exterior of the buildings.
"Today young people can only afford a small one-bedroom flat, but the problem is this type of development can only destroy the interior of fine, historic buildings. The trend to private renting is compounded because young people cannot afford houses in the lower end of the town- even flats in this area can be unaffordable to the young," she added.
The success and burgeoning expansion of Warwick University, Jaguar/ Land Rover at Gaydon, first class local schools, and nearby tourist hot spots Stratford and Warwick, means the area has become more attractive to those relocating from the south. Canny developers have noted the opportunity to make conversions to bigger houses in the Regency town thereby creating smaller units for students and short lets.
Inevitably, this means it will become doubly difficult for young people to stay in their hometown because as prices get ever higher, they will be unable to find the deposits for their first property or have enough money to rent accommodation. The rise in the cost of living also means the bank of "Mum and Dad" can no longer help siblings with the cash required for a place of their own.
People from London can choose to live in Leamington and buy houses so much cheaper. It is so more convenient for them, working from home and only going into the office two days a week.
As a result, South Warwickshire is now seen by investors as part of the lucrative commuter belt and a new area for their business as the houses are registered and not liable for council tax. Currently, investors are finding it difficult in the London area and are looking to move to new areas for developments outside the City as rents there have risen by 20 per cent, and the market has been squeezed, making it difficult to achieve good profits.
It is understandable, if not desirable, that older, bigger Regency properties should have a change of use as these days there are not the larger families and domestic staff that used to occupy them. There are good examples of conversions in Newbold Terrace and in buildings like Leamington College.
The move to smaller units, one-bedroom flats, favoured by absentee owners, is not good for the town. Often, they are basic and over a period, tend to look tired as the décor and general maintenance necessary to keep the property in good order is overlooked. Also, part of the trend more recently has been the purchase of new build houses for rental purpose.
This criticism of renting is not aimed at homeowners struggling to pay their bills by taking in lodgers to make ends meet. However, here in the Spa town, we must guard against a situation in the long term where our Regency houses and other notable buildings
deteriorate, and our young people feel priced out of the property market and feel they must leave Leamington to find jobs and affordable accommodation elsewhere.
It would be a sad day if increased private rentals resulted in people finding they were pushed out of their own communities, like parts of the Cotswolds, eventually leading to a depleted town centre, a shortage of workers and a decline in business and local services.