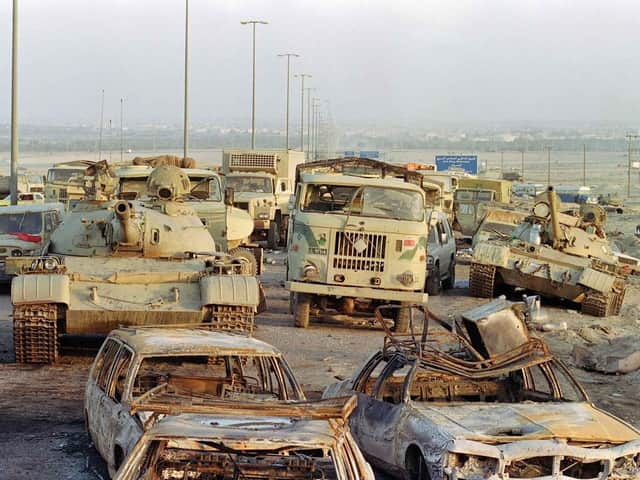 The 'Highway to Death' in Iraq. Photo by David Eason.
It has been 30 years since the end of the 1990-1991 Gulf War. Military historian David Eason from Lillington served during that war and reflects back on his experiences.
Looking back, it's still hard to believe that it's been 30 years since the Iraqi Army was thrown out of Kuwait by Coalition Forces during Operation 'Desert Storm' (Op Granby-UK), and was almost wiped out as it fled north along the Basra Road (Hell's Highway) along with Saddam's beloved Republican Guard in early 1991.
As for myself and 1st Troop, 'A' Squadron, The Royal Hussars (PWO) it began in November 1990 when the Regiment moved from "Sunny" Tidworth, where we had been stationed for two years, to Munster and the 4th Armoured Division back in Germany, having been stationed in Fallingbostel for almost eight years with the 7th Armoured Division prior to moving to Tidworth.
David Eason and his colleagues who served during the Gulf War 1990-1991. Photo by David Eason.
After the invasion of Kuwait, things began to happen very quickly, even though we didn't really understand or were told what was going on at the time, our three Challenger 1 Tanks were readied, and then picked up for their journey to Saudi Arabia.
The whole Troop was called into the Squadron Leader's Office and informed that 1st Troop would be 'A' Squadron's part of a composite Squadron the Regiment were sending over, as due to the speed of deployment or through the lack of Challenger spares most of the Regiment's Tanks had been cannibalised, we were then asked individually, and in private, if we wanted to go, needless to say we all said yes, even though I was one of three of us who were married at the time.
I believe that it must have been around a week or so after the tanks had left when we were sent down to Sennalager, and its training unit for refresher training in First Aid, NBC, etc. While we were there we had daily briefings which were held in the Camp Cinema, with maps and progress updates on the armoured Iraqi casualties inflicted by the RAF and USAF's.
Also there we were given our vaccinations, three in one go. I did have a reaction which took me off the road for a couple of days, I was lucky, many of those who served out there are still paying the price!
Photo by David Eason, who served during the Gulf War 1990-1991.
After a few weeks we returned back to the Regiment, but not before our last briefing which indicated that 'our' main threat, the Republican Guard Armoured Units had been written down to about 80-85 per cent combat effectiveness. Upon our return we got our personal kit ready and the wives were given the choice of returning home to the UK or staying, Lorraine decided she would stay.
The following week was spent being called in to camp to leave, but being cancelled at the last minute, this happened twice, having to say goodbye and then coming home, before when on the last occasion, when we all were expecting to be told to go back home, the coach door closed, and we drove out of camp.
We flew to Saudi Arabia courtesy of the RAF on a 'Tri-Star' going via Washington DC before our approach, when we were joined by the wonderful sight of two RAF 'Tornado's' one off each wing which escorted us into land. From the airport we were moved to Camp 'Black Adder' where we spent a short while getting acclimatized before being taken out into the desert by helicopter and dumped God knows where, with our freshly painted tanks waiting in the middle of nowhere. What was really annoying was that every padlock on every bin, which we had stowed away our spares and tools in before they had left Germany, had been broken into and kit stolen, which we had to spend the following few days trying to retrieve.
After rations the next job was to 'Bomb Up', which we did receiving ammunition, bag-charges and vent tubes for the 120mm main armament, 7.62mm for the two G.P.M.G's, 9mm for our personal weapons, hand grenades, Smoke cannisters for the dischargers, and morphine. One of the 120mm rounds caused a bit of confusion, it was black and had the letters D.U painted in white on them, and no one had ever seen one before, that's even with having two 'Gunnery Instructors' in the troop, however
we finally worked it out , they were 'Depleted Uranium''.
A few days later we had several large wooden crates dropped off by each of the three tanks, which we opened and discovered they were our 'Add -On Armour' for the front and sides, they consisted of three bolt on frames one for each side and another for the front, on to which we had to bolt on reactive armour plates, we were just grateful they had left the instruction sheets in the crates!
There was a problem with the body armour, we all accepted that the infantry should have first shout, but we also reminded them that once out of the tanks we had no protection whatsoever, so we were delighted when our vests arrived minus the armour plates, and that didn't last long, because it must have been the following day when they asked for the vests back!
During the following days leading up to the eve of the Ground Battle, we spent time on a range out shooting the 'Blues & Royals' and supporting our Munster neighbours 'The Queen's Own Highlanders' , and believe me there is no sight or sound more splendid or stirring than the sight of a Piper in full dress, and the sound of the pipes at first and last light in the middle of the desert.
The eve came, and there was a quiet calmness amongst us, each deep in our own personal thoughts of home and what the morning and following days may bring, confidence was high, in not only our own capabilities and in each others, but also in the 'family', into which I had joined as a seventeen and a half year old way back in time in 1979.
When kick off came, we were actually asleep and were woken up in the early hours by an excited young man who informed us it had started, no whistles, no shouting, we just mounted and for the next four days we were on the constant move following the main advance across and into Iraq. It wasn't long before we began passing prisoners being held in barb-wired compounds, and other areas where Iraqi bodies were being held. I remember driving over one rise and being faced with the rear of a BMP (Cold War Soviet Armoured Personnel Carrier) which had been ripped open to its front, inside still sat on the side benches were the charred remains of its unfortunate occupants, and I remember thinking " there for the grace of god go I"!
On another occasion we had been motoring for a few hours and we decided to pull off the track for a rest, we had gone about 50 yards further forwards of the Troop Sergeant and Corporal's Tanks, I had plugged in the "Tank Kettle" (BV) and while making the tea cups up I realized I was short of milk powder, so I got out of the turret to get another tin when I looked back at the other two Tanks and was slightly bemused to see both crews standing on their turrets waving at me and pointing down to the ground by us. It turned out that we had driven into a mine field, so we carefully reversed back along our tracks and finished our tea before continuing.
One memory I wish I never had, and will always haunt me, and no doubt everyone else who witnessed it, occurred one day as we were advancing along the track. The Troop Leader was looking forwards, and I as his Operator was looking rearwards when I was watching a flight of four Apache Gunships in a diamond formation heading towards us at low level. As they passed overhead I followed them with my eyes until I was looking forwards, when a single plane to our right caught my eye. It was flying at low level and slowly.
I had also noticed to my right a group of our armoured vehicles about a kilometre away directly below the plane, when suddenly I saw a puff of white smoke come from the front of the plane, which I had identified as being a USAF A10. Then I witnessed two of the vehicles burst into flames and black smoke. It was horrific, as we were unable to help, but could only watch as other vehicles close-by raced towards them to help. I physically felt my heart sink, and an overwhelming sense of anger as every gun pointed skywards including our own, and I swear I saw at least two hits on the A10 before it flew off!
I cant remember when, how, or by whom we learnt that the war had ended, but at the time we were well into Iraq. We crossed the 'Pipe Line' and headed back south towards Kuwait City, down the Basra Road and along the perimeter fence of Kuwait Airport, which I can only describe as being "Hell on Earth". With the Oil Fields burning, day was turned into night as we drove through Kuwait City with our headlights on.
We ended up staying in an area by the side of a road, I can't remember how long it was before a Land Rover had pulled up and asked us to take all our personal equipment from the tanks and lock them up, the keys were handed over and it wasn't long before a coach arrived and took us to the Airport where we had landed. Several days later we boarded another 'Tri-Star' and flew back to Germany on March 13, 1991, three days after my and Lorraine's second wedding anniversary.
Several weeks after I was asked to take the three drivers and two gunners to York Barracks down the road from us to pick up the three tanks which had just arrived back by rail. All three started first time, and were still covered in sand with their guns clamped over the back decks. I decided they were going to go home "Gun's Front", and we lined up behind each other by the main road until the German police arrived to escort us, with the police having arrived and given us the OK, I led them back home through the town and into their hangers.
Once in, we switched them off and then there was silence. I believe it was then when the reality of what we had been through really hit home, now that we were all back safe, but life would never be the same again, how could it be?
In proud memory of the 47 who lost their lives, and all of those who even today, are still fighting the Gulf War.