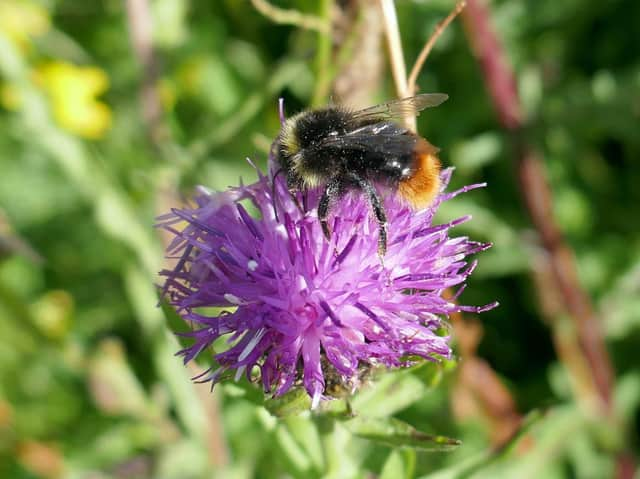 Members of the Bee Friendly Kenilworth (BFK) group have announced a pilot for reduced mowing in the Park Hill area of the town this year to enable wildflowers to flourish.
This will add a display of colour to the area and will support bees, butterflies and other pollinators.
Working with Green councillors, James Kennedy, Alix Dearing and Tracey Drew, BFK has liaised with Warwick District Council (WDC) to identify several sites where the grass and wildflowers will be left to grow throughout the spring and summer providing essential nectar and pollen to beleaguered bees and butterflies.
The group has said: "Mowing our lawns during the spring and summer months destroys thousands of hectares of wildflower habitat.
"The humble dandelion, for example, is crammed with nectar and pollen, yet it bursts into flower just as we all get out our mowers.
"Saying 'no to the mow' will help prevent our pollinators going hungry and support a recovery in their declining populations.
"At the base of many food webs, insects support global biodiversity and pollinate many of the world's food crops, from coffee to chocolate, nuts to berries. As David Attenborough said, 'if we and the rest of the back-boned animals were to disappear overnight, the rest of the world would get on pretty well. But if the invertebrates were to disappear, the world's ecosystems would collapse'."
Bee Friendly Kenilworth is one of many volunteer groups working nationally to save these vital pollinators.
BFK volunteers will monitor the chosen sites, recording wildflower and bee species, and will also organise litter picking events to ensure these sites become mini havens for nature and attractive places that local people can enjoy.
"Warwick District Council have been very supportive of this initiative and, following this year's pilot, we hope to identify similar sites in Leamington and Warwick.
"If you are in Kenilworth, Leamington or Warwick and are interested in supporting this initiative, joining our friendly team, or would like simply to volunteer for a one-off event, please do get in touch at [email protected].
"For more information about the pilot, or for ideas on how to support pollinators in your own garden, please visit our Facebook page: Bee Friendly Kenilworth or send us an email."