Call for prayer around Warwick gets responses from around the world
They received videos in English, French, German, Spanish, Portuguese as well as Slovenian, siSwati and Afrikaans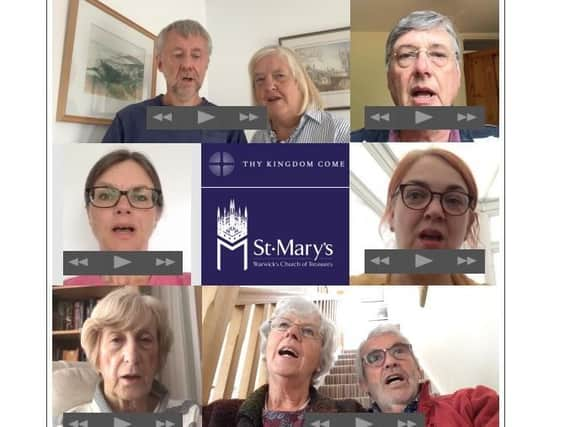 When St Mary's Church in Warwick invited members of local churches to join a 'virtual Lord's Prayer', little did they also expect contributions in languages from Slovenian to siSwati.
Kirsteen Robson, a member of the St Mary's prayer team, said: "The initial idea was to give more of our congregation the opportunity to be visible and audible in our online service for Pentecost Sunday, which commemorates the descent of the Holy Spirit on the followers of Jesus after he had ascended into heaven.
"Since church buildings closed after lockdown began, we have been tuning into a weekly service on Facebook and YouTube.
"The sporadic 'pop' and upward drift of 'Like' and 'Love' bubbles have been a refreshing reminder that although separated, we are worshipping together, and we wanted to do something that would bring more faces and voices onscreen together, and struck on the idea of making a video montage of people praying the Lord's Prayer.
"At the same time, we were aware that Pentecost marks the end of 'Thy Kingdom Come' - a global prayer movement that invites Christians around the world to pray from Ascension to Pentecost for more people to come to know Jesus.
"We wanted to contribute to this and reflect this worldwide community locally by inviting people from other local churches and Christian groups to pray with us.
"As an important part of celebrating both our diversity and unity, people were invited to use the words and language most comfortable for them.
"We had no idea how many would respond, with zero and hundreds being equally alarming possibilities.
"In the end we were blessed with exactly the perfect number that we were able to edit together in the time available.
"We were delighted that the word spread far enough in the time (through our parish newsletter, emails and Facebook pages) to receive videos not only in English, French, German, Spanish and Portuguese but also Slovenian, siSwati and Afrikaans.
"Their inclusion also reminds us of the many visitors who come to Warwick each year from all over the world, many of whom visit our town's churches during their stay.
"Although people and places are in various stages of lockdown, our prayers are not.
"There were contributions from people aged six upwards.
"We wanted to make sure everyone's prayer could be included, whether or not they had the latest video technology.
"It was lovely that people found a variety of imaginative ways to be involved and involve others, including socially-distanced videos, a Zoom meeting, audio clips and photos, and names on pictures."