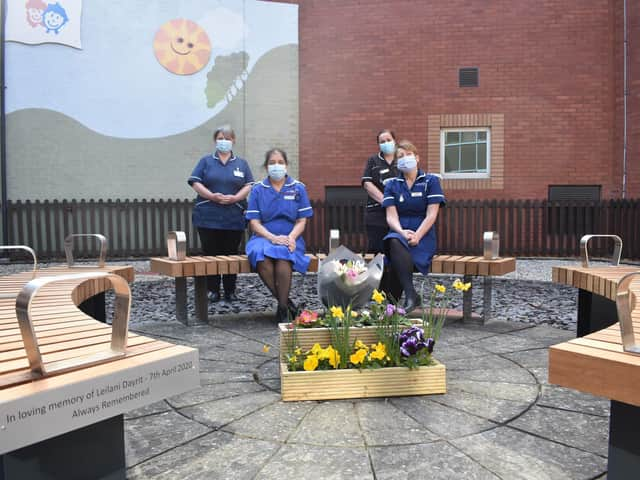 L:R Lead Nurse Janine, Clinical Sister Safi, Matron Paula and Ward Manager Maureen.
The colleagues of a selfless and much-loved Rugby St Cross nurse are celebrating her memory with a memorial garden at the hospital.
Tributes came in from across the country when Clinical Sister Leilani Dayrit died suddenly of Covid-19 on April 7 last year.
She had worked at Rugby's St Cross for 16 years, and those who knew her described her as a 'ray of sunshine' and a selfless, kind person.
Sister Lei was known for her smile.
And on April 7, a year on from her death, Sister Lei's colleagues gathered to officially open a memorial garden set up to celebrate her memory.
The garden consists of a set of benches and decorative planters, finished with a plaque which reads: "In loving memory of Leilani Dayrit, 7th April 2020. Always remembered."
The courtyard had sat unused for many years and it proved to be a perfect spot for the memorial, being overlooked by Cedar Ward - the ward which Sister Lei worked in for 16 years.
Lead Nurse for the hospital Janine Beddow worked with her colleagues to bring about the garden.
The bouquet of flowers behind the planter was presented by Sister Lei's family.
She said: "Many of us were stood in the garden and the staff who couldn't leave Cedar Ward were watching from the windows above.
"It had been a bit of a cloudy day, but just as Lei's family arrived the sun started to shine. It was very poignant."
Janine said the garden has already proved to be a perfect place for hard-working staff to sit and enjoy a quiet moment.
Patients being taken to surgery are also taken past the garden, and Jannie said many of them enjoy looking out to see it.
Cedar Ward manager Maureen Collins, who worked alongside Sister Lei for 16 years, said: "She was a very good nurse and a lovely person, her face just lit up all the time.
"She used to bring in food and she would make sure everyone was fed, and we would have huge Christmas banquets.
"She was a really happy person."
Clinical Sister Safi Nigar, who also worked alongside Sister Lei on the Cedar Ward for 16 years, said: "She was an excellent nurse, I have so many good memories with her.
"We were a great team, we all went together like a jigsaw."
Sister Lei's family said: "We really love and appreciate the effort of the hospital to put up a garden in memory of Lei.
"It is beautiful and the location is perfect with a great overview from cedar ward where Lei have worked for 16 years as a Clinical Sister."
Lead Nurse Janine said the garden will be added to over time, with additional benches and plaques to mark the legacy of other staff at St Cross.