Concerns raised over planned changes for Warwickshire fire and rescue service's work patterns
But the service wants to reconfigure how staffing works in line with need and dropping availability.
Watch more of our videos on Shots! 
and live on Freeview channel 276
Visit Shots! now
Warwickshire County Council's cabinet this week approved the start of the consultation on Warwickshire Fire and Rescue's Resourcing to Risk proposals.
The plan is to change work patterns to better cover higher-risk times and areas throughout the day rather than at night when there is less demand.
Full-time firefighters have been supplemented by on-call services for years, with local people taking on the role as a secondary job, being paid for their time.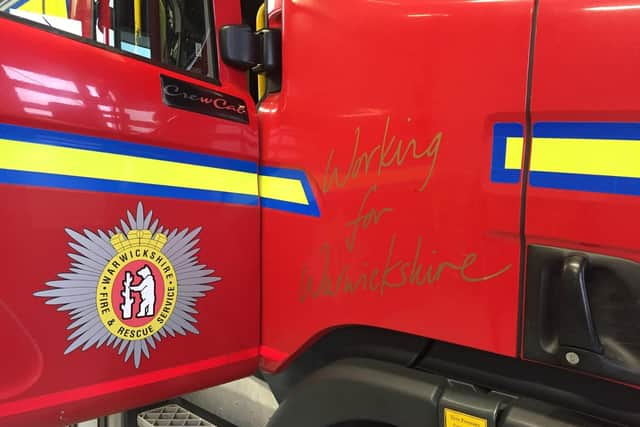 But the service wants to reconfigure how staffing works in line with need and dropping availability of people.
Part of the proposals is to turn on-call stations at Bidford-on-Avon, Henley, Kenilworth, Shipston-on-Stour, Fenny Compton and Polesworth into surge stations, which the council's report describes as teams that will be "available for recall in the event of significant incidents or periods of high demand".
The current day wholetime team at Gaydon is also proposed to become a surge team.
Residents and members of Bidford-on-Avon Parish Council addressed the cabinet to highlight concerns about making such changes on the fringes of the county and spoke about their area's flooding problems and the frequent need to respond to road collisions on the A46 that heads through Worcestershire and issues at Long Lartin prison.
Parish council clerk Elisabeth Uggerlose also argued that Bidford should not lose its effective on-call service because of problems elsewhere.
She said: "The map shows how vulnerable the south of the county will be if most of the stations are relegated to surge stations with a 30-minute to two-hour call target.
"How can you ensure villages in the south of the county will be safe after 10pm when the only cover for the whole of the district will be one appliance based in Stratford?
"With this in mind, have you considered the current relative response times of existing on-call stations?
"Bidford's turnout was 69.3 per cent for October, and specifically 88.5 per cent from 7pm to 7am – how can the county council consider relegating thriving stations like this to unused buildings, resulting in the loss of effective stations fulfilling an important service to their local communities?
"An example of the potential fatal cost of these closures in the south of the county is a domestic fire incident which occurred in Bidford this summer in the early hours of the morning.
"Due to existing cover, the fire was put out with no loss of life. If these proposals are approved, it would not be one but three to four dwellings on fire with the potential for loss of life.
"Please think carefully of the safety of Warwickshire residents when considering the proposal in front of you, which in effect will result in the closure of the majority of on-call fire stations with potentially serious safety issues."
There were firm commitments from leader Cllr Izzi Seccombe and Cllr Andy Crump, the county's portfolio holder for fire and rescue and community safety, that there would be no station closures.
But Cllr Crump spoke about the "reluctance" of volunteers for the right times, meaning that something had to change. He said: "People have busier lives, they do different things, and there are work pressures as well.
"Many employers who value their staff find it difficult to release them to attend and be an on-call firefighter.
"Back in 2010, who would have thought that in 2022 this country would have temperatures of 40 degrees? They don't happen at night, they happen between noon and 4pm and that is where we are starting to get a lot of additional wildfires, things like that.
"We have to change, the climate appears to have changed so we have to be more reactive and reflective as a vibrant and efficient fire and rescue service."
The consultation is expected to begin in December and run until March 2024.