Council says it has stepped up protection for 'red list' birds on St Mary's Lands in Warwick
The council is hoping that the installation of temporary barriers on a small area of the Warwick public space during the current bird nesting season, will help to protect these ground nesting birds during the crucial breeding time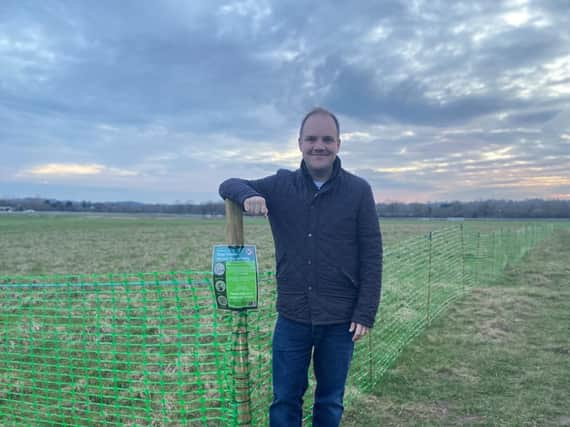 Alarmed by the rapid decline in their numbers both locally and nationally, Warwick District Council is taking urgent measures to protect nesting Skylarks and Meadow Pipits on St Mary's Lands.
Recent reports in the national media (Times, BBC), have highlighted the concerns of conservationists, that these species who nest in low grass, could be wiped out altogether, due to the increased numbers of eggs being trampled or disturbed by dogs.
This is said to be a particular problem in parkland areas which have been heavily used by dog-walkers during the lockdowns.
A Local Wildlife Evaluation of St Mary's Lands undertaken in 2011 and an Ecology Study performed in 2019 have shown a 25 per cent decrease in pairs of Skylarks and a 40 per cent reduction in Meadow Pipits.
The council said that further estimates taken during 2020/21 have indicated a further decline.
The council is hoping that the installation of temporary barriers on a small area of the Warwick public space during the current bird nesting season, will help to protect these ground nesting birds during the crucial breeding time.
Councillor Liam Bartlett (Warwick, Aylesford Ward) said: "The fantastic improvements made recently to the access of St Mary's Lands has meant that it has rightly become extremely popular with local people, particularly during the pandemic, we want that to continue.
"However at the same time we have growing evidence that these wonderful birds are in danger.
"We therefore have to do what we reasonably can to safeguard these increasingly rare species.
"The measures being taken do not require the closure of any public footpaths, they are a proportionate response to create an area for birds like Skylarks to nest undisturbed without impacting the enjoyment of the local community."
The council said the fencing and signage will be in place until the end of the nesting season.
The management committee of Friends of St Mary's Lands have spoken out against the fencing.
They said: "The Friends of St Mary's Lands are disappointed that plastic fencing has been erected on a large area of the Lands despite our five alternative suggestions for protecting ground nesting birds.
"Users of this public space were not given the opportunity to comment on whether the fencing restrictions were appropriate, proportionate, or needed at all.
"The Friends strongly support conservation and the environment and want to see wildlife flourish as it has always been an important and much-loved part of Warwick Common but we would like to encourage the public, who want to walk and use the Common, to come on board to find better and more sustainable ways to achieve a common aim.