Coventry Stadium planning inquiry: Potential stadium saviour 'still interested' - and Britain's top promoter wants to run the speedway
Latest report from the Coventry Stadium planning inquiry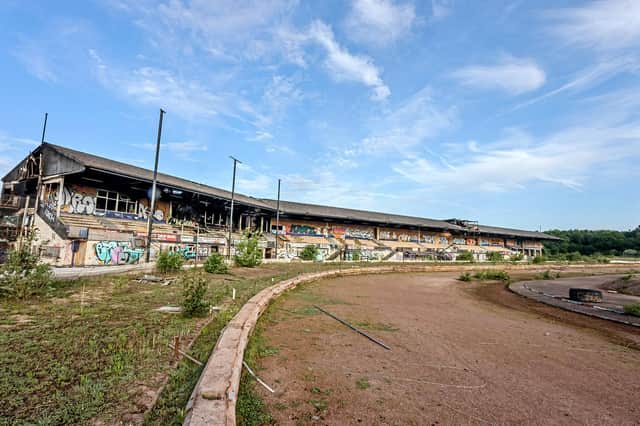 The man behind plans to reinstate motorsport at Coventry Stadium is undeterred by the site's state of disrepair – and he has the most successful speedway promoter of the modern era in his corner.
Warren Hunter appeared at the planning inquiry that will determine whether owners and developers Brandon Estates will get to build 124 homes, a 3G football pitch and pavilion at the derelict home of the Coventry Bees.
He revealed that Matt Ford, the promoter of Poole Speedway who was due to speak at the inquiry on Wednesday, had "expressed an interest in running the speedway team at Coventry", something that was confirmed in Mr Ford's opening evidence.
Since taking over at Poole in 1998, Ford has presided over no fewer than eight top-flight titles and, alongside his son Danny, has continued that trend with back-to-back championships having rejoined the second tier from the start of the 2021 season.
"I am aware of Mr Ford's track record and success," said Mr Hunter.
"I would be willing to rent the stadium to Mr Ford at a fair rent to allow him to run speedway if motorsport is restored, terms can be agreed and the necessary licensing arrangements concluded with the sport's national governing body."
Mr Ford's evidence states he has already sounded out top brass at British Speedway Promoters (BSP) Ltd.
Coventry Stadium hosted speedway and stock cars for decades until it closed in 2016, three years after it was openly marketed as a residential development opportunity and subsequently acquired by Brandon Estates.
Rugby Borough Council's planning committee unanimously rejected the plans on the grounds of a national planning policy that states such provision "should not be built on unless the development is for alternative sports and recreational provision, the benefits of which clearly outweigh the loss of the current or former use".
Through its submissions and evidence, Brandon Estates argues that regeneration of the stadium is unviable, referencing a decline in speedway nationally.
In his evidence, Mr Hunter, an ex-stock car race and managing director of multi-million pound business Huntapac Produce, said his efforts to buy the stadium in 2017 were met with a response "that the appellant (Brandon Estates) valued the stadium on a residential development basis rather than existing use", adding: "I did not think that to be appropriate."
He viewed the site with a representative of the stadium owners in May 2020 and made an offer, stating "it was confirmed that my offer was being considered" but that there had since been "no further response".
"I still wish to acquire Coventry Stadium and believe that I have access to the means to be able to do so," he said, quoting an annual turnover of £51.8 million through his business.
"Reinstatement of speedway and stock car racing would be on the basis of spectators being restricted to the terracing on the first and second bends, the 'back straight' terracing and the third and fourth bends," he said.
"I believe the arrangements proposed would enable up to approximately 6,000 people to attend motorsport meetings."
Estimates within Mr Hunter's evidence state it would cost £736,575 to get the stadium back operational, at odds with assessments submitted within the developer's evidence that it would cost £13.7 million – although that referred to reinstating previous provision in full.
Mr Hunter's initial plans do not include the redevelopment of the grandstand, which would be "boarded up" with other areas revitalised.
The plan is for everything to run through three businesses – the stadium, which is then leased to separate speedway and stock car entities.
"My intention is to be involved in the stadium ownership and management," said Mr Hunter.
"If agreement can be concluded I will be happy to join forces with others in a joint venture or consortium to repair or replace the stands, et cetera."
Peter Goatley KC, speaking for Brandon Estates, queried the proposals and got Mr Hunter to confirm that he had no background, qualifications or recognised expertise in the building trade or structural engineering. Mr Hunter referenced past experience through business ventures that involved the commissioning of building but confirmed the assertion.
Asked if there was a business plan for remediation work and operations thereafter, Mr Hunter replied: "No. I am the business plan if I buy it."
Mr Goatley asked: "Has anything been committed to paper in order to explain what the basis and realism of that is?" Mr Hunter replied: "No."
Richard Humphreys KC, who represents Save Coventry Speedway & Stox, asked Mr Hunter. "It is on record that the appellants are not prepared to sell to you. In terms of the next steps in relation to this process, what do you see happening from now on?"
Mr Hunter replied: "If the site does go on sale then I would want a valuation done on it and an assessment of all the damage, a view from outside parties of where we take it from there."
Planning inspector Helen Hockenhull, who will make the final judgement on the appeal, continued that line of enquiry.
"Once that work has been undertaken, clearly this project will have a significant risk to you, potentially," she said.
"Depending on the outcome of that, could there be a stage where you decide that isn't viable for whatever reason?"
"There is always a stage in whatever you do," replied Mr Hunter.
"Sometimes I don't think growing carrots is viable but at the minute, I think stock car racing at Coventry Stadium is viable, that is why I put in an offer and I am still interested."
Ms Hockenhull followed up with: "And on the information received so far, you have confidence that is the case?"
"Yes," replied Mr Hunter.