Feature: Warwickshire High Sheriff reflects on 'year like no other' and appeals for support for county's hospices
As 2020 draws to a close the High Sheriff of Warwickshire Joe Greenwell CBE has reflected on his year in office so far.
Watch more of our videos on Shots!
and live on Freeview channel 276
Visit Shots! now
Traditionally High Sheriffs get out and about in the county from day one, meeting people and supporting events and causes personally.
There is normally a busy diary of civic events too but this year Joe's calendar has been completely disrupted.
He said: "The pattern was set with a virtual Inauguration ceremony in April rather than the expected event in Court No 1 at the Old Shire Hall in Warwick.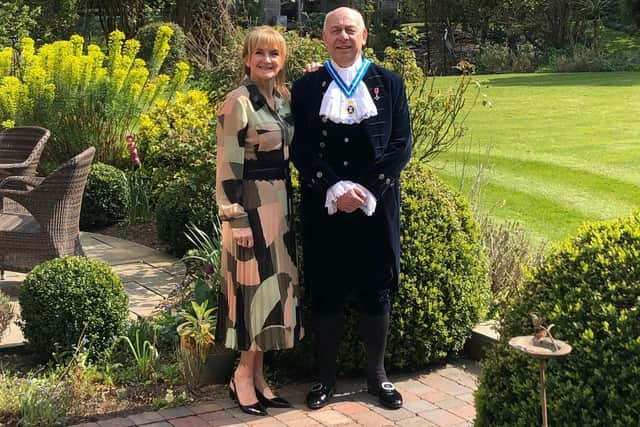 "Every High Sheriff in England and Wales has had to adapt to the circumstances like everyone else, and to carry out the role as best they can.
" We have all become familiar with Zoom, Teams and other such platforms as well as Instagram and Twitter.
" These have enabled me to stay in touch and to meet people and organisations throughout the County.
"They have also allowed me to recognise and thank the many wonderful examples of service to the community from individuals and volunteer groups since March.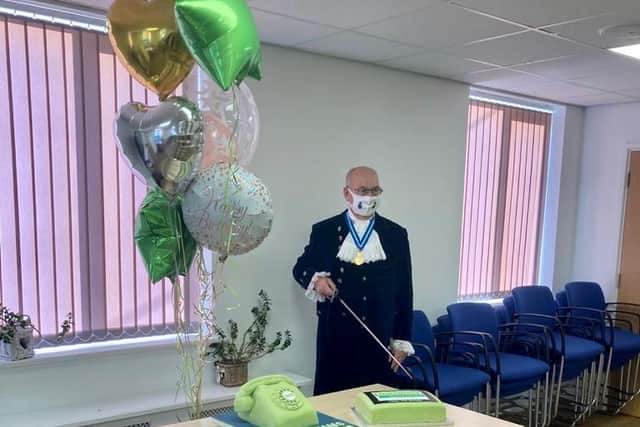 "It's not all been 'virtual' however.
"I have managed to have actual meetings with organisations and community leaders when the guidelines have allowed. I hope I can have many more in the months to come as guidelines hopefully ease."
Despite carrying out his duties mainly under the restrictions caused by Covid-19, Joe said there have been many highlights of his time in the role so far.
He said: "I would not like to pick one – every day has been different, I have not had an uninteresting one yet.
"I have presented awards to a restaurant in Atherstone for providing meals for NHS staff in Warwickshire hospitals, visited the very active Community Hub in Coleshill, zoomed with all the mayors in the County, had the pleasure of tea with the Mayors of Leamington and Warwick in their parlours and in a pub in the case of the Mayor of Shipston.
" I have also used my ceremonial sword to cut the 30th Anniversary cake of Stratford Samaritans.
"One Friday recently I joined the Rugby Dementia Support Group for a virtual singalong in the morning and then in the afternoon visited a Prince's Trust Rugby College TEAM renovating a community garden at Christ Church, Brownsover for the use of local residents.
"There has been no shortage of variety to date.
"Remembrance Sunday is always a very important day.
"This year's services were very different of course but I was proud to join others including the Lord Lieutenant and the Mayor of Warwick in laying a wreath at the town Memorial and also in my home village of Harbury.
"I was also asked to join the Ahmadiyya Muslim Association's Virtual Remembrance Event which featured some fascinating presentations and subsequently heard of the Association's tremendous work with their Neighbourhood Helper Campaign to support those self-isolating.
"The real highlight has been the community spirit I have seen and experienced.
"The many examples of individual volunteers and groups who have come together within our villages and towns to help those in need during these very difficult times.
"The offer of help with shopping, picking up medication or just a check up call and chat has meant a great deal to so many.
"My background is in the automotive industry and it has been heartening to see the way that manufacturing businesses in the county have turned their attention ti developing and distributing PPE equipment to front line services.
"At the local level, I have been really impressed at the way groups like the Warwickshire Scrubbers, a group of people across the County with amazing sewing skills, have sourced fabric, sewn scrubs and distributed to hospitals, care homes and other NHS facilities."
Joe's term as High Sheriff comes to an end in April 2021 and he is hoping some of the fundraising events he and his wife Anne had planned before they had to be postponed earlier this year can now take place next year.
He added: The High Sheriff's main role, however, is to support the judiciary, police, fire, ambulance, prison and probation services, ooroner's Office and the Police and Crime Commissioner.
"I have some days in court coming up, hopefully not in the dock, when I shall be sitting with judges and magistrates to observe as High Sheriff and I am looking forward to these occasions.
"Our Judiciary and Court staffs have been operating in very challenging conditions and I want to thank them for their extraordinary response.
"The final priority concerns my chosen theme for the year of Employability.
"These are also very challenging times for the 16-24 age group looking to further their education, access traineeships, internships, apprenticeships and to get a job.
"Warwickshire County Council and the Warwickshire College Group have some excellent initiatives focussed on helping young people, and I shall continue to work with both and hopefully encourage more employers to give youngsters in the County a helping hand."
On a final note, Joe has appealed for people to donate to hospices across Warwickshire which have all been affected by a dramatic reduction in fundraising revenue as a result of the pandemic.
He said: "Despite some welcome support from the government earlier in the year it is clear that these wonderful institutions are struggling to maintain their renowned support within communities due to the cancellation of so many fundraising events and the closure of their retail outlets.
"Fundraising accounts for 80 per cent of the Myton Hospices income for example.
"They have helped so many families over the years but they need a little help now. I know any donations would be much appreciated. "