Final details for Hampton Magna development with 147 homes given green light
Outline planning for the scheme on land South of Lloyd Close had been thrown out by the district council in June 2018 only to be allowed on appeal 12 months later
Watch more of our videos on Shots!
and live on Freeview channel 276
Visit Shots! now
Neighbours opposed to the scale of a new housing development in their village look to have lost their battle after plans for an extra 147 homes in Hampton Magna were approved by Warwick District Council's planning committee.
Outline planning for the scheme on land South of Lloyd Close had been thrown out by the district council in June 2018 only to be allowed on appeal 12 months later.
And at this week's planning meeting, the final details for the Bellway Homes development were given the green light including keeping the number at 147 properties.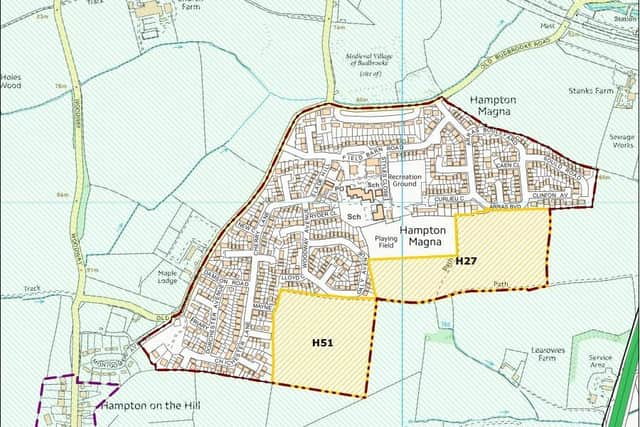 Neighbour Roger Mills spoke at the virtual meeting, questioning comments made in a report written by planning officers and urging councillors to look at the numbers again.
He said: "It is claimed that the build density is similar to the existing surrounding area but this is simply not true.
"It doesn't take an Einstein to see from the layout plan that the new houses are crammed in like sardines compared with the existing surrounding closes.
"Maintaining the same density would mean no more than 125 dwellings on this site.
"Secondly it is claimed that 147 dwellings would cause no additional harm compared with the 115 in the local plan but since noise, pollution, congestion, road accident risks and demands on the already overloaded infrastructure and local services are all directly proportional to the number of dwellings, this claim is clearly nonsensical."
He added that parking was another contentious issue in the area.
Mr Mills was not alone in his opposition with 78 letters of objection from members of the public while Budbrooke Parish Council also objected on a number of grounds including surface water drainage, noise pollution and that not enough bungalows had been included in the housing mix.
There are ten planned for the site.
The council's development services manager, Gary Fisher, explained that councillors were not looking at the principle of the scheme as that had already been agreed. Instead they needed to concentrate on the details of design, layout and landscaping.
He added: "This is an application that has been under consideration for quite some time and it has resulted in a scheme which benefits from quite extensive open space areas and also an open space and equipped play area adjacent to the main entrance which is seen as a key feature.
"Officers feel that this is a high quality scheme using mainly red brick predominantly to reflect characteristics of the surrounding area."
Councillors voted unanimously in favour of the plans with Cllr Terry Morris (Con, Warwick Saltisford) adding: "I believe we would be on an extremely sticky wicket if we tried to refuse this based on the history and the appeal decision of the Planning Inspectorate."